Just because you're living Paleo doesn't mean you can't enjoy a rich, fudgy brownie. The following recipe helps satisfy your cravings for brownies without the guilt (and without all the sugar and other heavily processed ingredients in traditional desserts).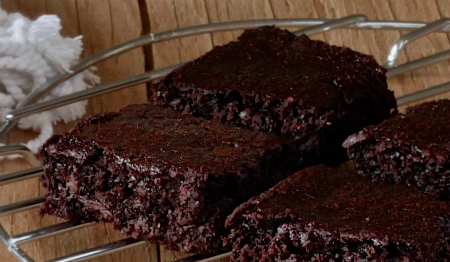 Credit: Courtesy of Adriana Harlan
Preparation time: 10 minutes
Cook time: 15–20 minutes
Yield: 12 servings
1/2 cup raw cacao powder
1/2 cup flaxseed meal
1 teaspoon baking soda
1/2 teaspoon salt
1/2 cup full-fat coconut milk
1 egg
1 teaspoon vanilla extract
4 tablespoons raw honey
1 tablespoon sunflower seed butter
1/4 cup Paleo-friendly chocolate chips
Preheat the oven to 350 degrees F. In a bowl, mix the cacao powder, flaxseed meal, baking soda, and salt.

In a separate bowl, whisk the coconut milk, egg, vanilla, honey, and sunflower seed butter.

Gently mix the wet and dry ingredients to form a batter and then fold in the chocolate chips. Pour the batter evenly across the bottom of an 8-x-8-inch pan lined with parchment paper or greased with coconut oil.

Bake until a toothpick inserted into the center comes out clean, about 15 to 20 minutes.

Set over a wire rack to cool and then cut into squares.
You can replace the sunflower seed butter with any nut butter or coconut butter.
Per serving: Calories 130 (From Fat 69); Fat 8g (Saturated 4g); Cholesterol 16mg; Sodium 215mg; Carbohydrate 13g (Dietary Fiber 3g); Protein 3g.
About This Article
This article is from the book:
This article can be found in the category: