Baking breads with avocados adds healthy fats as well as a wonderful texture, like in this Paleo-approved avocado chocolate bread recipe. And because the flavor of avocados is so mild, you don't taste it all!
Use Hass avocados to make this recipe because they aren't bitter like other types of avocados, which may give a bitter aftertaste to this bread.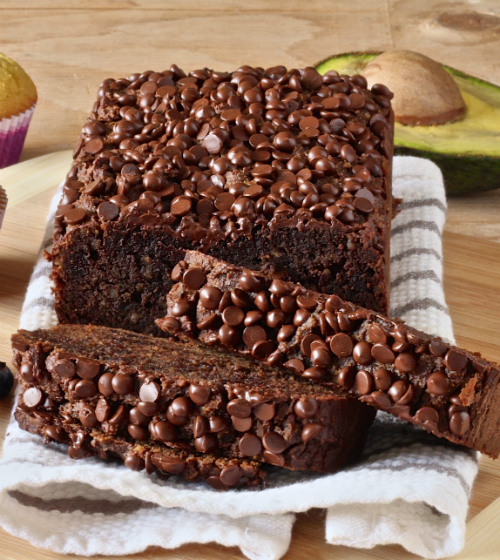 Credit: Courtesy of Adriana Harlan
Preparation time: 20 minutes
Cooking time: 45 minutes
Yield: 10 servings
1-1/2 cups mashed avocado (about 2 small avocados)
3 tablespoons coconut oil, melted
1 teaspoon vanilla extract
2-1/2 tablespoons coconut cream
3 tablespoons raw honey
2 eggs
1/2 cup pecans, chopped
2 cups blanched almond flour
1 teaspoon baking soda
1/4 cup raw cacao powder
1/2 teaspoon salt
1/3 cup Paleo-friendly chocolate chips, plus more for garnish
Preheat the oven to 350 degrees F. Pulse the avocado in a food processor until creamy.

Add the coconut oil, vanilla, coconut cream, honey, and eggs and pulse to combine.

In a large bowl, mix the pecans, almond flour, baking soda, cacao powder, salt, and chocolate chips.

Combine the wet and dry ingredients and mix gently with a rubber spatula. Don't overmix.

Spoon the batter into an 8-1/2-x-4-1/2-inch medium loaf pan lined with parchment paper, spreading it across the pan with a spatula. Sprinkle the top with chocolate chips.

Bake until a toothpick inserted into the center of the bread comes out clean, about 45 minutes.

Let it cool on a wire rack. To preserve freshness, place inside an airtight container and store in the refrigerator for about 1 week.
Note: The cream from a can of coconut milk is what you get when you refrigerate a can of full-fat coconut milk for more than 12 hours and scoop out what forms at the top of the can, discarding the water.
Per serving: Calories 342 (From Fat 243); Fat 27g (Saturated 8g); Cholesterol 0mg; Sodium 269mg; Carbohydrate 21g (Dietary Fiber 6g); Protein 8g.
About This Article
This article is from the book:
This article can be found in the category: