Huevos rancheros, a classic Mexican breakfast for two, adds a decidedly Mexican flavor to traditional breakfast eggs. If you make all the huevos rancheros ingredients (such as the refried beans and tortillas) from scratch, you need to factor in a much longer preparation time — but you can find these ingredients ready to use at the supermarket.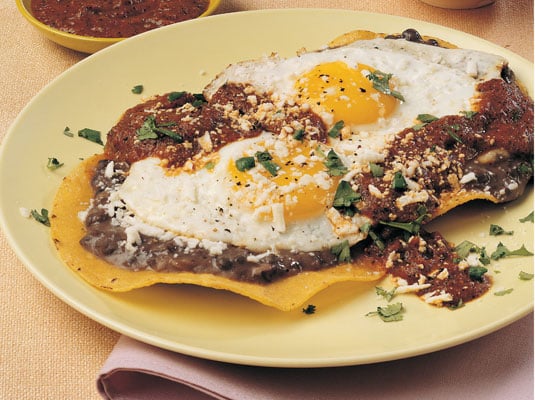 Preparation time: 10 minutes
Cooking time: 5 minutes
Yield: 2 servings
4 corn tortillas
2/3 cup refried beans
Water or chicken stock to taste
1 tablespoon butter
4 eggs
Salt and pepper to taste
Vegetable oil
1 cup tomato salsa
1/4 cup (1 ounce) grated añejo cheese
1/2 bunch cilantro leaves
Place the tortillas on the counter to dry.

Heat the refried beans in a small skillet over low heat.

Add water or chicken broth until the beans are the consistency of applesauce.

Keep warm.

Heat a large nonstick or cast-iron skillet over medium heat.

Add the butter.

Carefully break the eggs into the skillet and season with salt and pepper.

Cover and cook for 1 minute or until done to taste.

Remove from heat.

Heat the oil in a large skillet over medium-high heat.

You want the oil to reach about 375 degrees F.

Place a tortilla in the oil.

Turn with tongs occasionally until the tortilla is lightly brown all over.

Transfer to a paper towel to drain.

Repeat Steps 10 through 12 for the remaining tortillas.

Warm the salsa in a small saucepan on the stove.

Place 2 tortillas on each plate.

Coat the tortillas with a thin layer of warm refried beans.

Sprinkle both plates with half the cheese.

Top each tortilla with an egg and ladle on warmed salsa.

Coarsely chop the cilantro.

Sprinkle on the remaining cheese and cilantro.

Serve immediately.
About This Article
This article can be found in the category: