Herbs, spices, and lots of flavor — those are the things you'll discover when you partake of Mediterranean cuisine. For thousands of years, herbs and spices have been incorporated into Mediterranean dishes to add flavor.
These additions boost flavor without adding a significant amount of calories, sodium, or fat. In fact, herbs and spices are so essential to the cuisine, that they've earned a place in the Mediterranean food guide pyramid alongside fruits, vegetables, olive oil, grains, seeds, nuts, and legumes.
Herbs and spices not only spice up your dish for the benefit of your taste buds, but they also pack a nutritional punch! They contain a range of phytonutrients and antioxidants and, by type, offer up various health benefits. So go ahead, take a simple cue from the Mediterranean cuisine and experiment with a variety of herbs and spices to reap the benefits.
Basil may be your best friend as you age and your joints succumb to arthritis and inflammation.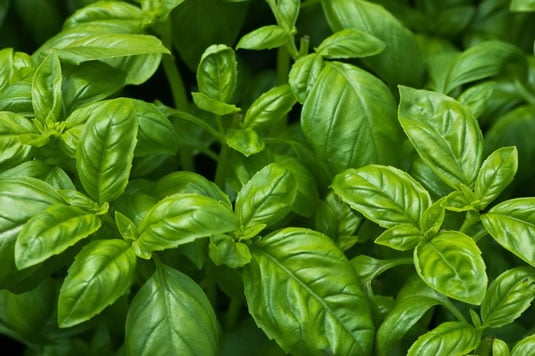 Basil contains an essential oil, eugenol, that blocks the enzymes that cause swelling. Basil also contains powerful flavonoids such as zeaxanthin, which protects your eyes from UV rays and can help slow age-related macular disease.
Basil is best (and most commonly) used fresh for the fullest flavor and clove scent. Also, cooking and drying destroy basil's flavor.
The Mediterranean diet loves cilantro, which is rich in phytonutrients.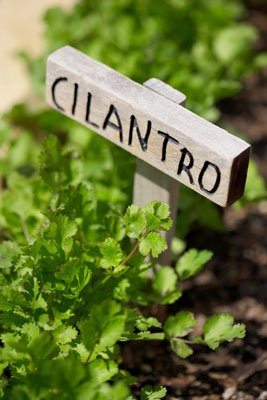 The Spanish word for coriander, cilantro specifically refers to the leaves on the coriander plant. Use it to add a punch of flavor and crisp texture to salads, bean dishes, soups, and salsas. In Spain, cilantro is often blended into sauces made to accompany meat and fish dishes. In America, too, sales of cilantro rise over Super Bowl weekend and Cinco de Mayo, times when guacamole and salsas are popular.
Cinnamon — available in stick or powdered form — has been found in research to help people with diabetes control their blood glucose levels.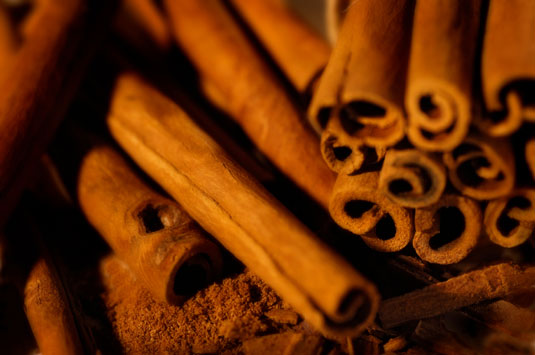 Cinnamon also has anti-clotting and anti-inflammatory properties due to its compound coumarin.
You may automatically associate cinnamon as the go-to spice when you're making sweet baked goods like coffee cake, cinnamon rolls, puddings, or baked apples. Maybe you sprinkle it atop fruit or add it to your oatmeal. The same is true in Mediterranean cuisine: Consider the traditional dessert baklava a case in point. But in the Mediterranean, cinnamon is used in more savory dishes, as well, such as a Moroccan rub for a meat dish.
Commonly found in traditional Greek tzatziki, or yogurt sauce, dill is a great source of antioxidants and calcium (about 60 mg per ounce), helping reduce your risk for bone-related disease.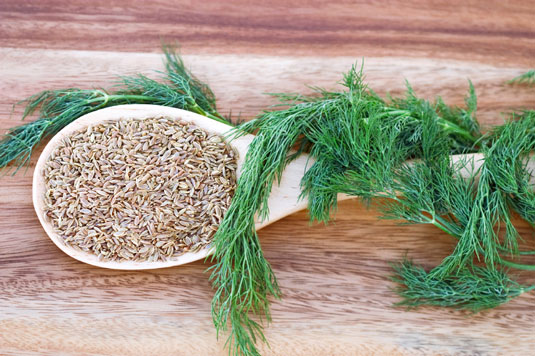 If you're worried about how and when to use dill, just relax! An agent in dill weed called carvone has a calming effect and may help reduce intestinal distress, too.
Garlic comes in many forms — fresh as a clove, dried, minced, and in powder — and has been found to have a multitude of health benefits, too!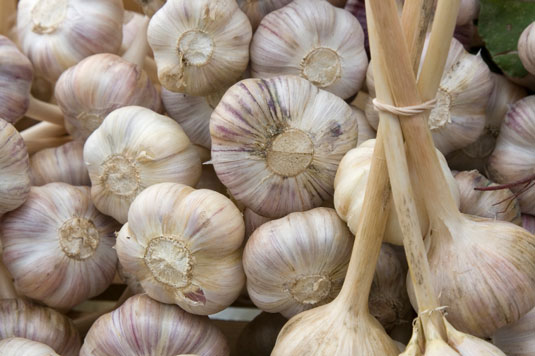 Worried about bad breath? Research out of UCLA found that taking 1,200 mg of aged garlic extract per day can be a powerful barrier to plaque build-up, can help reduce cholesterol and blood pressure, and can lower the risk for cardiac events and heart disease.
Also, the phytonutrients responsible for garlic's odor, allicin and dialyll disulphide, have antibacterial and antiviral properties that can help protect against infections, ranging from the common cold to cancer.
The lemon's juice, rind, and zest are added to dishes to impart a sour and tart flavor. Nutritionally speaking, lemon is a great source of the powerful antioxidant vitamin C.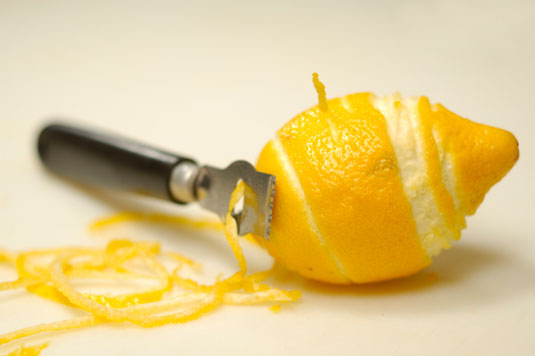 It's true that lemon falls into the fruit category but not one that you eat whole.
The countries of the Mediterranean make up lemon's major producers, and, boy, do the people in these regions like to use them: in pasta, in rice, and in fish dishes; as a main flavor in soups like avgolemono (a mixture of lemon juice, egg, and broth); squeezed over salads; paired with roasted veggies; added to baked goods; and as a cool summer treat (in lemon ices, for example).
Mint originated in the Mediterranean.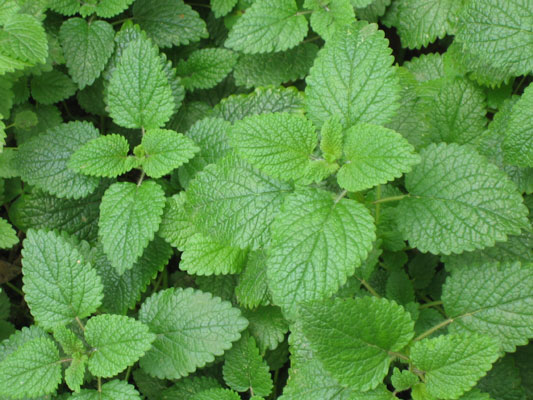 Mint is often used in dishes like tabbouleh (a salad made with cracked wheat and other ingredients), soups, rice, and bean dishes.
The sweetly-flavored mint leaves like peppermint and spearmint have been used for medicinal purposes: as a decongestant and to a relieve digestive disorders and stomach cramps. Rich in vitamins A and C, mint also promotes eye health and gives your immune system a boost.
To really dial up the spice in your meal, add red pepper flakes.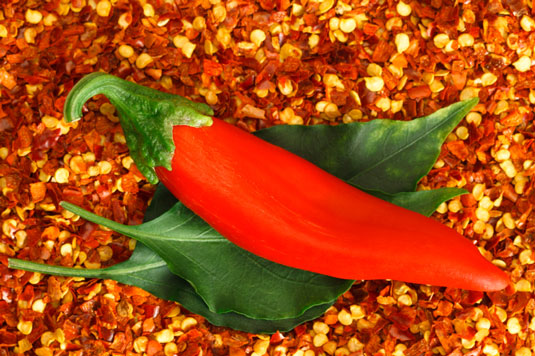 If you like spicy heat (as do many people of the Mediterranean), you'll have no problem applying these generously to any type of dish. Made from hot dried and crushed cayenne, bell, and ancho peppers, red pepper flakes are a good source of capsaicin, a component that fights inflammation and heart disease, and, studies suggest, can boost your metabolism.
Most of the world's supply of saffron originates in the Mediterranean.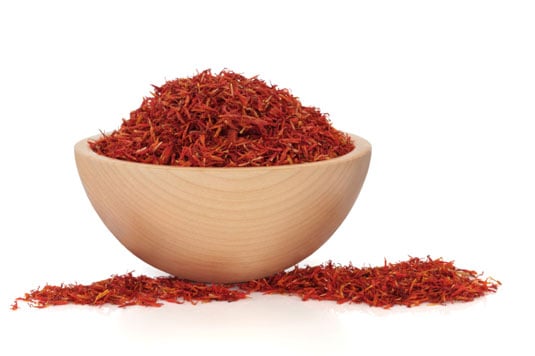 Saffron lends a yellow-orange hue to dishes because of its natural carotenoid, crocin. Carotenoids, a precursor for vitamin A, are antioxidants that promote eye health, boost your immune system, and offer protection against cancer. Saffron adds a strong bitter, honey-like taste to rice and seafood dishes such as pilaf, paella, and bouillabaisse.
A symbol of courage in the ancient cultures of the Mediterranean, thyme not only packs a strong aromatic flavor but also has antimicrobial properties that protect you from infection.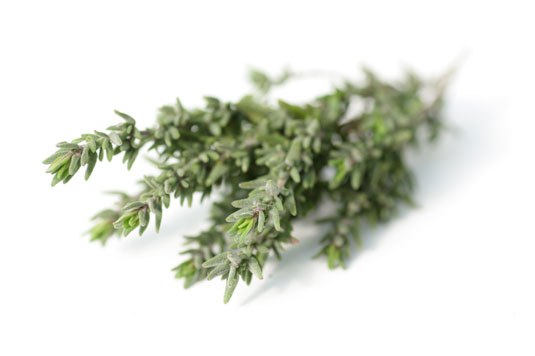 Thyme, either fresh or dried, is a rich source of minerals, such as potassium, which helps control blood pressure, and iron, which is key for red blood cell formation.
About This Article
This article is from the book:
This article can be found in the category: