Veronique? Not to worry — it just means to garnish with grapes. This orange chicken dish is both easy and elegant, so consider orange chicken veronique when you're expecting guests.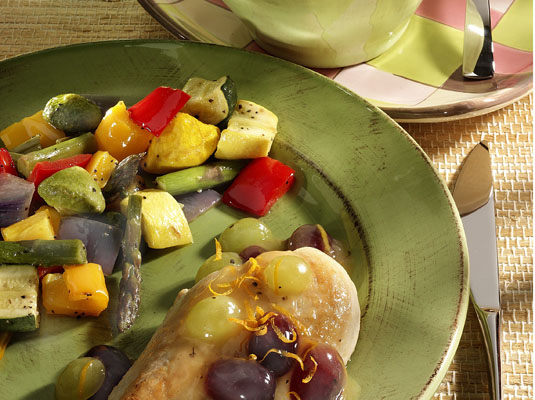 Preparation time: 15 minutes
Cooking time: 25 to 30 minutes
Yield: 6 servings
1 tablespoon light olive oil or vegetable oil
6 skinless, boneless chicken breast halves
1/2 cup orange juice (preferably low-carb)
1/2 cup dry white wine
2 packets Splenda sugar substitute
1/4 teaspoon salt
1/8 teaspoon white pepper
1/4 teaspoon dried marjoram leaves
1 teaspoon cornstarch
1 tablespoon water
1/2 cup seedless green grapes
1/2 cup seedless red grapes
1 orange
Place a 12-inch nonstick skillet on medium high heat and add the oil.

Add the chicken and brown on both sides, cooking for about 5 to 6 minutes only.

Remove the chicken from the skillet.

Drain the excess oil from the skillet and wipe the skillet with a paper towel.

Place the chicken back in the skillet.

Add the orange juice, white wine, Splenda, salt, pepper, and marjoram leaves to the skillet.

Reduce the heat to low and simmer, covered, for 12 to 15 minutes.

Be sure the juices from the chicken are running clear, not pink.

Remove the chicken from the skillet and place on a warmed serving platter.

Cover with aluminum foil to keep warm.

Dissolve the cornstarch in the tablespoon of water.

You can place the cornstarch and the water in a small jar, then shake it up for a quick and easy mix.

Stir the cornstarch mixture into the orange and wine mixture in the skillet.

Cut the grapes into halves.

Grate the orange peel.

Add the grapes and 1 teaspoon orange peel.

Cook for 2 to 3 minutes, until the sauce is slightly thickened and translucent.

Spoon over chicken and serve immediately.

Slice the orange very thin and garnish the chicken with the slices, if desired.
Per serving: Calories 175 (From fat 47); Fat 5g (Saturated 1g); Cholesterol 63mg; Sodium 152mg; Carbohydrate 8g (Dietary fiber 0g); Protein 23g.
About This Article
This article is from the book:
This article can be found in the category: