This combination of Brussels sprouts and fresh mushrooms with the aroma and flavor of fresh rosemary makes a delightful side dish. Brussels sprouts and mushrooms with rosemary is high on the healthy side and very low on the carb side.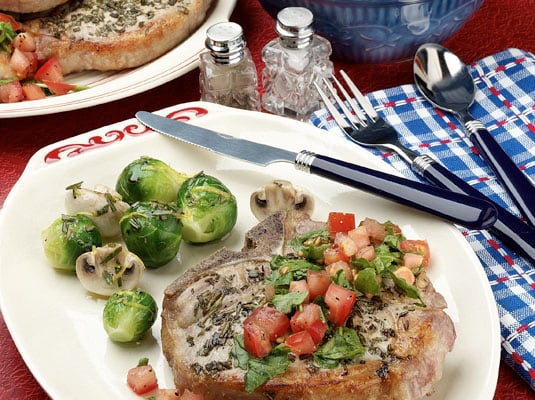 Preparation time: 10 minutes
Cooking time: 8 to 10 minutes
Yield: 5 servings
2 cups small, fresh Brussels sprouts
1 clove garlic
1 lemon
1 cup fresh mushrooms
3 tablespoons butter
2 teaspoons fresh rosemary
1/8 teaspoon pepper
5 fresh sprigs rosemary for garnish (optional)
In a medium saucepan, place the Brussels sprouts in about an inch of water.

Bring to a boil.

Cook for about 6 minutes — just until crisp-tender.

Drain.

Crush the garlic clove.

Grate the lemon's peel.

You can discard the lemon — you need only the peel.

Cut the mushrooms in half.

Melt the butter in a large skillet over medium heat.

Stir in the garlic, rosemary, pepper, and 1/2 teaspoon lemon peel.

Add the mushrooms.

Cook over medium heat just until the mushrooms are softened (about 3 minutes).

Stir in the Brussels sprouts.

Continue cooking only until thoroughly heated, about 2 to 3 minutes.

Garnish each serving with a sprig of fresh rosemary, if desired.
Per serving: Calories 80 (From fat 64); Fat 7g (Saturated 4g); Cholesterol 18mg; Sodium 10mg; Carbohydrate 4g (Dietary fiber 1g); Protein 2g.
About This Article
This article is from the book:
This article can be found in the category: