Personalize this hearty fruit and bran muffin by using your favorite dried fruits. Macadamia nuts offer a tropical twist to these bran muffins, but if you prefer, you can substitute almonds, pecans, or walnuts.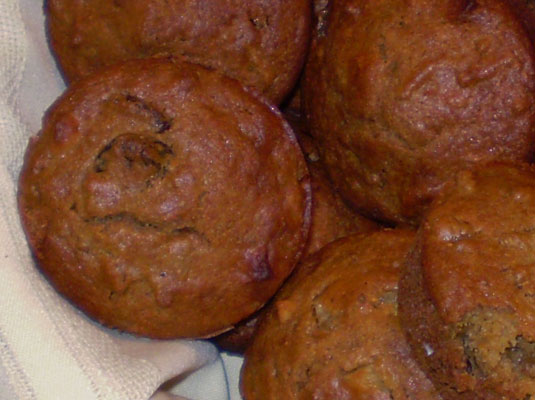 Preparation time: 25 minutes
Baking time: 20 to 25 minutes
Yield: 12 to 16 muffins
1 1/2 cups whole-bran cereal (not bran flakes)
1/2 cup boiling water
1 egg
1/4 cup unsalted butter
1/2 cup macadamia nuts
1 cup buttermilk
1/2 cup honey
1 1/2 cups mixed dried fruit, your choice of types
1/2 cup whole-wheat flour
3/4 cup all-purpose flour
1 1/4 teaspoons baking soda
1/2 teaspoon kosher salt
Preheat the oven to 425 degrees F.

Spray a muffin pan with nonstick cooking spray.

Combine the bran cereal with water in a large mixing bowl.

Stir to moisten the cereal.

Cool the mixture until it's lukewarm.

Crack the egg into a small bowl and lightly beat it with a whisk or fork.

Melt the butter.

You can melt it in a small bowl in the microwave or in a small saucepan on the stove.

Chop the nuts.

Stir in the egg, butter, nuts, buttermilk, honey, and dried fruit.

Mix well; set aside.

Combine the flours, salt, and baking soda in a small mixing bowl.

Add this mixture to the wet ingredients, stirring just until the ingredients are evenly moist.

Spoon the batter into your prepared muffin pan.

Fill each cup about 3/4 full.

Bake the muffins for 15 to 20 minutes or until a toothpick inserted in the center of a muffin comes out clean.

Cool the muffins for 5 minutes in the pan.

Remove them from the pan and place them on a rack to cool completely.

To store, wrap them individually in plastic wrap or store in an airtight container.
About This Article
This article can be found in the category: