Many holiday foods are rich and heavy, so a fresh, light salad of simple greens is a welcome addition. This salad recipe calls for a basic mixture of greens, including romaine and Bibb lettuce. If your supermarket doesn't have a particular type that's called for, then choose whatever is the freshest. Iceberg lettuce, however, is the exception; it's mostly water and, while crunchy, offers little taste, color, or nutrition.
Salad greens, once they're torn into bite-sized pieces, are easy to measure. Figure on a handful per person. In general, about 1 pound of salad greens equals approximately 24 cups of bite-sized pieces.
Basic Green Salad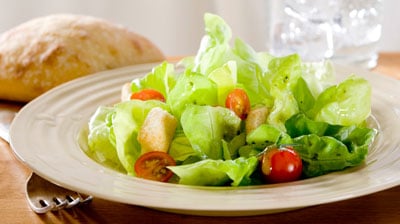 Credit: ©iStockphoto.com/Nicole Branan 2011
Preparation time: 10 minutes
Yield: 8 servings
1 small head of butter lettuce (also known as Bibb or Boston lettuce)
1/2 small head of red or green leaf lettuce
1/2 small head of romaine lettuce
Approximately 1/4 cup salad dressing (your choice)
Separate the lettuce leaves from their heads and discard any cores. Place the leaves in a bowl of cold water.

Soak the leaves briefly to dislodge any dirt or debris by swishing them around with your hands. Be gentle so as not to bruise the leaves.

Drain the clean leaves in a colander. Blot off any excess water with a clean kitchen towel or by using a salad spinner.

Tear the greens into bite-size pieces. Toss the greens in a large bowl with the salad dressing until the greens are just lightly coated with the dressing. Transfer to salad plates and serve.
Because this salad is so simple, the focus will be on the greens that you use. Whatever you buy, make sure it's the freshest that you can get. There should be no blemishes, bruising, or yellow on the leaves. Here are other tips to remember when making salads:
To get a head start on making the salad, clean the greens, wrap them in a clean, dry kitchen towel, and place the towel in a plastic bag. Leave the bag open and refrigerate. The leaves keep for up to one week.

Chill your salad plates to keep those greens as crisp as possible.

Drying salad greens can be a chore, but a salad spinner can make quick work of the job. A salad spinner is a piece of equipment that is really quite handy. If the spinner makes preparing salad more attractive to you, why not invest in this moderately priced kitchen tool? Or better yet, put it on your holiday wish list.

Tearing greens is preferable to cutting them. It's easy and gentler on the greens, and it looks better, too.

If you would like to expand your salad into a heartier and more colorful dish, consider the following additions:

Sliced cucumber

Cherry tomatoes

Sliced radishes

Sliced avocado

Thinly sliced red onion

Croutons

Shredded or crumbled cheese
About This Article
This article is from the book:
This article can be found in the category: