Cassoulet is a festive, budget-friendly main dish that's just right for a family Christmas dinner. This version of the classic French casserole makes a rich bean stew full of five types of meat. You can make it a month ahead and freeze, so it's a perfect dish for holiday entertaining.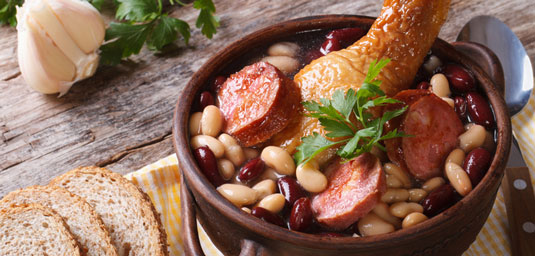 ©iStockphotos.com/ALLEKO
This cassoulet benefits from an overnight rest in the refrigerator. Serve this with crusty bread and a green salad for a complete meal.
Rich Bean Cassoulet with Five Meats
Preparation time: 10 minutes

Cooking time: 1 1/2 hours

Yield: 8 to 10 servings

6 slices bacon, cut into 1-inch wide pieces

2 onions, diced

2 celery stalks, diced

2 carrots, diced

2 garlic cloves, minced

2 teaspoons thyme

1 bay leaf

4 chicken thighs

1 pound cubed lamb (2-inch pieces)

1 pound cubed pork (2-inch pieces)

1 pound kielbasa or garlic sausage, cut into 1-inch thick slices

Two 15-ounce cans Great Northern beans (or other small white beans), drained

14.5-ounce can diced tomatoes in juice

1 cup dry white wine

Pepper to taste

2 cups fresh breadcrumbs, preferably from French bread

2 tablespoons olive oil

1 cup chopped flat-leaf parsley
Sauté the bacon in large ovenproof pot over medium-high heat until it's just beginning to crisp, about 6 minutes. Remove the bacon with a slotted spoon and drain on paper towels. Remove all but 3 tablespoons of the bacon fat and discard the rest.

Sauté the onions, celery and carrots in the bacon fat over medium heat until the veggies soften and begin to brown, about 8 minutes. Add the thyme and bay leaf and chicken thighs. Brown thighs over medium-high heat for about 5 minutes. Remove the thighs and add cubed lamb and pork. Brown the cubes, about 5 minutes.

You don't have to cube the pork and lamb yourself. Ask your butcher to make the lamb cubes from the leg and the pork cubes from the loin, both of which are leaner than the shoulder. You should be able to make this request of supermarket meat department butchers.

Preheat the oven to 350 degrees F. Add the bacon back into the pot, along with the thighs, sausage, beans, tomatoes, and wine. Season with pepper and bring to a boil over medium heat.

Top with the breadcrumbs, drizzle with olive oil, and bake for 1 hour, or until the topping is crisp and the cassoulet is bubbling. Top with parsley and serve immediately.
To make this dish ahead, prepare through Step 3 without preheating the oven or bringing the ingredients to a boil. Cool to room temperature, place in an airtight container, and freeze for up to a month or refrigerate overnight. Defrost and/or reheat, bring back to a boil, and proceed with Step 4.

Two kinds of bay leaf are on the market. Some come from California and have a quite strong flavor. Turkish bay leaf is preferred. It is milder and has a depth of flavor that the domestic variety just can't match. Try using a bay leaf in salt-free dishes to perk up the flavors. And don't forget to remove the bay leaf after cooking. You don't eat it!
About This Article
This article is from the book:
This article can be found in the category: