Tea. It's as simple as boiling water, pouring it over leaves, taking a couple minutes to relax, and straining out the leaves. One cup of the perfect tea can hook you for a lifetime.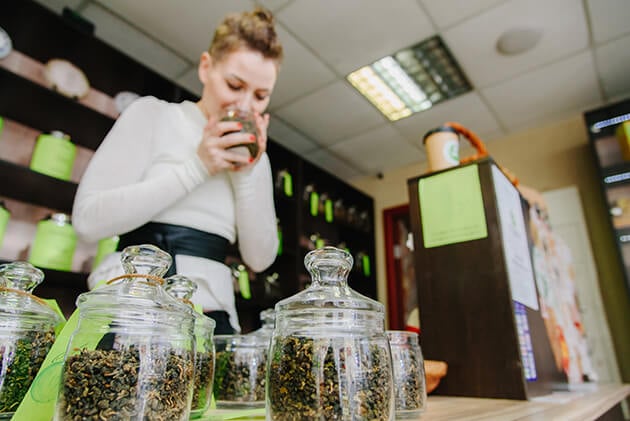 ©Johnalexandr / Adobe Stock
But if you are trying to get into tea, you'll probably want to hold off on some teas. Lapsang souchong, Japanese green teas like sencha or matcha, and white teas may not be what you are expecting. You may want to ease into these types after you're more accustomed to tea and its various flavors.
So then, where do you begin?
For many people, their journey into the world of tea starts with something more familiar, like earl grey or a teabag from a box. Although teabags have gotten better throughout the years, they will never be what tea is meant to be. In this article (and in my book, Tea For Dummies) we focus on loose-leaf tea.
Great teas to start with
At our store, we have seven different versions of loose-leaf earl grey, one of which is our number-one-selling tea. In fact, three of our best-selling teas come from our earl grey collection, and they generally rank within the top ten teas every year, which speaks to their enduring popularity. Once you have a cup of high-quality loose-leaf earl grey, you will never teabag again.

Another commonly known tea is chai. This spiced and often sweetened tea is a popular starting point in coffee shops and cafes. Fruity flavored teas are another great entry tea, especially iced.

Even as a tea sommelier, I never judge if someone's favorite is a pineapple-mango tea or a sweetened caramel tea. I like to look at these as gateway teas. You should always drink what you enjoy the most and then branch out every so often. You might find a new favorite.
How to choose a black tea
Things to consider when picking a black tea is how strong and bold you want it, how much astringency (that dry feeling in your mouth) you want, whether you prefer a tea that is simply strong versus something that has layers of flavor, and whether you like earthy or smoky notes.

For a less intense black tea, there are plenty of options. Ceylon teas are full-bodied and brisk, but not overly so, and they have just the right amount of astringency. They are what many people think of when they envision black tea.

Ceylon is great iced and works well with lemon, sugar, milk, and so on. Assam teas pair particularly well with food, so they can be nice with a snack or meal, and they hold up to a little cream and sugar.

If, however, you want a strong tea, breakfast teas are a good match — and you have a lot to choose from: Irish, Scottish, English, Russian, and East Frisian blends, among others. Every tea blender will use a different ratio of teas, so you may find that you prefer some breakfast blends over others. Yet, all of them are robust enough to stand up to milk and sugar. Just take care in brewing these teas so that they don't become bitter.

For coffee lovers who are used to deep and complex flavors, consider an Assam from India or the many pu-erh and Yunnan teas from China. Some wild-grown teas would also make this list. Although these aren't in-your-face bold like the breakfast blends, they are intriguingly full-bodied and multilayered in flavor.

Note that teas that have been processed by the cut-tear-curl (CTC) process (these teas are in tiny bits) will release caffeine more quickly than teas composed of intact or largely intact leaves, especially if those leaves have been tightly rolled. However, this isn't to say that you will get more caffeine overall.
Going green
To start your green tea journey, Chinese green teas are more common and recognizable, so they are often our first recommendation. Japanese teas tend to be grassier or "seaweed"-like in flavor, so, for some, it takes a bit getting used to.

Often, people's first experience with green tea is with a sweet matcha latte in a coffee shop or the tea served at their favorite Asian restaurant. Green tea is as nuanced as black tea, but it may take a bit more time to find your favorite.

Oolong, pu-erh, some white teas, and other tea types can also be great first-time teas, but we often recommend starting with the basics when first steeping into the world of tea.
Herbal tea choices abound
If you aren't sure you're ready for tea, but want a healthy or caffeine-free beverage, we suggest you start with some of the many herbal teas available.

Fruit teas, which consist of fruit and other herbals, are a terrific substitute for high-calorie juice. You can find just about any fruit you want, and they are usually fantastic iced. Low in sugar but filled with flavor, these are wonderful for everyone in the family. Kids generally love fruit teas!

Rooibos and honeybush blends are also both kid- and adult-friendly options. You can readily find fruity, floral, earthy, or other blends, so you're sure to find something you enjoy, and they are naturally caffeine free.
Where to buy tea
When shopping for tea, it's important to know how and where a store sources its teas. You needn't know the exact gardens or time of day your tea was harvested, but it is important to know that the tea store sources teas from gardens that go above and beyond to ensure the highest quality.

This is not to say that grabbing a teabag tea in the hotel lobby is a no-no, but buying quality loose tea is worth the extra penny. Plus, not all high-quality loose-leaf teas are expensive. A very high-quality loose-leaf breakfast blend may not cost much more per gram than a box of teabags at the grocery store.

Single-estate, handpicked, and rare teas from small gardens may seem a bit pricey, but keep in mind that a 50-gram bag of tea can make 15 to 20 cups, and some teas can be brewed several times. A $30 bag of tea that can yield 20 cups makes the per-cup price only about $1.50, which is well under the cost of a hot drink at most cafes or restaurants.
How much tea to buy
Tea may be sold by the ounce or gram. Most teas require about 3 grams (0.1 ounce) of leaves to make an 8-ounce cup, giving you the following general guidelines:
50 grams (1.8 ounces) of leaves yields 15 to 20 cups of tea
100 grams (3.5 ounces) of leaves yields 30 to 40 cups of tea
200 grams (7 ounces) of leaves yields 60 to 80 cups of tea
500 grams (17.6 ounces) of leaves yields 150 to 200 cups of tea
Many types of tea leaves can be brewed a second time (or more), which doubles the number of cups you get!
Storing your tea leaves
It's important that your tea is stored in an area free of moisture, strong odors, and light. For this reason, we recommend you avoid glass jars. Although it's so tempting to stock up on teas when you go to a beautiful tea and spice store that has rows and rows of jars filled with teas and spices, remember that the teas (or spices) probably won't be of great quality because of how they were stored and displayed.

Metal tins are good if they have a tight seal, but be aware that tins will absorb aroma so keep similar teas in each tin (for instance, if you've stored a smoky tea in a tin, keep that tin for smoky teas, or if you have an earl grey tin, keep it an earl grey tin).
About This Article
This article is from the book:
This article can be found in the category: