The method for decreasing both spaces and blocks in filet crochet is the same. To decrease one space or block at the beginning of a row, you simply slip stitch across to where you want to begin the first space or block.
At the end of the row preceding the row you're decreasing, turn your work.
This procedure is what you do to begin any new row.
Slip stitch (sl st) across 3 stitches for each space or block that you're decreasing.
If you're decreasing 1 space or block, then slip stitch across 3 stitches; if you're decreasing 2 spaces or blocks, slip stitch across 6 stitches.
Slip stitch in the next stitch.
This step brings your hook into the correct stitch to begin your first space or block of the row.
Chain (ch) 3.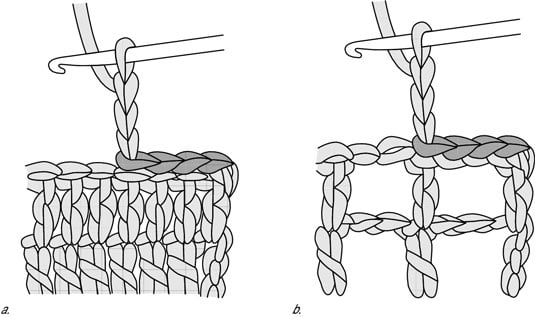 This step creates the turning chain of the row's first double crochet (dc).
Work across the row with either blocks or spaces.
Proceed like normal across the rest of the row.
About This Article
This article can be found in the category: