If the thought of being completely on your own as an online investor makes you nervous but you're not willing to give up low-cost commissions, the discount brokers sit in the sweet spot for you. These brokers suit most investors ranging from beginners to the more advanced because they generally offer some advice (if you ask for it), and many have offices in most major cities.

Even if you're not looking for advice, the discounters are still appealing because they load their websites with advanced tools to help do-it-yourself investors of all levels. Some provide access to advanced trading tools, real-time stock quotes, or special computer programs that let you enter trades just as fast as the traders on Wall Street. Top-notch apps that let you check your portfolio and place trades on the go are also part of the deal. These extras sometimes come with slightly higher commissions, but the difference isn't all that significant anymore compared with the deep discounters, and it might not be a deal-breaker for you. Price wars have yanked commissions from the discounters down to between $4 and $10. Most discounters also offer price breaks if you're a hyperactive trader. Most of these brokers also offer services where you can invest in a premade mix of diversified investments, rather than picking your own stocks or funds. The names to know here are
Bank of America might not be what you think of as a stockbroker, but it's one of the large banks aggressively boosting its brokerage services. Traditionally, banks have targeted the well-heeled with personal bankers who pick out investments like personal shoppers pick out ties for rich executives. But Bank of America's Merrill Edge unit has added self-service brokerage fees with commissions starting at $6.95. And you can get 30 free trades a month if you keep at least $20,000 with the bank in a deposit account, such as a Bank of America savings account. As your account grows, you have access to the wealth management services offered by the bank. Bank of America makes its connection with Merrill Lynch clear on its website, as shown here.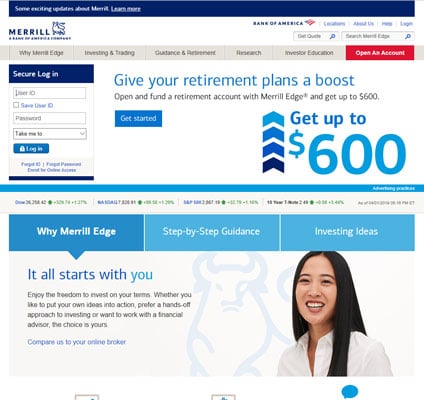 Bank of America's Merrill Edge aims to win over investors looking for a bank and broker.
Charles Schwab tries to be the Toyota Camry of brokers: not flashy or exotic in any one area but practical and pleasing to the bulk of investors. Schwab lowered commission to $4.95 in 2017, keeping it competitive among the other discounters. Schwab's commissions are still among the cheapest, and for that price, the broker adds services that might be valuable, whether you're looking for help or want to be left to your own devices. For instance, you can buy hundreds of exchange-traded funds for no commission. Do-it-yourselfers might like Schwab's Equity Ratings, a computerized system that evaluates stocks and assigns them letter-grade scores from A to F. It also provides access to Wall Street research and a full suite of banking services, including high interest rates paid on cash sitting in your account. But if you decide later you need more help, Schwab offers mutual funds designed to fit specific needs in addition to making consultants available to give you personalized advice. If you're not going to use all these extra services, though, the higher commission might not be worth it.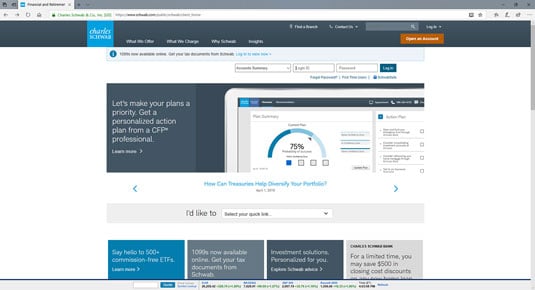 Schwab tries to provide access to the tools that most investors will need.
E*Trade has a reputation as being an innovator in the industry and seems to be always looking for ways to separate itself from others. E*Trade has long targeted active traders with computer software such as Power E*Trade, which is software that lets you find stocks and other investments that meet your criteria or test how trading strategies would have worked in the past. But E*Trade has things for beginners, too, such as access to stock research from several providers and the capability to shift cash to a checking or high-yield savings account. There's an advanced smartphone app and a more basic one, too. The commission is typically $6.95 but can be lower based on your account balance and how often you trade.
Fidelity consistently gets good marks for making its website easy to navigate and getting trades through quickly. Fidelity has also been a leader in adding functions outside of just plain-old U.S. stock trading, including an advanced online system to buy bonds, invest in initial public offerings, and trade stocks outside the United States. It's also well designed and a good value. For years, Fidelity was a premium-priced online brokerage, but after slashing its commissions to $4.95, it's competitive if not on the low end. In addition, Fidelity is offering commission-free purchases on select ETFs from Fidelity and also iShares, which is one of the largest providers of these investments.
Interactive Brokers is looking for the pros — or people who want to be. This isn't the brokerage for casual investors. You'll find advanced trading tools and software designed for sophisticated and rapid-fire trading strategies. The company maintains two pricing structures, both designed to reward frequent traders or those with relatively large balances of $100,000. If you're serious about trading, this is a broker worth considering.
Motif Investing is best for investors who want to pick trends or themes, not necessarily individual stocks. Customers can choose from dozens of premade investing Motif Thematic Portfolios, which are broad ideas for investment, such as companies working on biotechnology developments, called Biotech Breakthroughs, or companies that get most of their revenue from the U.S., called All American. Investors can buy the Motif Thematic Portfolios, and then Motif Investing will invest the money in a group of up to 30 stocks fitting the theme.
This brokerage is convenient for investors who don't want to choose individual stocks but aren't happy with the current selection of mutual funds or ETFs. Motif Investing charges a $9.95 commission to buy or sell a Motif Thematic Portfolio. You can also buy and sell individual stocks for $4.95 per trade. The company has been adding additional features, such as the ability to invest in themes that reflect your personal values and also new stock sold by companies for investors for the first time.
TD Ameritrade's earliest customers were active traders looking for low commissions. But the brokerage's low-cost roots are eroding, as its $6.95-per-trade commission is now more than what most of its major rivals charge. But TD Ameritrade tries to make up for its higher commission by offering a variety of high-tech digital tools and services that might save you money. Investors who trade frequently during the day also like TD Ameritrade's bonus PC software trading tools, such as thinkorswim, which let you see second-by-second stock price movements or test trading strategies and analyze how they would have done. The broker also offers solid mobile apps to keep tabs on your portfolio and to make trades.
TD Ameritrade is also a leader in offering consumers free trading in ETFs. Customers can choose from hundreds of ETFs from several leading providers, including iShares and State Street, and pay no commission as long as they are held more than 30 days. Keep in mind that Vanguard's uber-popular ETFs are not included. If you want to buy those, you might look elsewhere, including at Vanguard.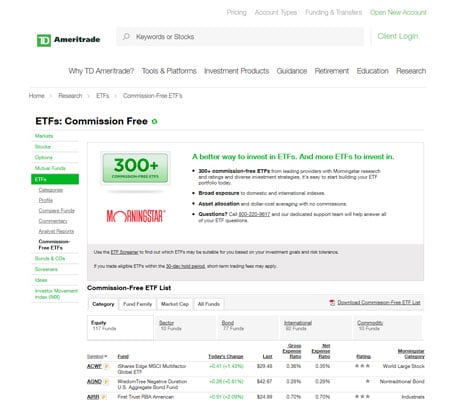 TD Ameritrade allows you to search all the ETFs it will allow you to buy and sell for no commission on its website.
Vanguard wins fans for its speed, the quality of customer service, and availability to help in navigating the site and making investment decisions. The company, best known as a mutual fund provider, is taking brokerage more seriously. Vanguard's commission structure, though, is a little more complex than at other brokers. For stocks, the first 25 trades you make in a year are a competitive $7 if you have less than $50,000 in your account. After you trade 25 times, trades jump to $20. If you keep more than $50,000 in your account but less than $500,000, you can get unlimited $7 trades. If you have more than $500,000 in your account, trades are discounted to $2, and trades are free if you have more than a million bucks in your account.
Here's one key selling point for Vanguard: It provides free unlimited trading to all investors in its own family of well-regarded ETFs. Remember, Vanguard's stock brokerage offering is separate from the account that lets you buy and sell Vanguard mutual funds, which I cover later. Vanguard is also top-notch in putting any uninvested cash in your brokerage account automatically in a safe, interest-bearing investment. This is a huge advantage, as you'll read about later in this chapter. Some investors may be charged a $20 annual account service fee unless they sign up to get account statements only online.
Wells Fargo is another bank that follows the model of using brokerage services to tempt customers to put more money in its hands. Wells Fargo's self-service stock commissions start at $8.95. But if you keep at least $25,000 in your deposit accounts, you can cut that to $2.95 without paying the monthly service charge of $30. Wells Fargo also gives you 100 trades a year with no monthly service fee if you keep $50,000 with the bank and its brokerage. But falling short of the $25,000 deposit balance or $50,000 total can be costly, resulting in a $30 a month fee. If you're a Wells Fargo customer with a decent sized portfolio, it's worth considering. The company's mobile app is capable but not fancy. And its website provides helpful planning information, especially pertaining to taxes and dividends.
Check out the table for an overview of what the different discounters have to offer.
About This Article
This article is from the book:
This article can be found in the category: