The deep discounters are the Walmarts and Home Depots of the brokerage world. When you sign up for a deep discounter, you are on your own. But if you know what you're doing, that's a good thing because you don't have to worry about getting pestered by a salesperson trying to pitch stocks you have no interest in.

And you'll get all the basics that you truly need, such as year-end tax statements, access to stock quotes and research, and the ability to buy and sell stocks and other investments. But the real beauty of these brokers is their sweet, low price: Because they don't offer niceties, they can have the lowest commissions, usually $5 a trade or less. Leaders include the following:
FolioInvesting offers a variety of pricing plans so that investors can choose which one works best. FolioInvesting's Basic plan lets you trade stocks for a low price of $4 as long as you're okay if the trades aren't executed right away, but instead, during two "windows" during the day. If you'd like your trades to go through right away, you'll be charged $10. You also pay a $15 maintenance fee per quarter if you place less than three trades in the quarter. If you pay a $290-a-year subscription fee, though, you get free delayed trades and a discounted rate of $3 to have trades go through right away.
Robinhood offers the ultimate lure: Free commissions. It's different than other brokerages in that it is entirely focused on mobile devices. Instead of providing a website for investors to log into and place trades, Robinhood focuses on apps for smartphones and tablets. You won't find the rich data services available on the websites of other brokers — but you won't pay for them, either.
SogoTrade's $4.88-a-trade is appealing not just for the low price. If you plan to be a serious trader, SogoTrade lets you download software to your computer — software similar to that provided by more expensive online brokers — which helps you track the market's daily movements. You must open an account with at least $500, but you do not need to maintain a minimum balance going forward. And the commission drops to $3 if you trade 150 times or more a quarter.
Ally Invest aims to give investors a few more bank-like niceties than other deep discounters, such as the ability to store cash balances in a high-yield savings account. Ally Invest, shown in Figure 4-1, also offers access to some company news and research reports, and a straightforward flat-fee commission of $4.95. The brokerage is a capable complement to what was primarily an online bank but is most appealing to existing bank customers. This broker isn't for the advanced trader.
No minimum account balance is required, but you'll be charged a $50-a-year fee if you have less than $2,500 in your account and don't trade at least once a year. You can view some of the tools Ally Invest offers to options investors in the following figure.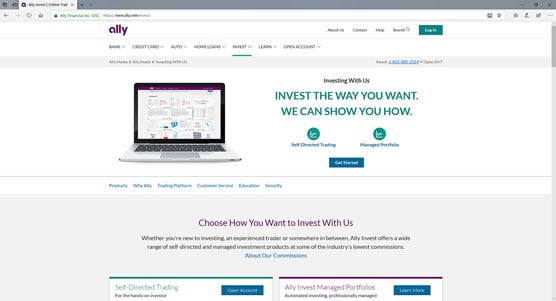 Ally Invest's website gives banking customers access to Wall Street.
The table sums up the main differences among the deep discounters.
Deep Discounters

| | | |
| --- | --- | --- |
| Broker | Commission | Minimum to Open an Account |
| FolioInvesting | $4.00 to trade stocks on a delayed basis, $10.00 for immediate trades with Basic plan | None |
| Robinhood | $0 | None |
| SogoTrade | $5.00 | $500 |
| Ally Invest | $4.95 | None |
Beginning investors always ask me how much money they need to begin and where they can get started investing online. You can start with next to nothing with brokers that have no minimum deposit requirements, which includes most of the deep discounters. If you're the kind of person who can't seem to save money until you've sent your cash off to a bank or brokerage, these are great places to start.
About This Article
This article is from the book:
This article can be found in the category: