Parents and their offspring have all sorts of dreams and fantasies about their kids playing sports, getting scholarships, and perhaps even turning pro and making big money from their sport. There's nothing inherently wrong with having dreams and aspirations, but it's important that they be largely grounded in reality and tempered with solid, back-up plans.

This article discusses some numbers showing the prevalence of different types of athletes at the college level and the realities surrounding athletic scholarships and being a recruited student-athlete.

Few people are fortunate enough to have the talent, drive, and luck that is often required to actually make decent money playing a sport. And even if that does happen years down the road, I can guarantee you that the money-making period won't last long, and your son or daughter will have many more years of adult working life remaining.

Try to stay focused on the long-term benefits that sports can provide, including:
Physical fitness and wellness: This can also include understanding the value of good nutrition and not putting bad stuff (drugs, alcohol, and so on) into your body because of how it makes you feel and the damage it can do.
Understanding the value of effort and focus: To master a sport and excel at it, a student-athlete has to put in a good deal of practice. Of course, this should be done in moderation and not infringe upon having enough time to do well in school.
Experiencing the value of teamwork and having a role: I think this is one of the greatest benefits of playing sports, especially team sports. Think about it — when your son or daughter enters the workforce, those teamwork skills will come into play and be quite useful.
Mastering time-management and juggling different responsibilities: You can't take challenging courses and have a significant outside commitment like a varsity sport if you aren't good at managing your time. To that I would also add that it's an activity to keep teenagers out of trouble. It sops up free time and leads participants to be tired!
The probability of competing in college athletics
The NCAA has compiled some useful statistics that show what portion of high school athletes go on to make teams at the collegiate level for different men and women's sports. The data also show how the collegiate sports opportunities break out by the division of play.

Overall, the NCAA calculates that there are approximately 8 million high school athletes, and of those, about 480,000 of them (or 6 percent) go on to compete at the college level. Please keep in mind as you review the data in the following figure that just because someone makes a college team, doesn't mean that they get much — if any — playing time or even a roster spot on a team over four years.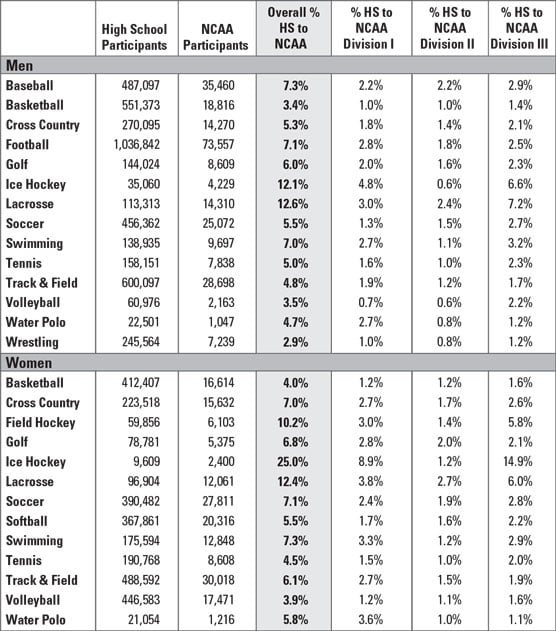 Source: NCAA
Percentage of high school athletes who go on to play at the collegiate level.
The likelihood of competing in professional sports
Another reason that some are attracted to sports and college athletics is the hope or dream of making it professionally. This is, of course, limited to a handful of sports. The following figure shows what portion of eligible collegiate athletes are drafted in a given year.

Please keep in mind that getting drafted doesn't in any way mean that these athletes are able to make a good living for any length of time on the pro circuit. The vast majority of drafted athletes never make it to the "Big Show" or equivalent and end up moving on to something else after one or a few years in the minor leagues (at low pay) for their chosen sport.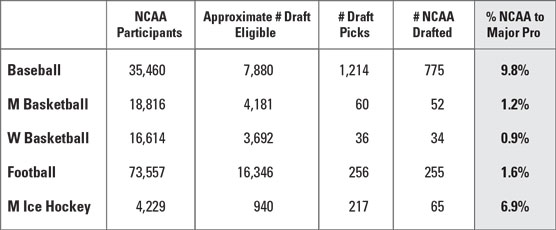 Source: NCAA
Percentage of collegiate athletes who subsequently play professional sports.
The numbers in the following table show a decent number of college baseball players get drafted. However, only about 17 percent of players who were drafted and signed a minor league contract ultimately made it to Major League Baseball, and many of those for a short period of time. Here's how the odds of making it to the MLB vary by the round drafted (note that there are 40 rounds in the MLB draft).
Drafted Baseball Players Who Make it to Major Leagues

| | | |
| --- | --- | --- |
| Draft Round | Played in MLB | Played 3+ yrs in MLB |
| 1st round | 67% | 47% |
| 2nd round | 49% | 31% |
| 3rd round | 40% | 21% |
| 4th round | 35% | 18% |
| 5th round | 33% | 18% |
| 6th round | 24% | 10% |
| 10th round | 17% | 8% |
| 12th–20th rounds | 10% | 4% |
How college athletic scholarships work
There are plenty of misperceptions and misunderstandings regarding collegiate sport scholarships. And, there's ample opportunity to be taken advantage of and end up without good college options for those who pursue being recruited as a student-athlete, whether or not a scholarship is involved. Being an educated customer is key to making sound decisions.
Full versus partial scholarships
The vast majority of athletic scholarships (99 percent in fact) are partial scholarships and are for so-called equivalency sports. Division 1 men equivalency sports are baseball, cross-country, fencing, golf, gymnastics, ice hockey, lacrosse, rifle, skiing, soccer, swimming, tennis, track and field, volleyball, water polo, and wrestling. For Division 1 women, equivalency sports are bowling, cross-country, fencing, field hockey, golf, ice hockey, lacrosse, rowing, skiing, track and field, soccer, softball, swimming, and water polo.

Additionally, all DII sports and National Association of Intercollegiate Athletics (NAIA) sports are equivalency sports. The NAIA is a competitor to the NCAA and is comprised primarily of smaller colleges. (NCAA Division III sports do not offer athletic scholarships.)

Some full scholarships are awarded for equivalency sport athletes for the most coveted and valued recruits. This is more likely to happen for athletes who have offers from multiple colleges to consider and/or who could play a division higher. Some student-athletes choose to play in a lower division for a better collegiate/academic fit or because of lower cost of attendance.

In contrast to equivalency sports, there are so-called head count sports, and scholarships from those teams are always full scholarships (in other words, 100 percent). Just one percent of all collegiate student-athletes enjoy full scholarships. With men's sports, such teams can include DI basketball and DI-A football (now known as Football Bowl Subdivision). For women's sports, the head count full scholarships come from DI basketball, gymnastics, tennis, and volleyball.

As you may imagine, it's the bigger name sports colleges you may have heard of that fit the bill here. These include the following collegiate athletic conferences: American Athletic Conference, Atlantic Coast Conference, Big 12 Conference, Big Ten Conference, Conference USA, Division I FBS Independents, Mid-American Conference, Mountain West Conference, Pac-12 Conference, Southeastern Conference, and Sun Belt Conference.
Dealing with recruited athlete offers
Most recruited athletes don't receive athletic scholarships. Being "recruited" means the following typically happens. College coaches try to identify promising high school student athletes during their high school tenure. When they find a good fit (which includes academically) for their program, they may make an offer or extend an invitation for that student-athlete to visit their campus and program.

Most coaches in most programs are given a certain number of recruiting slots by the admission's office. What this typically means is that with the coach's support, most of these recruited student-athletes are admitted, typically through the early action/decision period. Coaches, in conjunction with the admission's office, will do a preliminary screening of a possible recruit early in the process to ensure that the student-athlete meets academic and other requirements important to the college.

While a student-athlete can rack up multiple offers from various schools, he needs to select just one school to which to commit and apply early. This potentially puts the student-athlete in a vulnerable spot because if the coach changes his mind or doesn't offer enthusiastic support in the admissions process or the admission's office chooses not to admit the student, the student-athlete will likely have lost the other recruited athlete offers he had at other institutions. Coaches can't wait around and will move on to other candidates when it is clear they aren't an athlete's first choice.

Do your homework and be sure you understand what the offer and support a given coach is making to your student-athlete means and the likelihood of getting an offer of admission. Ask around to find out what the coach's and school's track records are with prior recruiting overtures. At some colleges, nearly all student-athletes who are offered a coach's support may gain admission whereas at other schools, half or less may eventually succeed.

Of course, your student-athlete should do some soul searching and be sure that the college she seeks to apply to early as a recruited athlete is really the one that she desires. A good question to ponder: If your child isn't able to play at some point due to injury, the coach cutting the player, or the player becoming disenchanted with and choosing to leave a team, how is your student going to feel about being at that college without playing her chosen sport?

The worst that can happen, in my observation and opinion, is that chasing after playing a collegiate sport can distort the process of college applications and selection for some student-athletes. It's all about priorities and focus. Finding the right academic schools should take precedence over finding a particular sports program. A good student-athlete should be able to do both.

At a small speaking event for talented high school baseball players wanting to learn more about playing college baseball, MLB manager and player Joe Girardi advised student-athletes getting the best education that they can and said to the players that they will be found if they have talent to play beyond college. In his own case, he turned down a baseball offer from a small school with weak academics in the south and ended up getting an engineering degree and playing baseball at Northwestern and was drafted into the MLB.

Make sure your student fully understands what he is signing up for when it comes to a college sport. Some coaches put the sport ahead of academics and everything else. Be sure to explore alternatives, including playing in a lower division where you may get a better financial aid offer or have more free time to pursue academics or other interests. With baseball, for example, plenty of pitchers get drafted out of Division III play and end up making it to play Major League Baseball.

Club sports are worth considering at some schools and can be quite good, especially at larger or big sports schools. Finally, don't rule out the possibility of your son or daughter getting into a school that fits them well and then trying out (walking on) for their desired sport.
The realities of athletic scholarship offers
When a scholarship is involved, be sure that you understand the process. The first step typically is for the coach to extend what is called a verbal scholarship offer. As you may imagine, a verbal offer is not a legally binding offer on either party.

The next step is for the school to offer the student-athlete a national letter of intent. If the student-athlete accepts and signs this, the school is committing to offer an athletic scholarship for one year and the student is accepting the offer and is committing to come to that school and program. See the NCAA's website on this topic.

Many folks don't understand that athletic scholarships are not four-year commitments on the school's part. It's a year-to-year proposition and can be discontinued for a variety of reasons, including but not limited to breaking of program behavior or academic rules or guidelines, change of coaches, inadequate performance (judged solely by the coach), injuries, low grades, and so on.

Don't be shy about inquiring about what has happened with prior student-athlete scholarship recipients and what portion of them received that money all four years. For those who didn't last that long, find out why.
About This Article
This article is from the book:
This article can be found in the category: