Eating out often can zap your budget, but busy schedules make it difficult to find the time to cook healthy, tasty, and economical home-cooked meals. The suggestions here can help.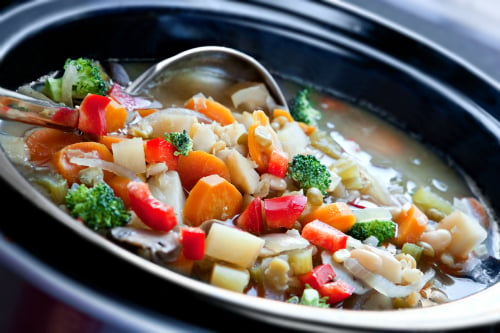 Credit: ©iStockphoto.com/robynmac
Cook in bulk. When you make chili, make enough for three meals. Eat one tonight, and then package the extra in labeled freezer bags. You now have two meals ready to go in just minutes for those nights when you're in a hurry. Just pop the freezer bag in the microwave or pour the thawed chili into a pan on the stovetop, toss together a green salad, and dinner is served.

For additional savings, plan your bulk-cooking sessions around the supermarket's sales.

Use a slow cooker. A slow cooker is both convenient and a money saver. When you come home at dinnertime, dinner's nearly done, eliminating the temptation to run out for something quick (and more expensive). But slow cookers can save you money in other ways:

You can cook larger meals, providing leftovers and possibly a second meal from one cooking time.

You can buy tougher (and less expensive) cuts of meat because the slow cooker acts as a tenderizer.

Meat shrinks less when cooked in the slow cooker and doesn't dry out.

A slow cooker doesn't use as much electricity as an oven, nor does it heat up the kitchen nearly as much as the stovetop or oven, so it's a perfect hot-weather cooking appliance.

Tofu, an inexpensive meat substitute, tastes better cooked in a slow cooker because it has time to soak up the flavors of the broth, spices, and other ingredients.
About This Article
This article can be found in the category: