Shopping can often feel like a black hole on your finances. Money goes in and disappears into a vacuum. Every time you step into a grocery store or discount department store, you may feel like you're out of control and you come out flat broke.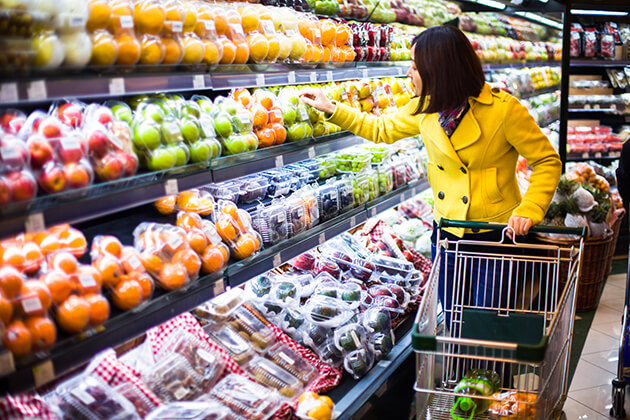 ©06photo / Adobe Stock
To prevent your shopping trips from turning into guilt trips, take time to think about how you can spend more thoughtfully.
Save by reducing and reusing
When considering a purchase, always keep the following in mind: Reduce, reuse, and recycle. Ask yourself these questions: Do you really need it? Do you already own or have access to something that you can use instead?

Try to reduce your purchase of processed, prepackaged foods. The more packaging and processing involved, the more the food costs you. By reducing your purchase of packaged and processed items, you save money and resources. Prepackaged groceries generally cost at least twice as much as whole foods, often multiple times more.

Also try to buy whole foods in their natural state whenever possible: fresh fruit, vegetables, meat, and dairy products. Yes, cooking is required, but cooking doesn't have to be drudgery. Sharing a home-cooked meal brings people together, saves money, and can be much healthier than the alternatives.

You can reduce trash and save money by minimizing your use of paper towels, disposable plates, and cups. Instead, reuse cloth towels and napkins and use durable dishes because you can wash and reuse these again and again. Go for permanent or reusable over disposable every time possible.

Take your shopping bags with you to the grocery store. Many stores credit you 5 cents per bag for bringing your own or charge you if you don't. You're not only saving money but also saving landfills.

Over the course of a year, simply reusing shopping bags, napkins, plates, and cups can save you $40 to $60. Just think of how many other items you can apply this concept to. If you can cut costs without cutting your lifestyle, why not? Use your money in other ways that give you more enjoyment and satisfaction.
Tips for keeping expenses down
The following are some other ways to keep your shopping expenses at a minimum:
Use a shopping list and purchase only the items on your list. Organize your list based on the layout of your store and stick to the outer walls where all the healthy options are. By following this guideline, you can begin to better plan your expenditures. And if you stick to your list and a routine, you can eliminate those nasty impulse purchases.
Don't go grocery shopping when you're hungry. People typically spend more and buy more processed — and, therefore, more expensive — food when they're hungry.
Buy merchandise when it's going out of season. Buy next year's winter coat or swimsuit when the prices are dirt cheap instead of at the beginning of the season, when the item's not on sale. And when you're shopping for clothes, buy wash-and-wear clothes rather than dry-clean only.
Buy second-hand. eBay and Craigslist have changed the landscape of shopping for pre-owned items. Before you buy something, check online first to see whether a pre-owned version is available. You can also find treasures at thrift stores and garage sales.
Shop at discount stores. Deep-discount grocery stores, such as Aldi's, can save you a lot of money.
Buying store brands and in bulk
Many stores carry store brands, items with the store's name on the label. Or they may carry generic products, those items labeled without a brand name of any sort. If you're willing to be a bit adventurous, keeping your eye out for inexpensive store brands and generic products can shave a substantial amount from your grocery budget.

People often say that they don't care for the taste or quality of store brands or generic items, but you may be surprised to discover that many products carrying generic or store brand labels are actually top-quality, name-brand items packaged under a different label.

You may have the best luck with generic versions of:
Tomato sauce and paste
Canned and frozen vegetables
Canned soups
Cookies and crackers
Dairy products (milk, butter, and cheese)
Coffee and tea
Bread, rolls, and buns
Finding space for bulk purchase groceries and supplies
Do you think you don't have room for bulk purchases because you don't have a pantry? Well, look at the back of your linen closet shelves behind the folded towels. If you're like many people, you may have some empty space just waiting to be filled with a stack of cans, boxes, or packages.

What about that empty corner in the garage? Or, look underneath your beds, and what do you see? Empty space and dust bunnies? Any of these places can be potential storage spots for a case or two of extra stewed tomatoes or refried beans.

You can also split bulk orders with a friend or relative if you really don't have the room but want to experience the savings to be found in bulk purchases.
Seeing through grocery store gimmicks
Grocery sellers spend money to learn how to fool you into spending more in their stores. Whether they're enticing you into the store in the first place with sale items or convincing you to buy more expensive items, be aware of some of these tactics:
The aisle switcheroo
If you shop at a particular store regularly, you know where everything you buy is located in each aisle. Without realizing it, you've developed a form of tunnel vision and don't really see anything except what you need. When the store rearranges the aisles or moves items from one position on a shelf to another, you have to look around and actually focus on each aisle and every shelf. By losing your tunnel vision for a time, the possibility of something new catching your eye increases dramatically, and consequently your impulse purchases increase, too.
The store's layout
Most grocery stores have the same general floor plan — they keep produce, bread, dairy, and meat products along the edges of the store or up against the walls. By putting commonly purchased items against the farthest wall or way off in a back corner, customers have to walk past numerous displays and shelves full of goodies.

Shop the edges of the store to save considerably on your grocery bill. Added benefit: The perimeter carries the healthiest items in the store. Your waistline — and your budget — will be healthier.
Shelf arrangements
If you want to find the best values on the grocery store shelves, look high on the top shelves or bend down and look at the bottom shelf. The brand-name and higher-priced products (as well as products designed to entice children) are located at eye level, while the generic, store brand, and lower-priced items are in the more awkward places to see.
Using coupons and rebates
People either love coupons and rebates or find them to be more work than they're worth. Coupons and rebates are a valuable addition to a well-rounded approach to saving money.

To make the most of your coupon savings, follow these suggestions:
Look for double-coupon and triple-coupon deals.
Look for coupons for items that are already on sale or that are deeply discounted.
Don't assume you get the best deal with the coupon; store brands can still be cheaper.
When shopping online, look for online coupon codes to save on the purchase price or on shipping and handling charges; just type the name of the store and "coupons" into your favorite search engine to see what you find. You can also try websites like Rakuten, Honey, and RetailMeNot.
To receive a rebate, you must fill out a rebate form and mail it along with proof-of-purchase materials — usually your original cash register receipt and the Universal Product Code (UPC) or barcode — to the manufacturer.

Occasionally, a store will offer rebates in the form of store credit rather than money back from the manufacturer. If you shop in a store regularly, credit for shopping there again can be helpful to the budget. But be careful you don't use the store credit as an excuse to buy things you normally wouldn't purchase. The store isn't really trying to save you money — they're trying to entice you into spending more money.
About This Article
This article is from the book:
This article can be found in the category: