When renovating a property that you intend to flip, don't get carried away. Some home flippers hire top-of-the-scale contractors and insist on the highest-quality building materials from the nearest suppliers. To help you avoid that trap, here are 11 secrets that can slash your cash outlays and boost your bottom line.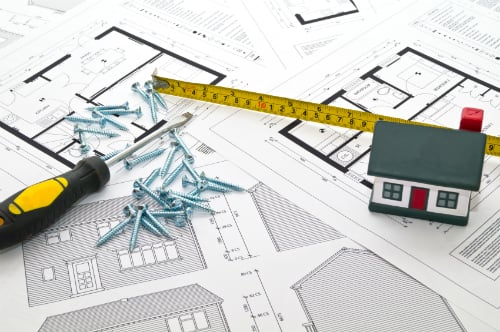 © iStockphoto.com/brett_land
Get free advice and planning tools. You don't have to hire a professional interior designer to draw up plans for remodeling a kitchen or bathroom. Most home-improvement stores have their own designers on staff to assist you. If you purchase the materials from the store, the store frequently throws in the design consultation for free. And who can say no to free?

You can often find additional planning tools and calculators online. Large home-improvement stores and manufacturers typically feature cost estimators, material lists, and installation instructions and tips on their websites. For some excellent online resources for planning your projects, check out Lowe's, Home Depot, and Bob Vila Design Tools.

Hire moonlighters. Large construction companies often have large overhead costs, so they have to charge more for their work. A roofing company, for example, needs to purchase and maintain its trucks, pay rent on office space, and cover payroll expenses and insurance for its workers. To earn an extra buck on the side, the employees of many of these companies moonlight, which means they provide the same high-quality service on the side for a fraction of the cost.

You can often locate prospective moonlighters by visiting worksites in your neighborhood. Ask to see the boss, and if he's not around, pitch your proposal to the workers. If the boss is around, you can ask him for an estimate without blowing your cover.

Hiring moonlighters is a great idea, but make sure they have health insurance with accident coverage. If your workers don't have proper insurance and one of them gets hurt working on your house, your cost savings could quickly be sapped away by losses. If the moonlighters don't have insurance, buy an insurance policy that includes accident coverage for workers.

Hire students over the summer. When school's out, college and high-school students flock to area businesses to secure summer employment, and they're often turned away because so many people are looking for jobs. That's where you come in. Post an ad in the local newspaper or contact high schools and colleges in your area to let them know you're looking for summer laborers.

Students are eager and well-qualified to perform the following renovation chores:

Mowing, weeding, trimming bushes and trees, and planting flowers

Patching and sealing driveways and walks

De-cluttering garages, basements, and attics

Vacuuming, window washing, and other cleaning

Demolishing old storage sheds

Tearing out old carpeting

Patching and painting inside and out

Refinishing decks

Buy overstocked or discontinued building materials. When you wander the aisles at your local hardware or building-supply store, find what you want and then ask about any overstocked or discontinued materials that are similar in appearance. Talk to the manager, who most likely wants to clear the old, overstocked items from inventory to make room for the new merchandise that's in greater demand. You can often purchase overstocked or discontinued merchandise for a fraction of the cost.

Buy builder's-grade materials. When shopping for building materials, ask the salesperson to direct you to the builder's-grade materials — the more affordable options, such as prefab cabinets and low-grade carpeting. If installed and maintained properly, these materials are perfectly suitable for most markets. If you're flipping on the ritzy side of town, however, you may need to buy the good stuff.

Gauge your selection of materials by the visibility and importance of the rooms. Consider using higher-quality materials for the kitchen, main bathroom, and master bedroom and a lesser quality for the other bedrooms and the second and third bathrooms.

Use remnant material to trim your costs. Carpeting stores, countertop manufacturers, and other suppliers often have remnants in the back that may be sufficient for completing small jobs. Picky customers often return items that have tiny scratches or dents as well as materials that they cut a little too short. These gently used materials may be just what you need, and you can pick them up for pennies on the dollar.

Buy time-saving power tools. When you hire a contractor, you indirectly pay for the tools that make the job much easier. When you rent a tool, you have to return it. When you buy your own tools, however, you have them for as long as they work, and you can spread the cost over several flips. If you're a do-it-yourselfer, buy the tools that make it easier for you to do a professional job.

In addition to the standard hammers, pliers, wrenches, screwdrivers, tape measures, paint scrapers, and paintbrushes, almost every house flipper can simplify do-it-yourself jobs with the following power tools:

Heat gun for stripping wallpaper and paint

Power washer to clean everything from decks to siding

Power roller for painting inside walls and ceilings

Cordless drill with a well-stocked drill-bit case

Screw gun with Phillips and flat-head screw bits

Circular saw for decks and other woodworking projects

Reciprocating saw for cutting anything you can't cut with a circular saw

Nail gun for quick and easy single-handed nail driving

Vibrating sander, or belt sander, for sanding out scratches and gouges in wood surfaces

Charge purchases on a rewards-back credit card. Credit-card companies offer some pretty sweet deals to reward customers for using their cards, and as long as you pay the balance in full when you receive the bill, you're not socked with high interest charges. If your building supplier offers its own credit card, you may get a discount on all purchases. If not, shop around for other cards. Companies offer everything from cash-back deals to frequent-flyer miles, free merchandise, free groceries, 0 percent interest for a specific period of time, and other attractive benefits. Take full advantage of these perks.

Schedule work off-season. During the off-season, larger companies have to keep their employees busy in order to pay them and finance their benefits. Use this as a bargaining chip when negotiating the cost of repairs and renovations. However, don't delay a project that needs to be done just to save a few bucks — holding costs (the cost of maintaining a flip) can outstrip any savings.

You reap two additional benefits by scheduling work off-season. The contractor is more likely to complete the job on schedule and is generally more responsive when you need her services in season.

Pool your projects. Most skilled laborers charge a minimum for just showing up. You pay for their time and travel expenses no matter how small the job. To save money, pool your projects. You can draw up a list of projects for the plumber, a list for the carpenter, and another list for the electrician. Have them complete all the projects in one trip. Better yet, if you have several houses going at one time, ask the contractor whether she'll consider giving you a discount if you guarantee that she can work on all your properties. Talk with your neighbors. If they're having the same work done on their homes, you may be able to negotiate a better price for multiple jobs.

Rent a large Dumpster (a.k.a. skip) for all the tear-out and construction debris so all your contractors have one place to dump rubbish from your flip. By supplying the Dumpster, you can tell your contractors to remove the cost of waste removal from their estimates.
About This Article
This article is from the book:
This article can be found in the category:
This article is part of the collection(s):