Each listing contains a deluge of details about the property, all of which can be very helpful in your search for a flippable property (see the a sample listing). Some of these details, however, are more useful than others. Focus your search on the following golden nuggets:
List price: Now that you're looking at listings of only those homes in your price range, examine the list price (found in the upper right corner) and compare it to that of other comparable houses in the same area. An inordinately low price can signal a buying opportunity, or it can raise a red flag, making you (and others) wonder, "What's wrong with this one?"
List date or time on the market: How long has the home been on the market? You typically find your best opportunities in homes that have recently been listed (in the past couple of days) or in homes that have been on the market for a couple of months. A home that's not selling may be overpriced for the current market. In many cases, the longer the seller holds out, the harder it is to sell, and the more desperate the seller becomes. This cycle can signal a buying opportunity now or in the near future. Your agent can tell you the average time a home is on the market in any given neighborhood so you can properly gauge what's considered "a long time."
Remarks: Near the bottom of every MLS listing is a Remarks or Property Description section that offers additional bits of information. Look for key terms, such as "sold as is," "handyman's special," "in need of a little TLC," or "needs a little work." These phrases translate to "You'll get the house for less because the current owner doesn't want to clean, paint, or re-carpet." Agents may also be able to download the seller's residential disclosure, which contains additional details on what works and what doesn't, whether the property has ever had biological contaminates (such as mold), how old the roof is, and so forth.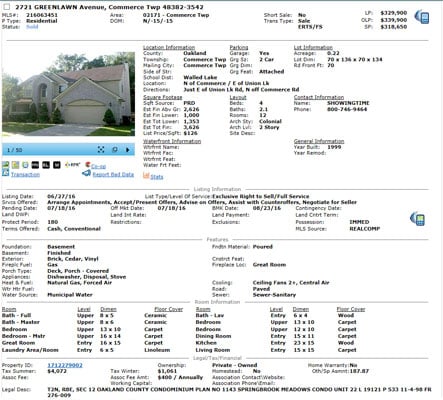 Source: Ralph Roberts Realty
A listing contains a lot of useful information.
Nothing on the MLS is the gospel truth. Sellers and real estate agents alike often estimate room sizes or make mistakes when entering details. Approach all prospects with a discerning eye.
About This Article
This article is from the book:
This article can be found in the category: