Strategically creating value by really knowing your customers concentrates on a narrow market segment by a deep understanding of your customers and their perceptions of the value of the product or service you offer.
A company implementing the customer intimacy strategy competes on scope, providing superior value by tailoring its products or services to match exactly the needs of targeted customers. It serves customers who are willing to pay a premium to get precisely what they want and specializes in satisfying unique customer needs through an intimate knowledge of the customers.
A customer intimacy value proposition sounds something like this: "We provide the best total solution to our customers because we make a practice of knowing exactly what they need." Try to fashion your goals around the following examples:
To ensure that our customers feel like we understand them by continually engaging in market research and responding to it

To provide customized products and services to meet their needs

To stress exceptional customer service

To install and effectively use a customer relationship management system

To offer and sell a complete solution (selling multiple and bundled products and services)
Develop a customer-focused culture to attain these marks. These procedures include offering as many products and services that your customers are looking to you to provide — meaning that you completely solve the problem or need that your customers have. Refer to the figure for an overview of this strategy in comparison to the two previous strategies.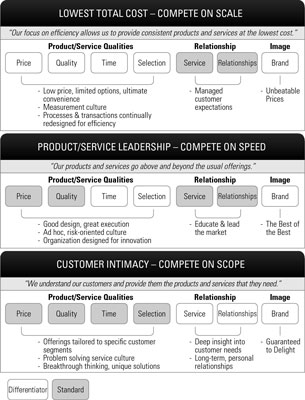 A rapid software development company develops tools for online collaboration. Based on customer feedback, the company develops additional tools and online applications specifically to meet the needs of its growing client base. In fact, this company is so focused on its customers that it provides a free online forum and training for customers to develop their own collaboration tools, using its platform.
More examples of companies that are providing complete customer solutions through customer intimacy include Nordstrom, Goldman Sachs, and Cabela's.
About This Article
This article is from the book:
This article can be found in the category: