Assessing and possibly redefining your business model, no matter what type of organization you are, can be a powerful and enlightening part of your strategic planning and management process. Many organizations today are redefining how they deliver value to customers yielding unprecedented success.
The business model consists of nine key building blocks that deliver your value proposition, as shown in the figure. On the right-hand side of the model, you identify your target customer segments, how you develop relationships with those customers, and the channels by which you reach them, supported by the revenue streams generated from that interaction.
On the left-hand side, you think through what key partners, key activities, and key resources you need to deliver your value proposition to your customers and the cost structure to do so.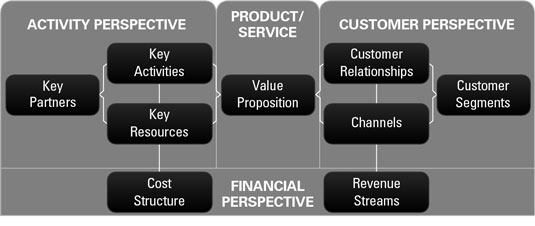 Alexander Osterwalder is a guru in business model generation and provides concrete descriptions and questions for each building block in the following list. Start with identifying the customer segment you are serving, followed by an identification of the value proposition to that customer segment. From there, build out the right-hand side, or customer perspective, followed by the left-hand side, or the activity perspective, of the model.
Customer Segments: This part of the framework defines the different groups of people or organizations a company aims to reach or serve. Which customer segments will you be targeting? What problem will you be solving for those customers? For whom are you creating value?

Value Proposition: The value proposition is the bundle of products and services that create value for a specific customer segment. What value will you deliver to your targeted customers? What package of products and services will you deliver? Why will customers buy from you?

Channels: The channels describe how the company communicates with and reaches its customer segments to deliver the value proposition. How will you reach your customers? Through which channels do your customers want to be reached?

Customer Relationships: These relationships are what a company establishes or wants to establish with a specific customer segment. What type of relationship does each of your customer segments expect you to establish and maintain with them?

Revenue Streams: The cash a company generates from each customer segment is its revenue stream. What will customers pay for? How much will they pay? How will they pay?

Key Partners: The network of suppliers and partners that make the business model work are the key partners. Who are your key partners? Who are your key suppliers?

Key Activities: These activities are the most important things a company must do to make its business model work. What key activities does your value proposition require?

Key Resources: Key resources are the most important assets required to make a business model work. What are the key resources required to deliver and execute your value proposition?

Cost Structure: The cost structure describes all the costs incurred to operate a business model. What are the costs of your business model? Which resources and activities are the most expensive? Are your costs less than our revenue?
Ready to frame out your own business model? Grab a hammer and some nails (sticky notes and flip chart) and get going!
Gather a small group of diverse perspectives from across your organization to participate in the exercise.

Use the thought-provoking questions in the previous figure for each building block to build your business model.

Answer each question by following the flow in the order listed in the previous section.

Document your key assumptions and targets.

As you're building your model, keep a list of assumptions you make and future targets you may want to hit as a result of thinking about your organization from the value proposition outward.

Identify what impacts or changes you need to build into your plan to bring your business model to life.

Take action on the changes when you construct your road map (strategic objectives, goals, and actions).
About This Article
This article is from the book:
This article can be found in the category: