The executive summary is the most important section of the business plan for your mobile food business; it tells your readers why you think your business idea will be successful. In this section of your plan, you provide a detailed overview, along with a history of your company and where you want it to be in the future.
It's the first thing on your plan that your readers will see, so it needs to grab their interest and make them want to keep reading. Be sure you engage the reader; keep your tone positive and upbeat.
A good executive summary is no longer than one to two pages, can be memorized, and is ingrained into your thoughts. It's the core of your business concept on paper.
Within the executive summary, you need to include these subsections:
Overview: Briefly explain the general purpose for your business plan. Include who you are, the name of your company, as well as the area where you'll operate your food truck business.

Products and Services: What will you sell from your mobile food business? You need to include only a brief summary of the items or cuisine you'll offer because you cover this topic in more detail in the menu section. Let the readers know how you'll sell these products, whether just from your truck or through catering services as well.

Financing: Here's your first opportunity to share with your readers how much money you need to finance the start-up of your business and what you plan to use it for.

Mission Statement: Why do you want to start a food truck business? Why do you want to sell the items you're planning to include in your menu? Does a need for this style of cuisine in your area exist? In this section, you first share your foresight and vision for why your business is needed and will succeed.

Management Team: This brief statement includes who you are (and any partners you have) and what working experience you have that will help your food truck prosper.

Sales Forecasts: The first questions most investors have revolve around the return on their investment. Providing a short, three-year forecast on your business's future sales keeps your investors' attention and keeps them wanting to learn more.

Expansion Plan: Your business plan tells the reader a story. This section explains where you see your business in the future. Do you plan to add services (catering, online sales, or selling your food products in local grocery stores), additional vehicles to your inventory, or even a brick-and-mortar restaurant to your growing food service empire?
Following is an example of an executive summary. As in the example, present all the information in each section in a brief, one- or two-paragraph format. Keep in mind that you'll lay out the details of these topics within the plan itself.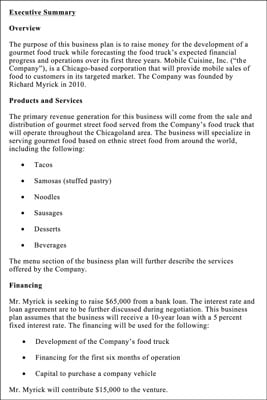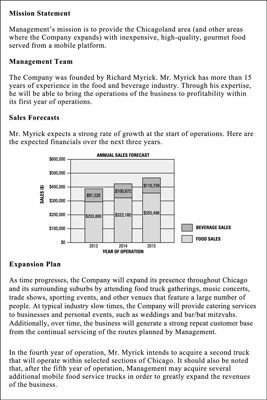 About This Article
This article can be found in the category: