Creating a list of people interested in what your micro-entrepreneurial business has to offer and then growing the subscriber list is essential for a successful ezine. Building your ezine subscriber list means more money (potentially) for your business.
Offer something free with your email newsletter
Take a look at how other ezine publishers market their ezine. The odds are good that they give away some freebies to boost subscriptions. The most typical giveaways are digital reports or ebooks that offer content that is perceived as valuable to new subscribers.
Use a subscription box for your ezine
The easier you make it for folks to subscribe to your ezine, the bigger your subscriber list. The subscription box (where your customers subscribe) can be as simple as a button that your visitors click, which then takes them to a page where they can easily sign up for a subscription to your ezine.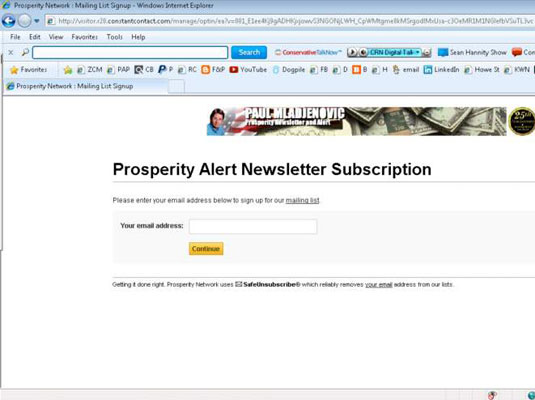 Credit: Illustration courtesy of Paul Mladjenovic
You bulk email service provider can probably supply this sign-up page.
Trade subscription lists with other email newsletters
To build your subscription list, you may consider negotiating a trade with another ezine publisher. Offer to allow the other ezine publisher to email your subscribers in exchange for you emailing its subscribers. This type of deal is actually more common than you think. Just make sure that the other ezine is in a comparable niche.
If you let other ezines email to your list, make sure that you seed your list with some names of people that you personally know. Seeding is the act of putting anonymous names of people in the list for verification and security purposes. You don't want anyone abusing your list, which can damage your relationship with your subscribers (not to mention any potential fraud that may occur).
Morph the content of your ezine into different formats
Many successful marketers take the same (even the exact) content and morph it into a variety of forms to multiply its usability and reach. They may do a blog post entitled "19 Ways to Look Younger" (for a health and beauty niche blog) and then turn it into an ezine article to email to their subscriber list and then do a YouTube video (and so on).
Of course, don't haphazardly do this. The content may appear in a variety of formats, but it all has (or should have) the same focus — sending traffic to the right spot, which is a sign-up page for your ezine or a landing page for what you're offering.
In addition to videos, you can also do audio blogging (or audio podcasting). With a simple digital recorder, you have the ability to create an audio that can be heard at your blog. Many folks create podcasts, and many venues can help you create one as well.
Distribute press releases about your micro-entrepreneurial business
Whenever you're doing any initiative or activity with your business, including something with your blog (such as a speaking program), it has publicity value. In other words, you can make an announcement about what you're doing in the form of a press release.
If the press release gets published, it will give you (and what you offer, such as your ezine) added exposure, which can mean more traffic to your blog or website and a potential boost to your ezine subscriber list.
Market your ezine with articles posted elsewhere
Although your ezine contains articles, you should also consider writing other articles for business-building and increasing your subscriber list for your ezine. For example, you might write an article about the economy and about some forecasts you want to make.
You could then publish the article in a couple of financial-oriented sites. You never know how many people might email you as a result, asking about your ezine and other offerings.
It will help in such instances if you have a bulk email service to quickly and conveniently process those inquiries. A bulk email service can create an email list in a jiffy.
Buy a website and its subscribers for your ezine
Flippa is a site where domain names and entire websites are bought and sold. You can find sites that have subscribers or a list of customers, which gives you the opportunity to buy a site for a relatively low amount and pick up possibly a valuable database of prospects.
For example, say that you're a wellness site, and you find a nutritional website being sold on Flippa for $150. If you knew that this site had 5,000 names, and your niche and the website's niche were close enough, then buying it could be a good deal.
In addition to Flippa, other websites that basically do the same are WebsiteBroker and Deal a Site.
Attend trade shows to build your ezine subscriber list
To build your ezine subscriber list, you can also be in a room of potentially hundreds or even thousands of potential subscribers at conferences or trade shows that focus on your niche. A good resource to find appropriate trade shows is the website Trade Show News Network.
Ask current subscribers of your ezine for referrals
What better source of growing your subscriber list than on your current list! Every now and then, ask your subscribers to forward an issue to their friends. Maybe you can give them an incentive, such as a free report or ebook. Most of the bulk email service providers have a feature to help take advantage of referring a friend.
Create a viral report or ebook to promote your ezine
You can also compile a report or write an ebook that you give away and then encourage the individuals who received it to also give it away. Make sure the report or ebook has plenty of links back to your email newsletter sign-up page.
About This Article
This article is from the book:
This article can be found in the category: