A presentation that is organized around value starts off on the right track and has a good chance of staying on track through the course of your presentation. If you don't use your product or service or your features as topics for your sales presentations, where do you get your topics?
You need look no further than your value proposition, the results that the prospect can expect to receive from your product or service. The value proposition is an easy and natural place to start searching for topics to build your case.
Using your value proposition as your North Star keeps you in good position to deliver a customer-focused presentation. Each topic you discuss within the body of your presentation should contribute toward substantiating your value proposition. Within your value proposition are the topics, or the elements that make up your topics and are represented in your agenda.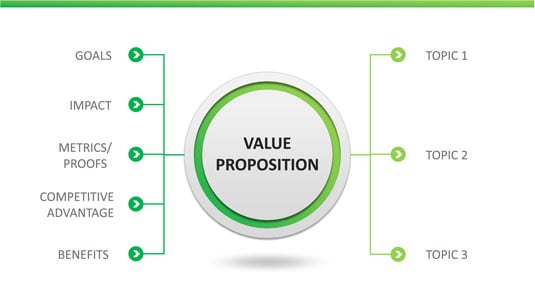 Credit: Illustration by 24Slides
Diagram of deriving topics from the value proposition.
About This Article
This article is from the book:
This article can be found in the category: