So, what is influencer marketing exactly, and why are marketers so darn excited about it? Influencer marketing is the art and science of engaging people who are influential online to share brand messaging with their audiences in the form of sponsored content.

Advertisers have always used celebrity endorsements as a way to increase awareness and improve perception of a brand, because people tend to trust celebrities they admire, and sometimes aspire to be like them. Influencer marketing is similar in concept, but it has ushered in a new way to define celebrity.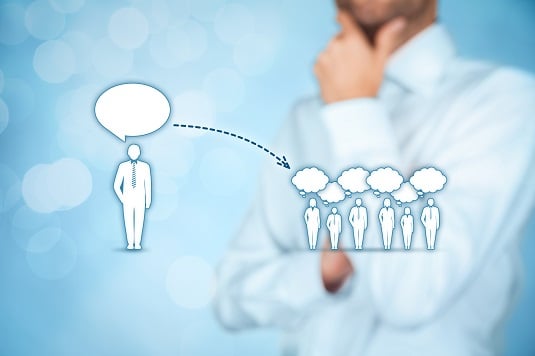 ©Shutterstock/Jirsak
In addition to TV and movie stars, pro athletes, and musicians, celebrities of the social media world exist now, too. People can build big, engaged audiences on social media, such as through blogs or Instagram. And those social media influencers wield influence over their audiences, akin to celebrity influence. Brands then work with these social media influencers to create a new kind of celebrity endorsement.
For example, maybe a new energy drink has just come out, and they want to market themselves as a "perfect boost for busy women." They decide that — in addition to email blasts, online display ads, and in-person events — they're going to reach out to influential female bloggers who write about their busy lives (and include information about the new energy drink). To engage these influencers, the energy drink's marketing team will
Find bloggers who meet their target demographic.
Reach out to the bloggers in an effective and professional way so that both parties are happy with and clear about their upcoming partnership.
Send the bloggers samples of the drink.
Enjoy the results of a fantastic social media campaign! The bloggers' readers are thrilled to have learned about their favorite online friend's good experiences with this energy drink, and they comment that they're going to try it themselves.
Of course, influencer marketing is not quite that simple, and these are actually quite time-consuming and involved, but the idea is sound.

Use this guide to discover how to make influencer marketing work for you, regardless of the size of your business.

So why influencer marketing? What makes it so impossible to have done before and so hot right now?

Social media today gives access to anyone to become an influencer; anyone who builds an audience can influence that audience. This means there's a huge pool of influencers available for brands to work with.
More tools than ever before exist to help brands find and engage with influencers. There are resources for turnkey influencer programs now that simply didn't exist.
Influencers exist on any channel or platform; they aren't limited to one format or another.
Consumers have little trust in advertising. No one clicks banner ads anymore! But consumers do trust their friends and family when it comes to product recommendations and purchasing decisions — and consumers consider social media acquaintances to be friends.
When executed well, influencer marketing programs have proven to be one of the most cost-effective and powerful tools in a marketer's arsenal.
The primary influencer platforms
A slew of social media platforms are out there, but most influencers focus on the six big ones:
The most established: Programs on these platforms are replicable and scalable based on years of data and case studies.
The most marketing-friendly: Marketers know they can expect good results from programs on these platforms. The Snapchats of the world are fun, but they haven't yet proven to yield demonstrable results for most businesses.
Regardless of how many new tools emerge, when you've mastered the basics of these six platforms, you can manage influencers anywhere.
Blogs
Blogs were arguably the first form of user-generated content that attracted advertisers. When the web evolved from top-down editorial content (content that was published on websites, much like magazines and newspapers were published, without any way for audiences to interact or respond to that content), bloggers were the first people to attract true, measurable, engaged audiences.

Blogs allowed for commenters, which meant bloggers (publishers) were interacting with their audiences. This two-way communication was revolutionary, and entire communities formed around blogs. Advertisers followed.

Since 2000, blogs have evolved from being primarily text-heavy outlets for sharing opinion and personal stories, to a dizzying world of highly visual, readily shared content.

Blogs are still a mainstay of influencer programs. Here's why:
There are popular blogs for every topic under the sun.
Traffic and activity from blogs (page views, visits, time on site, and so on) are easy to measure.
Influential bloggers can create gorgeous content and tell beautiful, true stories in a way that brands simply can't.
The evergreen nature of blog content means sponsored posts will be discovered long after programs have been completed.
Instagram
No other social media tool has enjoyed Instagram's meteoric rise to prominence. People of all ages (especially under the age of 34) love perusing and sharing snapshots and short videos called Instastories of people's lives, whether they know them IRL (in real life) or not. Instagram is fun and easy to use, and though marketers were once hesitant to believe that fleeting photos on Instagram could do much for brands, nearly 95 percent of retailers are now on Instagram!

Working with influencers on Instagram is fabulous because
Users want visual content that's easy to digest, which is why Instagram is so popular. Engaging Instagram influencers to ensure that brand content is prominent on Instagram is a no-brainer!
Simple photos and videos are a great way to bring your product to life, for others to see it in action. A picture really is worth a thousand words.
Many tools are available to track Instagram programs simply by using a unique hashtag, so measuring program success is easy (and some of these tools are even free!).
Instagram's audience is broad, and often different from the audiences who are reading story-based blogs. Instagram offers a fantastic additional channel to get sponsored content in front of as many people as possible.
Twitter
Twitter has changed the news cycle, and the way social media-savvy users consume news. Any event will be discussed and shared as it unfolds in real time on Twitter. Twitter is the platform for the world's social commentary, whether it's serving as a political megaphone for citizens reporting live from the trenches, or a humorous collection of ongoing reactions to this season's Bachelor finale.

Facebook is where social media users check in and check up on family and friends (mostly people they know in real life). Twitter is where users go to find out — or share — what's happening in the world at large with thousands of users they (mostly) don't know. Therefore, Twitter is great for
Hosting chats or "parties" with a wide cross-section of people who have a common interest.
Disseminating information about a new product launch or anything newsworthy.
Brands that are interested in actively engaging with users. Facebook is more passive — comments may go unanswered for long periods of time, for example. Twitter users expect responses quickly. As a brand, if you can't engage in near real-time conversations with followers, working with influencers who can do it on your behalf is a fantastic option.
Facebook
Although Facebook isn't quite as popular as it once was among the under-25 crowd, millions of Americans check Facebook daily. Marketers have to be there! But being there can be tricky. Facebook changes its algorithms, policies, and ad serving regularly — what worked today may not work tomorrow. It's tough — but critical — to keep up.

For that reason, when it comes to Facebook, working with influencers is fantastic. Here's why:
People who are popular on Facebook know how to navigate the tool to ensure that their posts are seen as widely as possible. Working with influencers means working with experts.
If you've already created branded content and you just want to disseminate it, engaging Facebook influencers is your perfect solution. Facebook is incredibly powerful for sharing brief, to-the-point messages, such as coupons, in-store sale info, or branded images or videos.
Running a company Facebook Page is completely different from engaging influencers to post sponsored content to Facebook.
Pinterest
After soaring onto the scene, fueled by users who couldn't get enough of the beautiful, educational, and aspirational tool, Pinterest has established itself as an absolute must for any product-based brand. Pinterest drives more traffic to online retailers than any other site.

Here's why Pinterest is great for influencer marketing:
Influencers love to create beautiful content and post it to Pinterest. The more beautiful the content, the more extensive the pin's reach will be.
Working Pinterest into an influencer marketing program means thinking about the brand in a visual way, which ultimately makes the program more successful. For example, how do you make a child's plastic bucket visually beautiful and pinworthy? By adjusting the program content to work for Pinterest — for example, images of sand castles that influencers made with the plastic bucket or by posting a list of 13 outdoor activities for kids under 5 (and all you need is a bucket!).
Unlike other platforms, pins tend to live on and on and on, because they're pinned and repinned in perpetuity.
Video
Video influencers are, in some ways, the holy grail of social media influencers. In some cases, their videos reach millions of adoring viewers who can't wait for the next installment — and to be told what products to try. A popular beauty expert who makes a video about the perfect bronzer will directly affect sales of that bronzer.

In the influencer marketing world, video is its own special entity. The most popular video influencers are often quickly scooped up by agents or agencies, which makes it difficult for brands to work directly with them. Popular video influencers can also command much higher compensation than other types of influencers, especially if they have six- and seven-figure followings.

The good news is, as video production tools continue to become more ubiquitous, more affordable, and easier to use, there are more up-and-coming video influencers than ever before. Now that you can film nearly theater-quality movies with your camera, more and more people are entering the video influencer world and amassing thousands of viewers who aren't necessarily reading blogs, checking Pinterest, or using Twitter or Facebook. And when done well, a sponsored video can be as beautiful as a TV ad, while being more authentic and compelling to viewers.

To make the most of video influencer programs,
Don't focus too narrowly on YouTube stars. There is video talent everywhere! For example, there are thousands of Snapchat users, who have tremendous followings even though their videos are only seconds long.
Keep your eyes open for new talent. When a video talent is discovered by the masses, she's less likely to work one-on-one with brands or marketers.
Allow influencers great creative freedom. Building a video audience isn't easy to do, and the influencer knows her audience best. If you want her to incorporate brand product or messaging into her work, you have to be willing to allow her the flexibility to do it her way.
If you're working with highly inexperienced and less popular video influencers, be willing to offer help — from editing resources to script ideas — and expect more back-and-forth communication throughout the process.

Before deciding which influencer platform is right for you, try to match your align your target audience with a platform and your selected influencer. It would be frustrating to select a social media platform only to have your influencer strategy fail because you didn't research your influencer's following.
About This Article
This article is from the book:
This article can be found in the category: