Google+ is a relative newcomer on the social networking scene. It allows you to rate and rank to assist your online marketing campaign. Unlike a bunch of false starts that Google has had in this space, Google+ seems here to stay: It's gained 100 million users in months, and Google's promoting the network using its dominance of search.
Like Facebook, Google+ lets you post photos, videos, and text. It has both profiles and pages. But it has a couple of unique features:
Circles: You can create and share circles, which are groups of similar people that you follow.

Search results: Google displays Google+ results from folks you follow right in Google search results, and displays relevant pages and people in the upper-right corner of some search results pages.
Google+ may offer you a shortcut past ranking pages and into the top 10.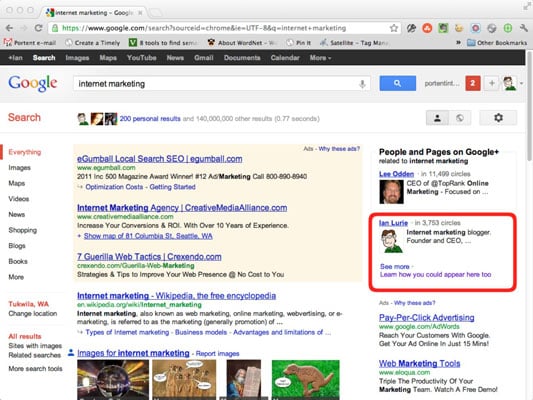 To get started on Google+, log into your Google account, click your username in the top-right corner and click the Join Google+ button. Enter your name and click the Upgrade button. Then follow these steps to set up your profile:
Log in to your Google account.

Click your username link at the top left-hand corner of the screen.

Click Profile and then Edit Profile.

Click the About tab.

The About page holds all your essential information: Other sites to which you contribute, where you went to school, where you work, a description of yourself, and settings for who can or cannot find you in Google+.

Write a detailed description of yourself, your interests, and what you're going to write about most often.

Google+ provides prompts for information. Provide links to all your other pages and social media profiles, and fully describe yourself. Google uses this information when determining whether to show you in search results.

Click Done Editing to save your work.
Google+ has a company page feature. However, these pages can't circle other people the way personal profiles do. Start with a personal Google+ profile where you can talk about what you do in your business. Use that to build a network first. Then you can build a company page later. Note that building a company page on Google+ is nearly identical to building a personal profile.
About This Article
This article is from the book:
This article can be found in the category: