Web marketers can further measure visit quality with bounce rate. A bounce occurs if someone visits one page of your website and then leaves without clicking to any other pages.
In Internet marketing, bounce rate can refer to two different things. As used here, bounce rate means the number of people who visit your site, view one page, and then leave without clicking to any other page. Bounce rate can also mean the rate at which e-mails sent to a list never reach the recipient.
Both are correct uses of the term. Anytime you see bounce rate in a traffic report, though, it's referring to the bounce rate regarding web analytics.
Bounce rate data, tells you the percentage of visitors who bounce from a particular page. You can find bounce rate data in most of the content reports. Choose Content→Site Content as a starting point.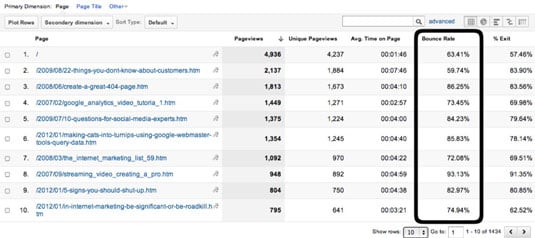 Bounce rate is another way to judge visit quality. It shows you
Pages that just drive people away

Pages that draw visitors further into your site

Most importantly, problems with landing pages
How to analyze your homepage
Bounce rate is a great statistic to analyze for your homepage. Unless you have a one-page website, chances are you want as low of a bounce rate as possible. The following report shows how small changes in homepage content and layout can affect bounce rate.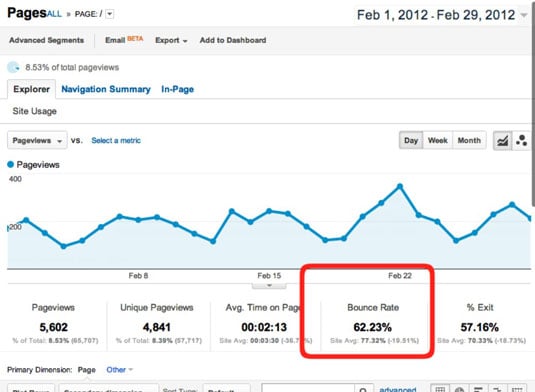 As you add interesting items on your homepage, you can see the effect those stories have on bounce rate. That, in turn, tells you what your audience likes or doesn't like and can learn from that.
Don't use bounce rate in a vacuum. Look at time on site, and think about what your site does. Sometimes, a high bounce rate is okay.
If you have a blog, for instance, a lot of readers will drop in from an RSS feed or a link on another site, read something, and then leave. The more article-focused your site is, the less bounce rate might matter.
How to spot bottlenecks and missed opportunities
One of the best things you can do with visit quality measurement is to find bottlenecks or missed opportunities in your site: namely, places where a lot of visitors who might have otherwise become customers end up leaving or going off course.
Look at the content report which shows a list of pages with time spent on each page and bounce rate.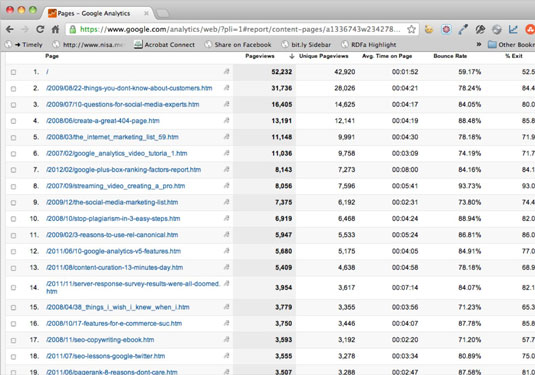 See item 8? It has a 93.73 percent bounce rate. That's not always a bad sign. If many readers are finding their way to this page from other blogs, they might simply read and then move on.
However, any top-ten page on your site that's shedding over 90 percent of visitors is probably costing you some valuable opportunities. Yeah, you might have a bad bounce rate, but if you know about it, you can do something about it. You could add more links to other articles, for example, or look at whether something in the page is driving visitors away.
About This Article
This article is from the book:
This article can be found in the category: