As a web marketer, finding "dead" pages will help keep your site running properly. Your site may have pages search engines never seem to find. Those pages may be buried deep in your site navigation, or you may have search roadblocks that shut out the search robots.
Whatever the case, dead pages are missed opportunities. Ideally, every page on your site has value, and every page on your site gets indexed.
Finding dead pages is the first step to getting dead pages back into the index. Here's a quick way to do it:
1. In Google Analytics, choose Content→Site Content→Pages.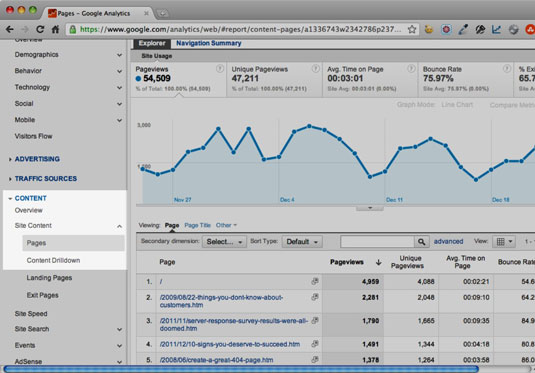 The site content report appears. It's a good start, but you need to take a few more steps.
Choose View→Pivot.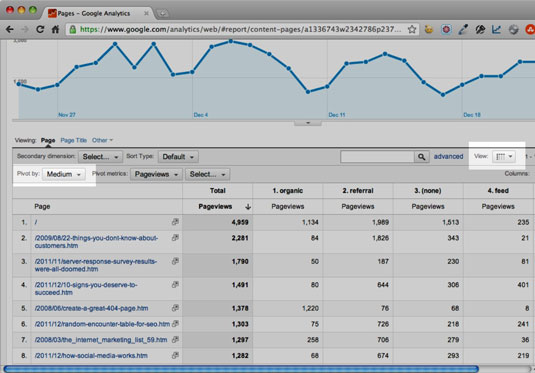 Google Analytics sets up a pivot report.
Select Medium from the Pivot By drop-down menu.
Medium refers to your type of traffic source, such as organic, pay per click, or e-mail.
Sort the entire report by the organic column, in ascending order.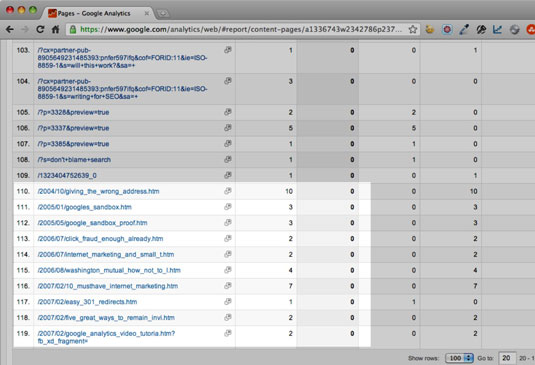 You now see the pages that got zero clicks from organic results. Many of those may be weird pages that don't make sense. Ignore them. You want to find instances of pages that you know are legitimate, but get no clicks from organic search.
Check to see whether those pages show up in search results. If they don't, you just found a dead page.
About This Article
This article is from the book:
This article can be found in the category: