In web marketing, you can create content clusters, groupings of related content, to help build relevance. When you link two or more related pages to each other and to a central hub or index page from which a visitor can find all those related pages, you create a cluster of relevant content.
These links lend authority, just as links from other sites lend authority. If you can link ten pages to and from a single hub page, you create more relevance than if you had a single relevant page all alone.
Always link like with like. Keeping your content clumped together has two benefits:
Customers are happier. Visitors to your site want to find all related content grouped together, like in a library. Content clusters and the hub pages that drive them make it far, far easier for visitors to see those groupings and find what they need.

Hub pages and clusters make search engines consider your site more relevant. You concentrate authority from many relevant pages in a single hub page. And, you can link to that hub page from your homepage, which moves the entire cluster of content up in the site hierarchy.
The problem is that people don't look for products; they search for bicycle repair or custom built wheels or kids bikes. The bike shop website might offer exactly what's needed, but the information is scattered around the site structure.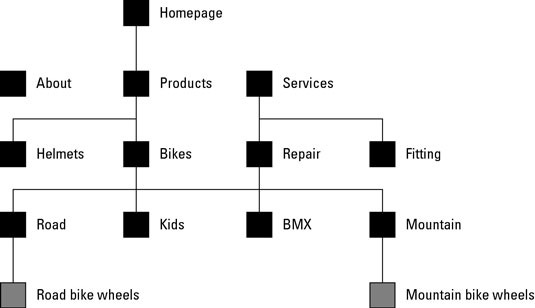 For example, if you come to this site looking for a set of mountain bike wheels, in the current site structure, you have to click at least two times just to begin your search. Plus, search engines come to the site and find the only bicycle wheel–related content four clicks from the homepage. To a search engine, that means wheels aren't very important on this website.
To fix the problem, you need to create a wheel-related content cluster around a single hub page that lists the links to all those wheel-related pages. Then, all those wheel-related pages need to link back to the hub page, as well. Follow these steps:
Find all the related pages on your website.

In the bicycle wheels example, the owner will find all wheel-related content.

Create a single hub page that references all these other pages.

In this case, the owner creates a single page about wheels.

Link to that hub page from each of those other pages.

To see how the bicycle shop owner would do it.

Link to the hub page from the homepage of your website, or from another webpage that is no more than two clicks from the homepage.

In this case, the owner creates a link from the homepage to the Wheels page.
What did the bike shop owner just accomplish? Three things:
He made it far easier for customers to find information about the wheels he sells. Visitors can now click the Wheels link on the homepage and immediately find what they need, rather than wandering three or more clicks from the homepage to try to find it.

Search engines now see lots of wheel-related content one click from the homepage. The wheel-related content has been moved up in the site hierarchy.

Search engines now see a single Wheels hub page with at least two other relevant pages linking to it. Remember, the links from the other two pages are votes. The new hub page is therefore more relevant to wheels and related phrases than the other two pages were when they were separated in the site hierarchy.
A hub page can't just be a list of links. It must have real utility for people as well as search engines.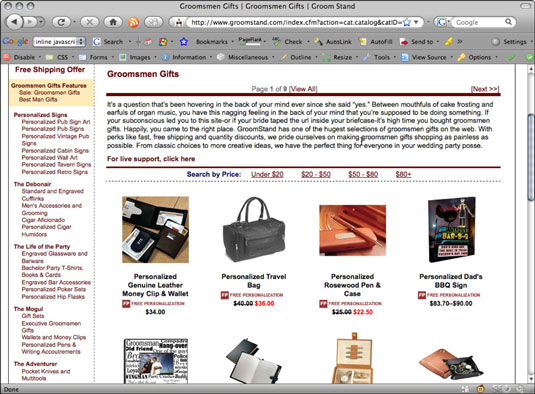 You don't need to modify your website. You simply link to the same pages in a different way. The original structure can remain in place.
About This Article
This article is from the book:
This article can be found in the category: