Your company's reputation contributes to the acceptance of your content and vice versa. When readers see your branded content, they need to make an immediate decision. They have to decide whether you're trustworthy enough to continue reading. If they decide that you're not, they click away. If they see a review of your business, they can be swayed by negative comments. But how much does this matter to your bottom line?
According to a press release by IC Media Direct, shown here, "It has been calculated by the Harvard Business School that each star in a Yelp rating increases a business' sales by 5 to 9%. And a bump up from 3.5 to 4 stars on Yelp typically results in a 19% increase of restaurant bookings during peak business hours."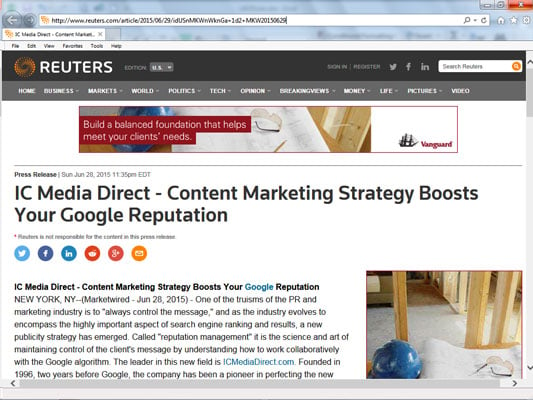 IC Media Direct.
That's quite an impact. Yet companies are typically very lax about reputation management as part of their content marketing strategy.
In her article for Connote Magazine shown here, Rebecca Bilbao reports that only 13 percent of businesses have a fully integrated reputation management program. She also reminds us that a company's reputation among its employees is crucial to recruiting and retention, which impacts the bottom line.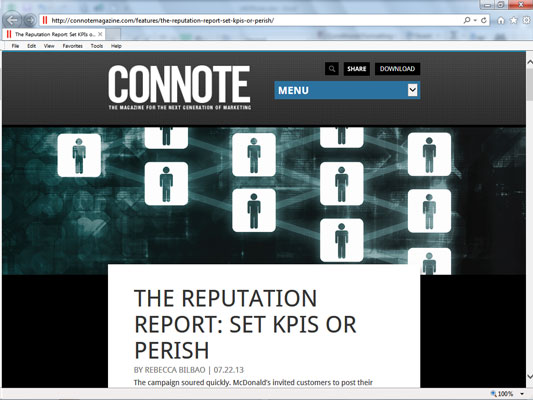 Connote Magazine.
You need to monitor online content to ensure that your reputation stays intact. Here are a few habits to consider building into your content marketing strategy:
Continually listen: The conversation about your business is going on 24 hours a day. You need to be ready to respond to anything that could affect your customer's perception of you. Make sure to read review sites and other user-generated content about your business regularly, right along with your customers.

Monitor your brand names and products: Set up alerts for your product and brand names. You don't want to miss a brewing problem.

Link to all your sites to create a wide perspective: Don't make your customers dig for information about you. Be sure to link to all your owned media and social media sites.

Maintain strict content governance: You should have a content governance system set up. Make sure that your system is in force so that erroneous or poor quality content doesn't have a lasting effect on your reputation.

Create and distribute case studies and testimonials: Blow your own horn so that others can form a positive opinion about your company. Case studies and testimonials should be a staple on your website.
About This Article
This article is from the book:
This article can be found in the category: