Social media optimization aims to improve how a piece of content performs on a social media network. For content posted to YouTube, taking care in crafting the video, the description, and your user profile are all things you might do to optimize a piece of media for discoverability and engagement on YouTube.
Another way social media contributes to online marketing is through its influence on search engine results. When search engines use social media activity as part of their SERP ranking, those algorithm factors are called social signals.
Because search engines tend not to publish or confirm any individual ranking signals in their algorithms as a protection against spam, there isn't a definitive list of social signals that affect search engine rankings. But you can draw some conclusions from tests and observations that point to a correlation effect of social activity on search rankings.
It's generally believed that a page will tend to rank better over time if it goes viral — which means that a page suddenly gets a lot of mentions and links. The majority of links to viral content will come from social media networks, and the search engines may use buzz as a social signal, the sudden but temporary effect caused by a velocity of social media links.
Buzz as a social signal likely has a temporary effect on search engine rankings. Viral content will also generate links from static pages, like news websites and blogs sharing that story with readers, and these are the links that have a more lasting benefit on a page's search engine rankings.
One of the viral campaigns of 2014 was the Ice Bucket Challenge benefitting research to cure ALS, also known as Lou Gehrig's disease. Celebrities and normal folks alike posted videos of themselves pouring buckets of ice water over their head and pledging donations in the name of ALS awareness. Along with the plentiful links from social media, major news organizations and other authoritative websites linked to the ALS Association website while reporting on the phenomenon that had swept the country.
The links generated on social media caused a buzz effect, making the Ice Bucket Challenge a hot topic of discussion at the time it was happening and increasing Google searches for ALS-related terms by 90 percent. The links from static pages on authoritative websites brought the ALS Association website lasting SEO benefit.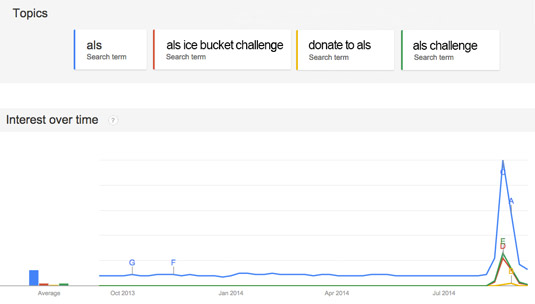 Viral content can cause a spike in search volume, as shown in this Google Trends graph of search volume during the ALS Ice Bucket Challenge.
About This Article
This article is from the book:
This article can be found in the category: