Companies with great product management have a much higher degree of success. But what is product management? The following discussion sheds some light on what a product manager actually does.
Defining product management
You can think of product management as the function in a company that is ultimately responsible for making sure that every product the company offers to the market is as successful as possible both short-term tactically and long-term strategically. In other words, the buck stops here. You, as a product manager, must own everything about product success. Product managers rarely, if ever, have any formal authority or people reporting to them, so they must lead and influence in subtle yet effective ways.
Serving as a strategic driver for business
In a company each functional group has expertise and strives to be the best it can possibly be at what it's responsible for. Engineers, also known as developers, build great solutions for customers. Marketing maximizes awareness and interest in products and services. The marketing folks ensure that the market knows the product differentiation and is enticed to consider purchasing. Sales is responsible for closing the sale with customers that are already enticed. Operations makes sure that the solution is delivered efficiently and at a low cost and that the company is operating as cost effectively as possible. Technical and customer support ensure the customer's problems, if any, are resolved.
The role of product management
So how does product management fit in? One way to think about it is that product management is in the center of all company departments, as shown here, as well as external entities such as customers, press, analysts, and partners. Although each of the other groups understands its role in making the company successful, product management is the only group that has a holistic point of view and understands how all the pieces fit together.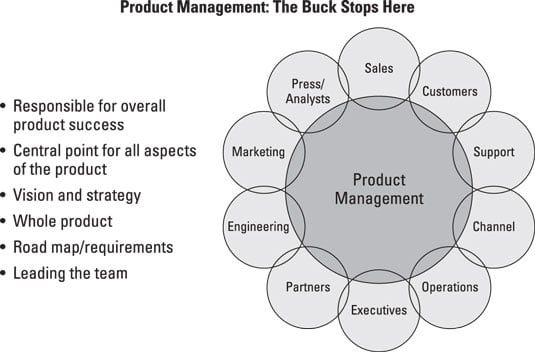 © 2017, 280 Group LLC. All Rights Reserved.
The role of product management.
Without great product management, no one can take responsibility for all aspects of customer success. After all, someone has to make sure that the short-term tactical work gets done to make the product successful. Someone also has to set out and drive the product strategy so that success is ensured longer-term. This is the role of product management.
Owning the whole product
When customers think about your product, they have a mental pro and con list that includes items that have nothing to do with product and feature benefits. Does it meet industry standards? Who will install it? Do you trust them? Who do you call if I have a problem with it after you buy it? Will they pick up the phone? Can you purchase it in a way that is convenient and familiar to you? Can you finance it? If the product lasts many years, who is going to support it for all that time? These additional aspects of your product are called the augmented product. You can see how the core product, actual product and augmented product are related to each other here.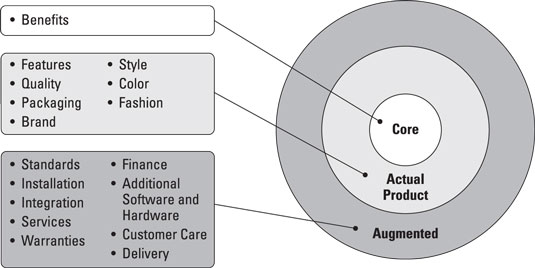 © 2017, 280 Group LLC. All Rights Reserved.

The whole product offer.

The augmented product is the additional parts of your overall solution that support the customer's experience with your product, such as warranty, support, purchase process, and many other factors beyond just the product and its features. A product promise is the implied guarantee of what kind of experience you're offering to customers through your marketing, sales, brand, and other activities.

If you've ever purchased a product that seemed to have great features and everything else you needed, yet you were disappointed with support or some other aspect of the experience, then you've experienced a broken product promise.

To further grasp the concept of product promise, check out this example: Say your product is a car and your company doesn't have adequate infrastructure in place to ensure that customers can have it repaired locally. The market may love your car, but few potential customers may buy; they're too worried that if the car breaks they'll have to go hundreds of miles away to get it repaired. Do you as a product manager have full control over the company's strategy and execution for making sure local repair centers are readily available? No. But you do have the ability to influence the people in your company who are responsible for this strategy and to hold them accountable for delivering this part of the solution. You also have the ability to tell the company not to proceed with making the car available if any part of the whole product offering will stop it from succeeding.
Keeping the product promise
As a product manager, you need to be aware of your product promise and how the augmented product delivers in a way that customers expect. Your responsibility is to try to do whatever you can to influence the other parts of the company to resolve any disconnects between customer experience and the product promise. The table can help you to clarify how your product delivers (or doesn't) what is promised.

Delivering on Product Promise
| | |
| --- | --- |
| Question | Answer |
| What are the product's core benefits? | |
| What are key features that support the benefits? | |
| What does my brand represent to my customer? | |
| Outside of the intrinsic properties of my product, what else is involved in a customer's decision to choose my product? | |
| How do these augmented product elements add to or detract from my product? | |
| How can I influence this augmented product offering to better fit my product? | |
About This Article
This article is from the book:
This article can be found in the category: