Search engines don't rank individual pages but they do look for overall site-wide themes in determining how relevant your web page is to a search query. As a general rule, the home page should use more broad-range terms, and the supporting pages should use more specific and targeted terms that help support the home page.
By using this method, you enable the search engines to understand and index your site's contents because this is the organization they're expecting. And better indexing means better inclusion on search results.
Here's a general guideline about keywords, topics, and themes: A web page's first paragraph should introduce its keywords. If a keyword is repeated in every paragraph, it's a topic. If the website has multiple (six or more) interconnected pages related to the topic, that is considered a theme. Search engines consider a site with multiple pages of unique, informative content on a theme to be highly relevant.
You need to choose a main theme for your website. What is your whole website about? For instance, a classic custom cars website might have a main site theme of custom cars or classic cars. Which one makes the most sense depends on two things: which theme most accurately fits the business and vision of the website, and which theme is searched for the most. The phrase [classic cars] receives about four times the number of searches that [custom cars] does, so it would be wise to use classic cars as the main site theme.
The preceding example points out an important principle: You should not plan your site theme and structure based solely on what makes sense to you. Instead, do research to find out how people search, and lay out your website accordingly. This is essential to your design.
Assuming that you want your site to rank high in searches for its major theme, you want to
Make sure your site theme is included in your home page's Title tag and Meta tags (HTML code located at the top of a web page).

Use your site theme in your page content so that the search engines interpret the theme as keywords for your web page. Making your theme part of the keywords helps your web page come up in searches for those keywords.
After you've got your main site theme, you need to organize the site content. If you already have a website, try to view it with fresh eyes because the current organizational structure might not be the most conducive to good search engine ranking. Many websites are disjointed arrays of unrelated information with no central theme.
Your site may not be that bad, but as you read through recommendations for improving your SEO strategy, you may find that you're light on content, have too much of the wrong type of content, or need to do some major reorganization. You need to figure out how best to divide your site into subject categories.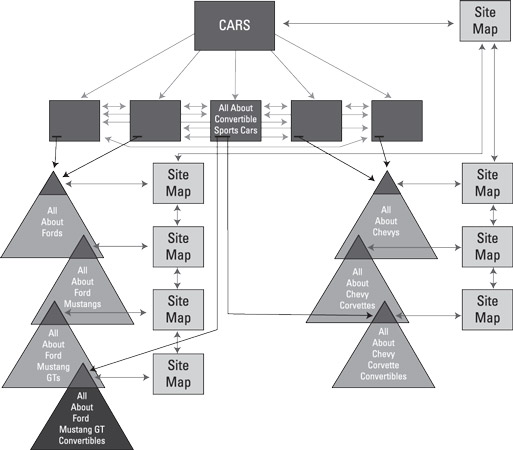 A subject organization chart showing a major theme and subtopics.
Look at all the content, products, services, and so on that your website offers. Is all the stuff on your site well organized into categories and subcategories? Do those breakdowns match the way people search for what you offer? Depending on the size of your website and the diversity of its subject matter, you could have a single site-wide theme or a structure with hundreds of subject theme categories and subcategories.
Some keyword research is in order here as well to make sure you're dividing up the information according to how people search. For instance, a classic cars website could separate its content either by body type (sedans, coupes, convertibles, vans, and so on), by make (Chevrolet, Ford, Oldsmobile, and so on), by year of manufacture (1950, 1951, 1952, and so on), or by some other method.
It turns out that people don't usually search for cars by body type, such as [sedan cars], or by year, such as [1959 Oldsmobiles]. Instead, most people looking for cars search by make and model, like [Oldsmobile 98]. For maximum ranking in search engines, therefore, this website ought to organize its contents by make, and then by model. Of course, based on how people search in your industry, your subcategories will vary.
About This Article
This article is from the book:
This article can be found in the category: