Contact information about your accounts is the main type of data stored in your customer relationship management (CRM) system. Unless you're a brand new company, the existing data in your CRM will help serve as a baseline for starting account-based marketing (ABM).

Your data shouldn't live in spreadsheets. If you are currently managing your data in Microsoft Access or Excel, or just a notebook on your salesperson's desk, stop reading this book now. You can't execute ABM with spreadsheets. If you have already purchased a license for a CRM, then keep reading.

Unless you're in the very early stages of your company, you have customer accounts. The account data on your current customers (or customers who are no longer doing business with you) will help you in determining if these are the types of accounts you want to target in the future. The existing data in your CRM should include all of your accounts, both customers and prospects. The information fields on these accounts are called data points. These are the data points of information in your CRM:
Lead: A prospect or person who has expressed interest. You've discovered a new person through any of your marketing activities, such as meeting someone new at a tradeshow who wasn't in your database before, a prospect who came across your website, or a prospect who discovered your company on social media.
Account: A company the prospect/customer works for. The type of information needed to build a complete profile of the account includes the company name, website, revenue, and employee count. You need to discover all the contacts who could play a role in helping make this account a revenue-generating customer.
Contact: You added this prospect to your database creating a new contact. You add in the person's name, title, company, email address, and phone number. If the company previously wasn't in your database, you create a new account.
Opportunity: A potential deal. The value of the opportunity should represent the amount of revenue they will pay your company monthly and/or annually.
Current revenue: How much your existing customers will pay your company for your product or service.
This figure shows a snapshot of existing customer data.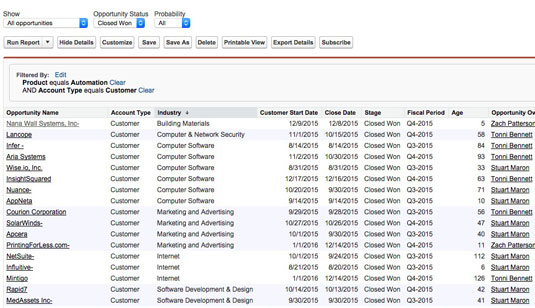 Using data already in your CRM.
About This Article
This article is from the book:
This article can be found in the category: