You company's content is everywhere. If you could create your content marketing plan from scratch, you would be able to do everything effectively and efficiently. Unfortunately, creating from scratch is rarely the case. You have to deal with legacy items and the way things were done before.
In some cases, building from legacies can be a good thing. But more likely, you have to develop new ways to overcome internal obstacles to get to your goals.
As you consider all the components of your plan, you might propose a trial plan to show proof of concept. This trial plan gives the executive team the ability to say yes to a small plan that isn't seen as a big risk.
Documenting needed resources
When you present your content marketing plan, be aware that management will be keenly focused on required resources. For this reason, you want to carefully map out and present your resource section. Here's what this section of your plan includes:
Budget: You know that this is the most important aspect of your plan. Many content marketers complain about the fact that they lack the proper budget to do what they need to do. The key to getting the budget you need is to present a case that shows how the project will ultimately tie back to revenue generation.

According to Michael Sebastian in Ad Age, a 2015 survey about content marketing tactics was given to 601 marketers by Contently. They found that 34 percent of respondents cited the lack of budget as their chief frustration. This should come as no surprise because 52 percent of them said that less than 25 percent of their budget is devoted to content.

Staff: The success of content marketing strategies can depend on the way the content team is configured. If you are proposing a reorganization, as discussed previously, your costs may be difficult to pin down for this presentation.

If costs are hard to pin down, explain how a dedicated team would work together. You may also be proposing that you outsource your content writing, which requires a separate budget.

Systems and procedures: This part of the presentation depends on what systems you already have in-house. You may already have a customer relationship management system (CRM). You may be proposing a content management system (CMS). Obviously, you want to lay out the purpose of any new system you propose and show how it integrates with what you're using now.
Measuring success
To make your presentation meaningful, you want to choose a few metrics that can indicate success. If you're just getting started analyzing your metrics, refer to the infographic called Content Marketing Metrics that's shown here and created by Pawan Deshpande, the CEO of Curata.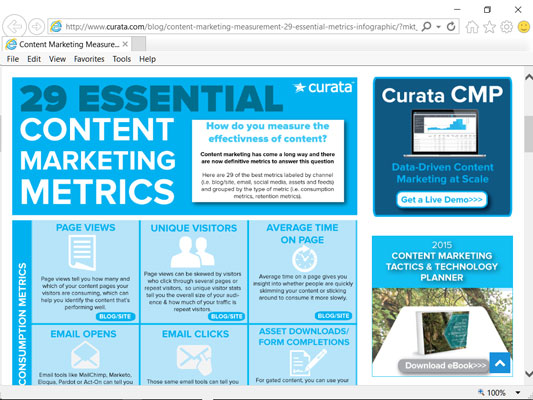 The Content Marketing Metrics infographic.
This infographic lists what Deshpande cites as the essential metrics used to measure content effectiveness by category. Look at the ones that make the most sense for your proposal, and speak to your webmaster about which ones she can provide for your project trial.
Establishing the timeline
The timeline for your project is another important factor. It lets your audience know how big a commitment needs to make. Creating a visual timeline that adds some interest is also helpful.
Don't forget to create a timeline for your trial plan, too. It will help make the case that a short experiment is worth trying.
Here are some tools to help you create your timeline:
Timeglider: This tool helps you create visually rich timelines. You may opt for something more basic for business, but these are eye catching.

Timeglider.

TimeRime: This is another tool that allows you to create visually interesting timelines for project planning.

TimeRime.
About This Article
This article is from the book:
This article can be found in the category: