Get ready to hear something you won't like: You need to make customer service a part of your content marketing strategy. It's not as sexy as creating great blog posts that get you buzz, plus it requires extra effort.
If your organization takes this advice to heart, though, you will see several important benefits including:
An increase in customer loyalty and retention

Happier, more educated customers

A better understanding of your customer's problems

An opportunity to provide real solutions
All these benefits go straight to the bottom line.
Tony Hsieh applied this customer service strategy to his company Zappos, and it was acquired by Amazon for $1.2 billion. Perhaps you should consider trying it.
So how should you apply your customer service strategy to your content marketing strategy? Think for a moment about how you provide customer service now. You probably provide data sheets, product documentation, email support, and, if you're ambitious, social media platform support.
But here's the truth: This approach is wholly inadequate for the content-intensive world you live in today. You need to look at your website, your other owned sites, and your social sites to see how you can focus on adding customer service content to each one.
You likely believe that customers are at the center of your strategy. However, you might have that wrong. You might be customer centric rather than customer focused, according to J-P De Clerck in his article, "Content marketing: a customer-centric manifesto" (see the following figure).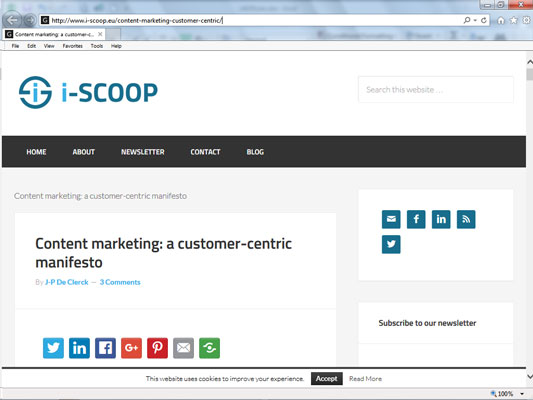 I-Scoop.
De Clerck cites Peter Fader's book Customer Centricity: Focus on the Right Customers for Strategic Advantage (Wharton Digital Press), which says that customer centricity means focusing on the high-value customer and marketing to that segment. This is not to say that you completely ignore your other customers. It means that you focus a great deal of effort on the customers with the highest potential customer lifetime value. Customer Lifetime Value (CLV) refers to the profit you expect to make over the lifetime of a specific customer.)
Monetate's infographic cited in the article is found here. Monetate is a customer analytics firm.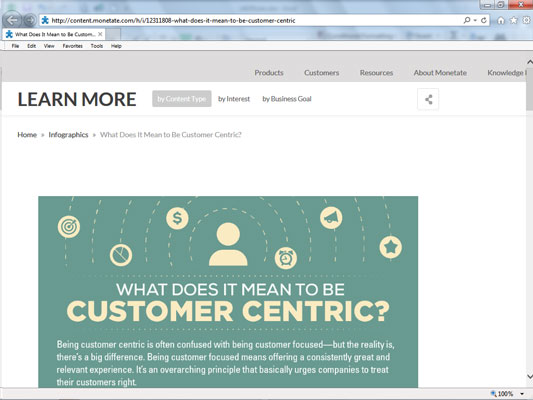 Monetate's Infographic showing what it means to be customer centric.
So what should you do regarding customer service content after you identify these high-CLV customers? You should create content that addresses their specific needs and distribute it on the following:
Support sites: Look at the content you provide for support sites. Is it dull and boring? Your customers want to be entertained as well as educated. Think about how you can make this content more appealing.

Social media platforms: You may already answer support questions on these sites, but do you provide links to interesting help content? Probably not. Try to think about putting links to all the content you create for your customers.

Guest postings: You're probably not thinking about customer service when you send guest posts. But aiming your post toward customer service isn't hard to do. Just make it something that is "in service" to the reader.

Webinars: You likely have webinar content that serves customers. Repurpose it as podcasts or video to spread your message.
Your strategy should include content targeted at helping your most valuable customers find the information they need.
About This Article
This article is from the book:
This article can be found in the category: