You can add or remove any apps on your Facebook Business Page. Facebook allows you to configure your Page tabs, which include a Video tab, an Events tab, and a Photos tab.
To add or remove these tabs on your page, follow these steps:
Click the Edit Page link from the Edit Page drop-down menu in your admin panel.

Click Apps (on the left side of the screen).

You are taken to the Added Apps tab within your administrative area of your Page.

Click on the Edit Settings link below the tab you'd like to add or remove.

A popup window appears that allows you to add or remove the tab by selecting the appropriate option.

Click OK.
Make sure you remove any unused apps on your page in order to create a good impression for Facebook users. For example, if someone visits your page while you are displaying the Events app but haven't published any events, Facebook users will see a message stating "this page has no events." Again, this isn't the kind of impression you want to make with people visiting your page.
How to add more apps to your Facebook Page
In addition to the apps that are included with your Facebook Page (Photos, Videos, Notes, Events), you can also select from thousands of free and premium apps on the market. These apps allow you to add further functionality — such as promotions, videos, and e-commerce — to your Page. One way to do this is to search Facebook for an app and add it to your Page by following these steps:
Type the name of the app in the Facebook search bar at the top your screen.

If you don't have a specific app in mind, simply search for the type of app you're looking for. For example, type in the phrase customer service to search for customer service applications , and then select any apps that appeal to you.

From the search results, click the Go to App button for the app you want to use.

Follow the prompts to add the app to your Page.

These prompts are different for each application.
How to change the order of your Facebook Page views
To change the order of your Facebook Page views, simply click the down arrow to the right of your Page tabs. Then at the top-right of each tab, click the pencil icon and select the tab you want to swap positions with.
The Photo tab always appears as the first tab on the left and cannot be reordered.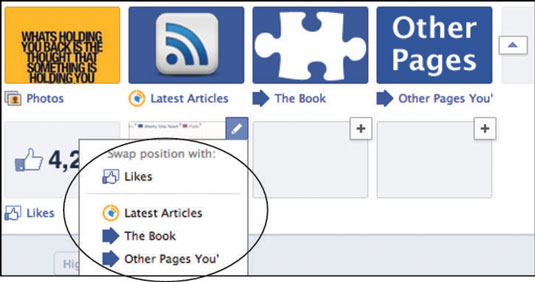 About This Article
This article can be found in the category: