One of the main advantages of using gamification marketing is the real-time audience engagement. Your audience gets real-time feedback and statistics that are influenced by their engagement on your campaign. Rewards and achievements will motivate your audience to keep coming back to your campaign so that they can complete or proceed with a challenge or task.

Gamification marketing allows your audience to see immediate progress. This is the edge that gamification marketing has over traditional marketing. With traditional marketing, your audience doesn't instantly and visually receive any form of feedback and reward for their efforts. With gamification marketing, you can reward every action or task that your audience completes.
Reward your players
Your audience should receive points or earn experience as rewards for their actions within your campaign. Essentially, your campaign should be designed to encourage your audience with strategically clever rewards throughout the campaign. These gamification rewards and recognition will entice them to return over and over again. Following is a variety of rewards you can offer your players, from points to progress bars to badges and more.
Points
Points are relatively straightforward to design into your campaign. The concept is simple: Complete a task, and earn points. Some websites use points as a way to encourage users to post in web forums, which helps the forum owners get more content on their site.

Points are the simplest way to reward a player. Every mission or action that you want to include in your gamified campaign can be rewarded by a specific number of points. You need to choose carefully the number of points depending on the difficulty of a mission or action.

In most campaigns, points act as a measure of how well the user has mastered the game. So, the points signify the level of skill a person has managed to accumulate. You might award points for the following:
Clicking on call-to-action (CTA) buttons: For instance, downloading the app, signing up for an account or even just clicking the Start button on your game could be CTAs that garner points for a user.
Completing a level: You can even award points in areas within a level.
Spending time playing the game: If the user logs a certain number of hours playing the game, he can be awarded points.
Sharing the game with friends: If the user clicks your specially designed Share buttons, she can earn points for herself and/or for the person she has shared the campaign with.
Offering feedback: Give the audience a reason to give you valuable feedback on your campaign. Did something go wrong technically? Was it too hard or too easy? Would they like to see more levels?
You can use points to create a leaderboard, which is a running list of users who have the most points.
Levels and progress bars
Progress bars are graphic visualizations that show your audience their progress within areas of your campaign. For instance, they may show the progress the user has made to get to the next level. Progress bars can also be used to denote the number of points the user has to obtain in order to earn a badge.

No matter their context, progress bars help keep your audience motivated.

Levels can help keep users motivated, too, but they also give the audience a sense of direction for their motivation. Users are more focused and determined if they can see where they'll end up if they keep playing. Levels and progress bars can do the following:
Give the user a sense of progress.
Give the campaign a more structured design.
Help keep the user motivated.
Help you design specific challenges within the campaign.
Badges
Badges are extremely important in gamification marketing campaigns because they make your audience feel important and skilled. In my experience, badges strengthen the audience's connection with the campaign.

When designing your gamification campaign, tie the points you're allowing the audience to earn to the badges you'll be awarding. Badges boost the audience's engagement because they're a visual representation of the points they've earned. Plus, badges are just more entertaining and fun than points (which are just numbers).

Many gamified apps and sites have used badges for high user engagement. For instance, Waze, a very popular driving app, uses ranks, which come with visual badges, as shown.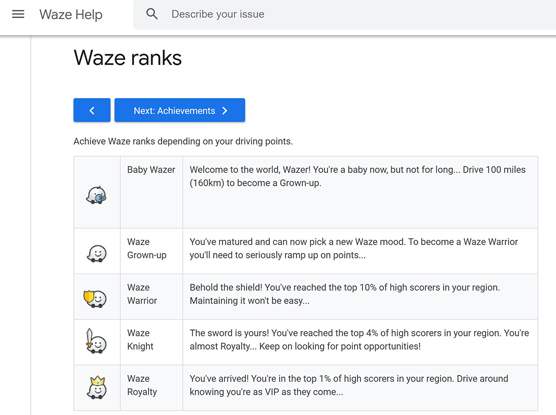 Waze, a popular driving app, has created innovative badges to keep its audience engaged.
When designing your badges keep in mind the following tips:
Badges should be designed to acknowledge specific audience behaviors.
Use a limited number of badges so your audience will feel appreciated and valued. If you shower your audience with badges, the badges won't mean as much.
Brand your badge names and icons to your campaign's theme and content.
Create multiple levels within badges, which can be accompanied by points.
Leaderboards
The points your audience collects can be used to create a leaderboard in your campaign. A leaderboard is a running list of users who have the most points. This kind of friendly competition can act as a motivating factor for audiences to keep returning to your campaign.

If executed correctly, leaderboards can be powerful motivators. Here are some tips when designing your own:
When you have a large number of players, show just the top players, but give people the option of seeing where he ranks in comparison.
Give points and possibly a special badge for the top three players. You could give a separate badge to players who retain their high ranking for a certain period of time.
Offer the option for players to receive an alert if they get knocked out of the top positions.
If a user is positioned lower than the top ranks, visually show her how far she is to the next position up.
Ways of creating customer loyalty
Creating loyalty in your audience will not only keep them coming back to your campaign, but also increase the likelihood that they'll actively promote it to everyone they know. In fact, loyal audiences go on to subscribe to future campaign, actively follow your company's social media channels, and are more likely to buy from your business.

In order to create loyalty, you need to have a relationship with your audience. Relationships convert audiences into customers and spokespeople for your campaign. In the following sections, I offer tips on how to build the kind of relationship that will engender loyalty.
Making customer service a priority
To create a loyal audience, you need to provide consistently amazing customer service. Your audience will evaluate every interaction they have with your campaign based on the service you provide them.

Here are some examples of where this interaction could originate:
The contact form on your landing page
An email or phone call
A tweet directed to your Twitter profile
A question posted on your campaign's Facebook page
A direct message received through Instagram or other social media channels
Make sure your replies are friendly and that you convey to the user that you hear them and are working to resolve their issue. Your support, regardless of how the audience reaches you, should have the same energetic and positive tone. The replies should aim to solve their problems in a timely fashion.

Your campaign's responses should be engineered to answer questions or address problems quickly, on all platforms. Most people on social media expect a response within an hour. I advise, particularly on Twitter, to aim to respond within half an hour.
Polling and questioning
Requesting and responding to your audience's feedback is the best way to build loyalty. The sad fact is that most of your audience won't give feedback unless they've run into a problem with your campaign.

For this reason, you want to get ahead of any potential issues and design different ways to actively obtain feedback from your users. This will demonstrate to your audience that you want to hear from them, regardless of whether they had a good experience or a bad one. Also, the responses you get will go a long way toward perfecting your next gamification marketing campaign.

Another positive outcome of actively soliciting feedback is being able to identify the reasons audiences are not returning. What's making them leave? Why are they not wanting to return? On the flipside, you may learn what you're doing well. What does your audience love about your campaign? Why do they keep coming back?

There are few different strategies for getting your customers to give you this feedback:
Feedback polls on social media channels: Most social media channels offer forms, polls, and questionnaires that you can send to your followers.
Customer satisfaction surveys: Customer satisfaction surveys are a straightforward way to collect feedback from your audiences. Send them out a few days after the campaign's launch so you can identify any technical or functional issues right away.
Requests for reviews: These work really well if your campaign has a mobile app. Typically, it's better to ask for a customer review after your audience has engaged with your game a few times. You want to give your audience enough time to have familiarized themselves with the campaign.
An emoji-themed survey: These surveys are becoming very popular because they allow your audience to give their feedback simply by clicking the emoji that represents their mood. Typically, response rates are far higher than with text-based surveys. Some great online tools, such as Customer Thermometer, shown in the following figure, can help you quickly implement this type of survey in your campaign.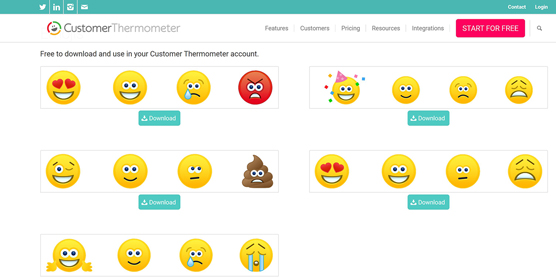 Customer Thermometer helps you implement emoji-themed surveys in your campaign.
Celebrating on social media
Make sure that you take the time to celebrate your most loyal audience members on your social media channels. After you've given them a voice to express their feedback and experiences, you may want to make them feel special for supporting you.

Showcase their thoughts and ideas on your social media platforms like Instagram and Twitter. This will not only promote loyalty with your current audiences, but also let other people know that you value your audience.
Referring the love
One of my favorite methods to encourage loyalty is to offer your audience referral programs. Referral programs reward your audience every time one of their friends joins the campaign.

People who love your campaign will naturally want to share it with their friends through word of mouth. A referral program goes one step further and encourages that behavior with incentives for both the referrer and the referred friend.

Design your incentive program to:
Offer points to both parties (referrer and referred) if they share a special code.
Award badges to referrers who hit a milestone of referrals.
Create attractive and eye-catching images that your audience can share on their social media accounts.
About This Article
This article is from the book:
This article can be found in the category: