With user content being posted on all social media networks faster than ever, using a hashtag to raise awareness is not as easy as adding # to your company name. Your gamification marketing campaign will need to create its own unique hashtag and get people to use it. By successfully creating a unique hashtag, your team will be able to track and control the flow of the discussion generated on social media channels.

Hashtags are a way for people to discuss specific events, products, services, and issues on social media. They're used by millions of social media users on a daily basis, and they're fast becoming an integral component of any marketing campaign.

A hashtag is a word, or group of words with no spaces in between, with a pound sign (#) at the start. Using hashtags, online users can easily search for any topic and participate in the conversation.
How hashtags work on the various social media platforms
Hashtags got started on Twitter, where they were used for "tweet chats." As "tweet chats" became more prominent, marketers began to see the importance and relevance of using hashtags in their campaigns.

Today, most major social media platforms support hashtags. Knowing how to create and use them on each platform can help put your campaign directly in front of your target audience. In the following sections, I take a look at how hashtags are best utilized on the major social networks.
Twitter
By using relevant hashtags in your tweets, you can increase your campaign's engagement. Twitter hashtags can be used to denote specific topics. If these hashtag-driven topics become immediately popular at a particular time, they're referred to as a trend. Trending topics appear on the sidebar of your audience's Twitter feed. A trending topic is a very powerful marketing tool because it can bring a mass volume of traffic to your campaign.

In the past, hashtags have been the subject of mass abuse by marketing campaigns. As a result, Twitter immediately filters out posts that are blatantly spamming a hashtag. Any tweets that use a trending hashtag but do not add value to the conversation are also filtered out. Tweeting about a trend and then linking it to something totally unrelated is a violation of the rules. An example of spamming would be deliberately adding a trending hashtag like #SuperBowl to your tweet just to receive traffic to your message when your content has nothing to do with football or the Super Bowl.

I recommend using a maximum of three hashtags per tweet.
Instagram
As opposed to Twitter, where hashtags should be used sparingly, on Instagram, using more hashtags often leads to more engagement. Instagram does place a limit on the number of hashtags you can use in each post (the limit is 30 hashtags). You may not need to use 30 hashtags in a post, but you can do so without being penalized.

Try using the maximum number of hashtags so you can experiment with which hashtags work for your campaign. Instagram is the best platform for using multiple hashtags, so try a wide variety of them, and use them on posts, photos, and comments.

Hashtags can be used to encourage users to submit their images and experiences with your gamification marketing campaign. For instance, some hashtags were created specifically for Instagram photo campaigns like #ThrowbackThursday (more recently #TBT), which encourages audiences to post past photos of themselves.
Facebook
Facebook was a late adopter of hashtag support and, because of this, the practice has not been picked up by their users as much as it has been with the other platforms. Nevertheless, Facebook will group your campaign's posts containing the same hashtag. Even better, the results from hashtag searches are not limited to people you know.

On Facebook, try not to use too many hashtags. I recommend using a maximum of two hashtags per post on Facebook. If you use more than that, your campaign is in danger of appearing unprofessional and will most likely annoy your Facebook audience.

If you're using a Facebook hashtag strategy, make sure all your campaign's posts are public. This will enable your audience to find and share your posts and hashtags.
Pinterest
Using unique and relevant hashtags on Pinterest can help expose your campaign to a brand-new audience. On this platform, nonspecific keywords aren't likely to do any good. So be sure to create unique hashtags that are specific to your campaign.

Pinterest hashtags are placed in the pin description. When users click them, they're taken to pins that contain the exact hashtag, plus pins with the same word or phrase in the description.
LinkedIn
Up to a couple of years ago, LinkedIn didn't emphasize the use of hashtags. But recently, LinkedIn has made some important updates to its algorithm, which has resulted in a 50 percent increase in viral activity. Today, more than two million posts, videos, and articles are filtered, ranked, and displayed in the feeds of LinkedIn's members.

When you publish content on LinkedIn, use a maximum of three hashtags in the body of your post.

The use of unique hashtags on LinkedIn will get your campaign in front of people outside your network, making it a great way to increase awareness.
Create unique hashtags for your gamification marketing campaign
If your hashtag is unique, it will stand out, and your campaign will gain a lot more engagement on social media channels. The goal is to come up with something unique that is shareable and memorable, and that instantly connects with your audience. In the following sections, I provide essential tips to keep in mind when creating a keyword.
Making it brief but unique
In general, when it comes to unique hashtags, the shorter the better. One good reason for this, apart from the fact that shorter phrases are more readable and notable, is that a longer hashtag may be unpopular with Twitter users because tweets are limited in terms of the number of characters. Plus, longer hashtags are just harder to spell and more likely to result in typos. If in doubt, just remember that less is more. Try to stick to no more than three words. And try to avoid two of the same letters in a row (for example, #marketinggamification), because it's just harder to read.

Starbucks used a unique two-word hashtag, #StarbucksRewards (see the following figure) to promote its gamification marketing campaign on all its social media platforms.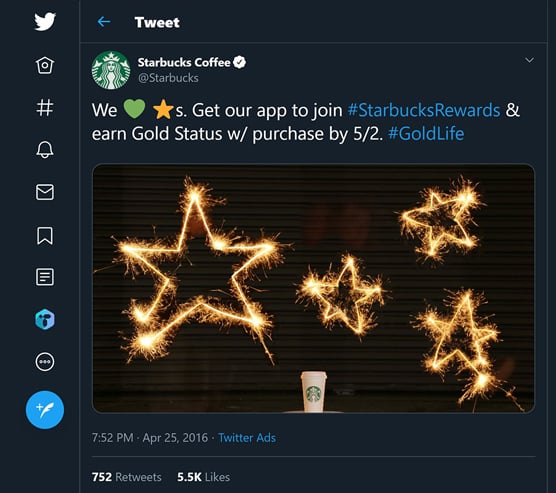 The #StarbucksRewards hashtag in use.
Evoking an emotion
If you craft your hashtag to evoke an emotion with your audience, you'll instantly connect and leave a lasting impression. Not only will your hashtag catch their attention, but it will motivate them to share your posts.

Here are some ways to evoke emotions with hashtags:
Create a sense of belonging. In order to do this, you need to have a deep understanding of your audience. Try to include interests into your hashtag that are specific and unique to your company or industry. For instance, if your campaign is targeting one city or state, include that as a hashtag.
Create a sense of thrill. Motivate your audience to take action on exciting events or issues.
Celebrate local pride. Do your homework and see if you can connect with specific locations. Playing to an audience's local team or event will evoke strong passions.
Challenge your audience. If you can empower your audience to take up challenges, you'll evoke a sense of independence and freedom.
Going topical
Carefully structuring your hashtag to incorporate a viral topic can boost your campaign instantly. A trending topic will already be generating a lot of buzz, and you may be able to redirect all that traffic to your campaign. For example, many campaigns piggyback on the Academy Awards season. Charmin capitalized on the public tweeting and messaging over which Oscar nominees wore the best dress by tweeting a picture of a red dress with toilet paper trailing behind with the caption "Good luck to the nominees tonight. Don't forget to look down before your speech."

Tread with care. Most trends can turn negative just as quickly as they went viral. Plus, trends don't last forever, so you can't bank on them to last for the duration of your campaign.
Being clever
If you can craft your hashtags to be catchy, funny, and clever, your campaign is more likely to catch on quickly and spread like wildfire. A clever hashtag will be easier for your audience to remember.

An excellent example is Charmin's #TweetFromTheSeat, shown, which was both fun and actionable (because they tied it in with a contest).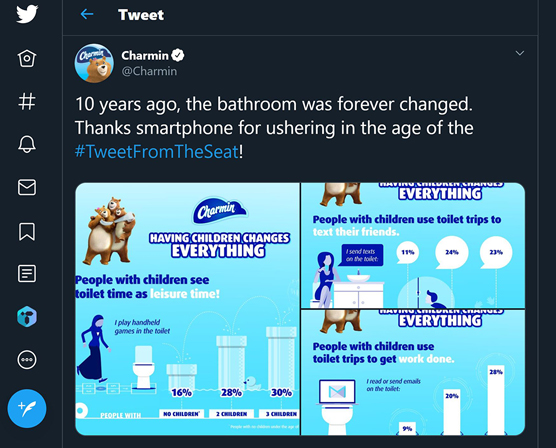 Charmin's #TweetFromTheSeat hashtag was funny and encouraged their audience to get involved with a contest.
Being consistent with your brand
While you're generating your catchy and clever hashtag, make sure that it still fits with your company's overall brand. Take into consideration what your audience expects from your company. Think of the tone your business adopts across all its social media accounts, and make sure your hashtag is consistent with that tone.

You can come up with a catchy and clever hashtag that fits your brand, no matter what area of business your company operates in. For instance, the frozen pizza company, DiGiorno, was able to showcase its personality in a fun and clever way with the hashtag #DiGiorNOYOUDIDNT.
Proofreading hidden meanings
If you're using more than one word in your hashtag, make sure to not fall victim to a serious hashtag fail. Check to make sure it doesn't spell something other than what you intended. Back in 2012, a unique hashtag (#susanalbumparty) was created to promote singer Susan Boyle's album launch. Unfortunately, this ended up creating a huge stir internationally, and not the kind Ms. Boyle was after. (Read it a few times and see if you can find the double meaning.)

To promote Susan Boyle's album, the promoters failed to double-check this very unfortunate hashtag.
When a hashtag has an unintended double meaning, it can wreak havoc on your campaign and cause embarrassing damage to your brand. Proofread and triple-check your hashtag to ensure that there is absolutely no potential for any double meanings. Get as many people in your company as you can to try to find hidden meanings.
You can't assume users will use capital letters in your hashtag, so look at it with all lowercase letters, as well as with the first letter of each word capitalized, to see if anything stands out.
Recycling hashtags
You may find an existing hashtag works perfectly for your campaign. As you would if you were using an existing company name, do your homework and make sure there are no preexisting negative associations attached to the hashtag.
Use an online tool, such as Hashtagify to actively check out existing associations with any hashtag.
About This Article
This article is from the book:
This article can be found in the category: