Employees want and need to know the score in your business. Yet, very few companies establish an organizational scorecard, often called a balanced scorecard, to aid in this.
In layman's terms, a balanced scorecard is a set of quantitative metrics that a company can track and report on, hopefully to all employees. Simply put, a balanced scorecard provides a snapshot of the performance of a company (or individual, department, or business unit) compared to its objectives.
What metrics help to measure employee engagement?
Firms that select the right metrics to measure and effectively communicate those metrics reinforce their organizational line of sight between the organization's purpose, values, vision, and strategic plan. Under this system, daily operations are clearly connected to programs and services that themselves ultimately link to long-term goals.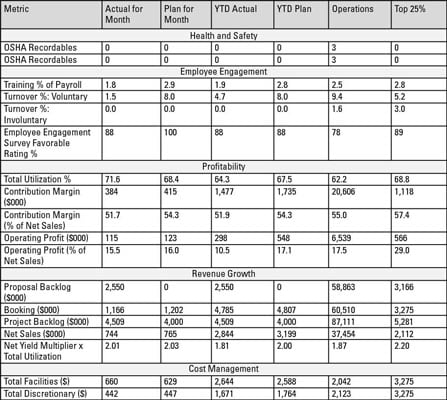 An example of a balanced scorecard.
Such an approach can assist not only in bolstering a company's mission, but also in boosting employee engagement. After all, employee engagement is simply an outcome of a number of factors, not the least of which is the company's commitment to helping its employees reach their potential and the employees' commitment to helping the business reach its business goals.
Measuring, tracking, and communicating performance goals on an organizational level, as well as the employee level, reinforces this mutual commitment.
Design an effective balanced scorecard
An effective balanced scorecard is one that captures the right blend between profitability and other key organizational metrics.
These would include both hard metrics (sometimes called "what metrics" or quantitative metrics) like profit, revenue, growth, and sales, along with soft metrics (often referred to as "how metrics" or qualitative metrics) like training and development, wellness, trust, purpose, recognition, and so forth. (Naturally, many of these soft metrics are more difficult to measure.)
There is no cookie-cutter approach to identifying which metrics to measure. They must flow from your company's strategic goals, and many are industry specific. For instance, in the retail industry, shrinkage metrics (that is, metrics pertaining to theft and damaged goods) are critically important. In the hotel industry, room occupancy is a key metric.
Pinpointing your metrics requires some thinking. Often, you have to drill down to smaller, more concrete goals and measurements to achieve the desired results. Suppose, for example, that you want to improve customer satisfaction.
It's not enough to simply measure customer satisfaction; you must also measure the various aspects of your business that affect customer satisfaction. For example, one metric would obviously be customer service. But that's not the only one you need to measure. After all, you could have a whole team of Susie Sunshines providing extraordinary customer service, but if your product has defects, customer satisfaction will be compromised.
This is why companies also include quality metrics when pursuing customer satisfaction goals. Likewise, if you have very high voluntary employee turnover or low employee engagement, there's a good chance your customers will be negatively affected. (This reinforces yet again the importance of employee engagement in key business metrics!)
Take time upfront to determine the metrics that make the best sense for the goals you're trying to achieve. This sort of advanced planning is essential to inculcating engagement and driving performance.
If this is your first attempt at building a balanced scorecard, the key is to keep things simple. Don't over-engineer the scorecard or make it overly complicated. Organizations that measure and communicate zillions of metrics cause their employees to lose focus, and blur that ever-important line of sight.
The key is identifying which metrics deserve focus on your balanced scorecard in the upcoming year. This isn't to say that other key metrics that don't appear on the scorecard won't be tracked — it's just that they won't be as widely broadcast throughout the year.
About This Article
This article is from the book:
This article can be found in the category: