The company collaborator framework is used internally to help connect problems with solutions. This gamification framework benefits any company that is large enough that the specific skills of each coworker might not be known corporate-wide.
Employees in need are directed to experts in the problem they're experiencing, while employees, developers, and partners who show proficiency in particular areas level-up in those categories of expertise. They are awarded gamified badges that signify expertise to others and that show up in comment threads or anywhere else employees interact, becoming an integral piece of an employee's identity.
Experts can be sorted and browsed by category to facilitate finding the right person to answer a particular question.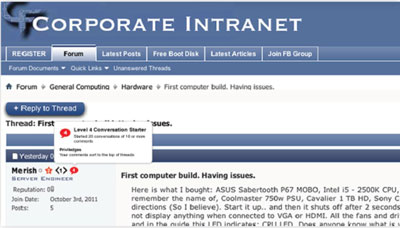 Examples of types of environments that might benefit from the company collaborator gamified framework include the following:
Internal corporate communities: The company collaborator gamification framework is good for larger companies with community forums. It can help make better connections between employees.

Developer and partner communities: This gamification framework can also work with external communities, such as developers and partners. It's aimed at helping users help each other.

Internal wikis: It's good for giving reputation and rewards to employees who provide content for and share internal wikis. The gamification framework can highlight the most helpful employees among their teams and departments in larger corporations.
Why does the company collaborator framework work? Here are a few reasons:
Identity: Recognition of who the user is, what expertise the user carries, and what social standing the user has is important to creating a natural role for everyone within the gamified community. Showcasing individual values leads to increased community participation within the workplace.

Relevance: Instead of users having to shift through pages of content or asking employees from cube to cube, the company collaborator gamification framework organizes the expertise of all employees in the company, making searches quick and relevant. Quickly connecting problems with the appropriate solutions increases productivity and reduces frustration and incorrect information.

Status: Within a working environment, recognition of an individual's value is important. Status and the rewards or privileges that come with it provide a sense of worth, pride, and job satisfaction.
About This Article
This article is from the book:
This article can be found in the category: