When targeting your customers in the design thinking process, you can use empathy to understand who your customer is and what they want. With an empathy map, you can holistically put yourself into the role of a person or a group faced by certain situations. Imagine a specific person in their natural environment. This situation can be an everyday activity (a shopping spree, for example, or using a certain electronic device, taking part in household activities, surfing the Internet, or engaging in travel, leisure, or cultural activities), which the person should look at from different perspectives.

Using the example of a specific person in this situation, ask the following questions and answer them in keywords on sticky notes. You can stick your answers on the notes onto a poster with a diagram similar to the one you see here.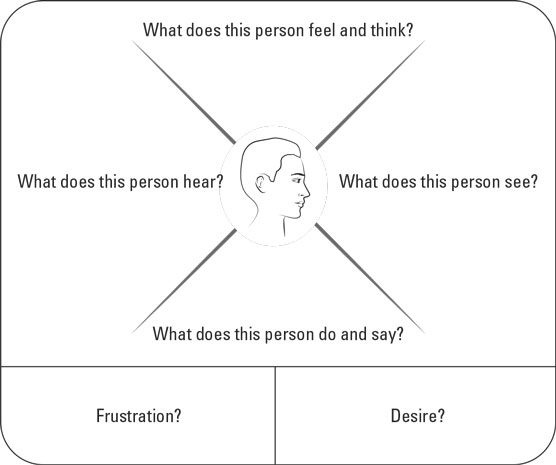 A diagram for the empathy map.
First, find out what the person you're observing is feeling or thinking. The key question is what does the person think and feel in this situation? This gives you a good impression about what drives and motivates the person. Other questions can be helpful, too:
What does this person want or desire?
What does this person not want?
What does this person think of while doing the activity?
Which emotions often play a role in how they act?
Imagine that your target person is a pregnant woman strolling through a shopping center with her 4-year-old daughter. Let's call her Sabine, and her daughter, Charlotte. Sabine made a long shopping list beforehand. She feels stressed (quite natural, given her condition), and shopping with Charlotte is always a challenge. As a pregnant woman, she is of the opinion that she shouldn't have to walk a lot in the shopping center and that a restroom should always also be nearby. Sabine wants the shopping to be as relaxed as possible. Charlotte feels bored and wants to visit the playground.

Every person is always actively dealing with the outside world. Now you have to analyze what that individual says and does in this environment. You can characterize her behavior and actions more precisely with the following questions:
What does this person say to others, and what is she doing?
What can be observed about this person?
What behavior is she displaying?
What are some of the quotes, key terms, or statements often used by this person?
Which modes of behavior and activities does this person often engage in?
Sabine often calls out to her daughter, who is running around the shopping center like crazy. In each individual store she visits, she always quickly looks for a salesperson and addresses her directly. The consultations with the salespersons are repeatedly interrupted by Charlotte.

The next question you have to answer is what does the person hear in this situation and environment. Here you analyze what the target person hears (noise, advertising messages, information) as well as how and by whom this person is influenced — talks with relatives, friends, and colleagues at work, for example, or information on the radio, TV, or Internet. Here are some other questions:
What do the family members, friends, or colleagues say to the person?
What should she do or not do?
Which communication channels are relevant here?
Sabine still remembers the many pieces of advice from her girlfriends and her twin sister about all the things she has to buy before the second child arrives — a second high chair, a new stroller, baby clothes in sky blue, and pillows in various sizes. Charlotte is growing increasingly whiney. It doesn't help that it's also very loud at the shopping center. In addition to music, each store plays promotions, which she hardly registers.

Next, describe the person's specific environment in the examined situation (during the course of the day, at work, at home, while shopping, during a recreational activity). In other words, what does the person see in the specific situation? You can describe the situation or surroundings more specifically by asking the following questions:
What do the surroundings look like?
Which visual impressions is she getting in this situation?
Which offers is she seeing or not seeing?
What does she see others doing?
Sabine permanently sees advertising in various forms. Today, she has an eye only for baby clothes. She purposefully looks for special offers. She watches other mothers take care of their children while shopping. Sabine keeps looking at the clock while shopping, and this distracts her so that Charlotte always manages to break free.

A decisive question is what kinds of problems or what frustrations this person has or will develop in the particular situation. Here the person's frustration is in the spotlight. At this point, write down which problems, worries, fears, obstacles, and urgent needs are confronted by this person. The following questions supplement your analysis:
What are the risks that the person feels confronted by?
What does the person try to avoid?
Sabine permanently has an eye on where the nearest restroom is. She hopes that Charlotte isn't too bored and won't disturb her while shopping. She worries that she is forgetting something. She is increasingly under time pressure because she has to be home no later than noon. She is annoyed that she can't quickly find her way around the individual stores.

In conclusion, look at the positive aspects. Think about what makes an individual happy in this situation. Here the focus is on pleasure. The answers here will give you starting points for finding ideas later. This can be approached with the help of the following questions:
Which goals is Sabine pursuing?
What is she striving for?
What does she want to achieve?
How does she measure her success?
How does she try to be successful?
Sabine would be happy if she could occasionally sit down as she makes her way through the stores. Play areas in the individual stores for her daughter Charlotte would also be a relief. She would be especially pleased if she could count on a calm and relaxed atmosphere.

Write down the answers in key words and group them into the diagram for an empathy map. Keep the target person at the center — the one you describe using the Persona method.
About This Article
This article is from the book:
This article can be found in the category: