A budget constraint maps the relative availability of two goods to a fixed amount of resources, called M. In the consumer choice model, this means that you take account of an increase in income by moving the budget constraint away from the origin so that the new curve is parallel to the old, as shown here.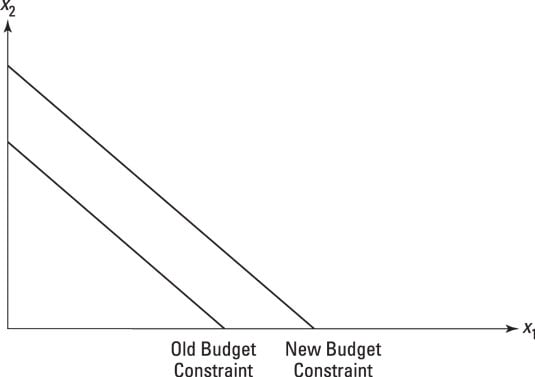 Representing a change in income by shifting the budget constraint.
You can look at this another way. If your income goes up and prices stay the same, you can afford to buy more goods. Alternatively, if your income stays the same but prices of goods all decline by the same percentage, you can afford more goods as well. Under either scenario your budget constraint shifts up parallel to the old.
A shift in the budget constraint means that some bundles that the consumer desires are now either available where they hadn't been before (if the change is positive) or ruled out (if the change is negative).
About This Article
This article is from the book:
This article can be found in the category: