A good team knows how to use the tools they're given, and CRM is no exception. Your users should get comfortable using the CRM as quickly as possible. You must ensure everyone is on a training plan and has access to learning resources for self-study.

Every CRM vendor offers training to empower users to get the most out of the software. Too often, users try to power through the learning curve, spending far more hours than necessary. Rely on experts who can save you and your staff hours of searching for solutions to your more complex problems.

Sometimes experts are available to help you from within the CRM vendor's organization; other times the best experts are available as external consultants. Make sure that no matter whom you hire, the people who help you have experience setting up a CRM and understand your company's mission and marketing methods.

A reputable, established software vendor includes free educational resources for your team. Any good CRM vendor provides a wide array of helpful resources, such as recorded webinars, tutorial videos, and a searchable knowledge base. Your team should spend the time to learn from every method available.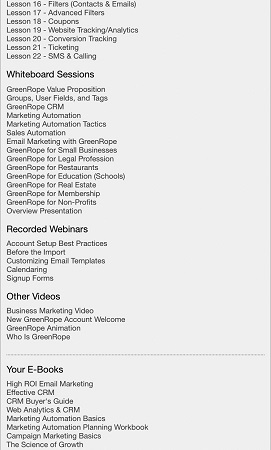 A good CRM vendor offers a plethora of resources for you.
Vendor-supplied support is another method of getting help. Be sure you're familiar with your CRM vendor's support policies. You should be able to access support via phone, email, and chat. If help is available, use it.
Building muscle memory with CRM walk-throughs
One of your primary goals is training all your new CRM users to be comfortable with working in the software every day. To that end, use the tools provided by the software vendor to educate your team.

Tools that walk users through their tasks step by step are powerful education resources and are an efficient way to get your team onboard. If the CRM has an integrated, interactive guide, it saves you a lot of explanation time and avoids repeating the same instructions over and over again. Take advantage of this kind of tool if one is built into your CRM.

This tool is available on some CRM platforms. Leverage tools like that to get your team comfortable with using your CRM.

A walk-through initiated with the Guide Me button.
Leveraging CRM vendor videos, articles, and knowledge bases
CRM vendors spend a lot of time developing helpful resources you can use. Videos, articles, e-books, and a searchable knowledge base should all be easily accessible to you without incurring additional charge. Some of what the vendor's education team writes is specific to its platform, but there may also be generic, strategic content for you and your team. Take advantage of these resources and do your homework, so you can be an effective leader and teacher to other people on your team.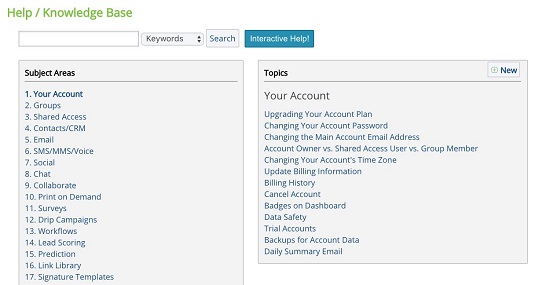 Searchable knowledge base with helpful topics.
Making dedicated CRM resources available
Assign an internal champion, or team of champions, responsible for the implementation of your CRM. Champions ease the transition to your Complete CRM, answering questions and reminding team members of the benefits of change. Sending someone around to do individualized training is ideal, but may not be realistic.

You may want to teach a small class, invite the CRM vendor to host a web conference, or hold office hours. The more you can provide individualized help to your end-users, the more likely they adopt the new CRM into their everyday activities.

Training, just like when interacting with your leads and customers, works best when it feels like a collaborative process. Your goals as the CRM manager are in alignment with your users' goals. You want them to work efficiently, leverage the power of software to help them be effective, and build a happy, productive work environment.
About This Article
This article is from the book:
This article can be found in the category: