Although I'm against cheating on your partner, there's nothing wrong with cheating Father Time with this condensed information about how to have a great sex life. Though I'm all for the occasional quickie, to have terrrrific sex, you need to read a lot more of Sex For Dummies than just this Cheat Sheet.
How to have a great sex
Want to know how to have great sex? Although there are a lot more information bites in this Cheat Sheet, let's start with some of the basics: You need to prepare yourself and your partner; if you are with a new lover, discover some great talking points to ease the awkwardness; use foreplay to set the mood throughout the day; and don't forget about afterplay.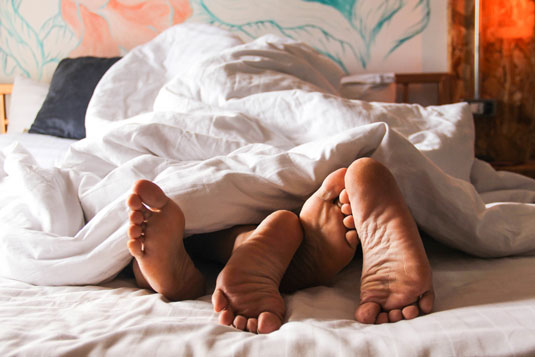 Prepare yourself for great sex
Sex is easy, but great sex takes some preparation. Here are some hints of what you can do to get you and your partner ready:
Remove any nervousness about an unplanned pregnancy by having contraceptives handy.
Put on your sexiest underwear, or else don't wear any.
Use fantasy to push away the worries of the day.
Change the sheets (or the tablecloth).
Put your last article of clothing over the clock.
Remember that compliments are an important part of foreplay.
Talking points for new lovers
The first time the two of you crawl into the sheets or slip into the back seat will be a little awkward. Discussing the following topics ahead of time will make it easier.
Make sure you both know how far you're willing to go
STDs aren't sexy, so clear the air on this subject ahead of time.
Women with problems climaxing should tell their partners rather than fake it.
Premature ejaculation will make itself known, so talk about it ahead of time.
If you're a screamer, let your partner know. If talking distracts you, speak up.
Set the mood throughout the day
Most couples make love at night, but matters will go much better if the daylight hours are used to best advantage. Try these tips and see what happens!
Sneak a suggestive note into her purse or his pocket before work, or send a text using code that only he or she will understand.
Subtly show him that you're wearing your sexiest lingerie under your business suit.
Drop in at her office with a picnic lunch complete with strawberries and cream.
Send her a dozen roses, one at a time.
Drive your partner wild
There's sex, and then there's SEX! Following are some great sex tips on how to ramp up those three little letters:
Read erotic literature to each other
Take a bath or shower together.
Take a tour of your partner's body to learn what parts are most sensitive.
Role play, starting outside the bedroom — maybe even outside your home.
Take turns initiating sex and actively engage in using different positions.
Give each other sensual massages.
Make the most of afterplay
Most lovers seem to know about foreplay, but just like a great movie, the better the ending, the more stars you'll give it.
Hold your partner closely after she has her orgasm.
Tell her how much you love her.
Kiss her very gently on the cheek
Rub her neck.
Allow her to savor the moment for at least two minutes.
Recreate afterplay moments, such as a special caress, at other times.
Maximize your masturbation exhilaration
We may never know whether Hans Solo practiced this art form on the Millennium Falcon, but here's some advice for those stuck here on Earth.
To ensure maximum enjoyment, make sure you have complete privacy.
Try to use a variety of techniques so that masturbation doesn't become routine.
Mechanical devices can give extra sensations, but don't overuse them.
While porn can be helpful, your imagination can also offer powerful stimuli.
Partners watching each other masturbate can be very erotic.
If you always rush when you masturbate, it may affect your skills at intercourse.
What a woman should know about a man's penis
A man's equipment may be more obvious to the world than a woman's, and yet there are many mysteries that a lover must unravel in order to best please the man attached to it. Consider the following:
A man's subconscious can have more control over his penis than he does.
In most men, the underside of the head of the penis is the most sensitive part.
A penis is very sensitive — emotionally, that is — and doesn't take criticism well.
The drop of liquid that appears at the tip of the erect penis before ejaculation may contain sperm.
Every penis has a limit to how much arousal it can take before ejaculating.
What a man should know about a woman's vulva
A woman's private parts don't come with a set of instructions, so every woman needs to write her own to make sure her lover knows what she likes. Here are a few important points to keep in mind:
Lubrication coming from the vagina is a sign of sexual arousal.
In some women, an erect clitoris may be too sensitive for direct stimulation.
Some vulvas like to be called sexy names, while others prefer more respect.
Vulvas come in a wide variety of appearances, though all accept compliments.
Vulvas have a special place in their hearts for warm, moist tongues.
How to use a condom and condom etiquette
Condoms can be a very effective method of preventing unintended pregnancies and keeping away STDs — but only if they're used correctly.
Keep the condom close at hand to avoid breaking the mood.
Make the roll-out process a team effort, integrating it into foreplay.
When you're putting it on, make sure to leave a little room at the end.
If placement causes some flaccidity, give him a manual boost.
Pulling out can be risky unless someone keeps a firm grip on matters.
If the bell rings announcing round two, always use a new condom.
About This Article
This article is from the book:
This article can be found in the category: