Dating apps are very popular these days. The basic idea behind most dating apps is the same: The app helps you find potential companions who might bring some romance into your life.

I have no problem with dating apps, if people are intelligent about the way in which they use them.

Watch this video, to find out why I encourage you to meet people face-to-face and engage in conversations rather than relying solely on dating apps. See also "How to Deal with Loneliness through Conversation."

The apps themselves come and go. Tinder and Match.com may be the best known, but there are many, many others, such as Hinge, Bumble, Christian Mingle, eHarmony, JDate, OK Cupid, Senior People Meet, Wingman, and Zoosk.

Some people use these apps only to bring some sex into their lives. If that's what both parties are looking for, fine. But we humans need emotional relationships to feel fully satisfied, and so finding such a relationship should be your ultimate goal.

There are more "serious" apps that charge a monthly fee, supposedly using science to put you together with someone whom you'll find appealing, and other free dating apps.

Which type of app you should rely on to find love depends on how much time you're willing to invest. If you're paying for the service, hopefully the weeding out process will be somewhat effective. If it's free, then you become the one doing the initial weeding. And if you have a lot of money to burn, there remain matchmakers who work with you one-on-one.

You might also think of using a dating app that appeals to people who are similar to you in some way. Some apps are for an older crowd, like Our Time or Silver Singles. Apps like BlackPeopleMeet or BlackSingles.com are, obviously, for African Americans, while LatinAmericanCupid.com is for Latino people.

There are also plenty of niche dating services whose titles are fairly self-explanatory, including: Fitness Singles, BiCupid, Military Cupid, Dating4Disbled, and PositiveSingles. By helping you to hone in on other singles who have something in common with you, you'll increase your chances of meeting someone you really like.

Dating apps are often more suited to metropolitan areas, where there's a larger pool of single people. A dating app does you no good if most of the people on it live far away. Before you decide on an app, see which ones seem to have the most people who live nearby.

Also, ask your friends which dating app they recommend. By doing some early research, you won't waste as much time becoming interested in people who aren't suitable because of the distance you'd have to cross just to have a cup of coffee together.
Slow down, be intentional, and look at more than profile pictures
For many, it's the swiping away aspect that's most appealing. If one of these folks has ten minutes with nothing to do, swiping takes the place of playing Candy Crush.

But with so many people adopting the attitude that this is more entertainment than a serious attempt to find true love, what are the odds of meeting with success? And that's especially true because some of those doing the swiping are actually in a committed relationship — they're looking for a safe way to cheat, not establish a relationship.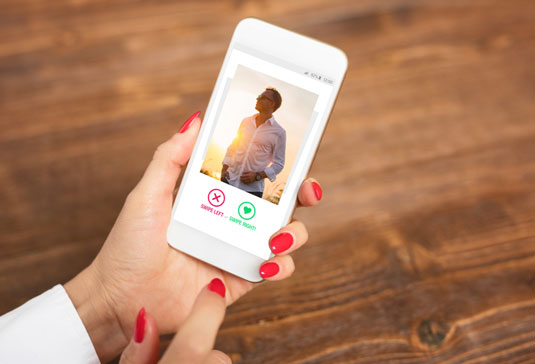 © Kaspars Grinvalds / Shutterstock.com
Again, the trick is to slow down. Don't just wear out your fingers swiping but spend the time to look more in depth at those you discover online by actually reading their profiles. Do this even of people with pictures that don't really appeal to you. You're not a casting director or editor of a fashion magazine. You're looking for qualities that run deeper than the surface. Make yourself believe that, and then using an app can become more rewarding.
The dangers — physical and emotional — of dating apps
There was a time I worried that the dangers of meeting total strangers were too great for app dating to be acceptable. But with so many people now actively taking part, the danger, while still there, becomes less. In other words, as the number of people using these apps grows, the percentage who are weirdos becomes smaller. But never forget that the "weirdos" are still out there.

There's another danger presented by these apps, and that's the one posed to existing relationships. If you have a fight with your partner, you're unlikely to run to a singles bar to check out what alternatives are out there. But what about opening Tinder and swiping for a while? These apps can make it appear too easy to change partners. So instead of being willing to work on a relationship, many people instead resolve to leave.

In some cases the relationship wasn't salvageable, but I would advise that if your relationship is rocky, make an honest effort to work it out before you begin swiping.

When it comes to kinds of dates, remember that you can make a great impression without dinner at a five-star restaurant or tickets to the ballet. Simply getting a drink at a brewery would do. Miniature golf is also inexpensive, as would be going for a walk in the park, bowling, or meeting at a Starbucks.

Because of the dating apps, some people go on a lot of dates, and that can lead to a lot of money being spent. And since it's often the man who picks up the tab, that can be a financial burden. But even if you always share the cost, after a while it can add up.
Picture perfect
A quick word about the type of picture you post online. It's been shown that an action picture receives more of a positive response than a static one. Plus, a profile picture of you doing something you enjoy sends two pieces of information — what you look like and what you like to do.

This doesn't mean that you shouldn't pick the best possible photo of you playing golf, for example. You could even hire a professional photographer to take the snapshot of you swinging a club, if you're so inclined. Just make it an action shot rather than just you looking into the camera the way you did in your high school yearbook.

I witnessed a young lady taking a wide variety of selfies at a tourist spot in Greece. From the way she was posing, it was clear that these photos were for a dating app. She was being smart because the gorgeous background was definitely more stimulating than a blank wall. So, when taking a picture for a dating app, think before you snap.

Remember that life isn't a Twitter feed. No one person is going to be able to offer you a constant flow of witty conversation day in and day out. Many subtle qualities go into what makes someone a good partner, and these qualities take time to be appreciated. So, while I'm not saying not to use apps to find dates, I am saying not to let the app mentally ruin your chances of turning a date into a partner. No matter how fast your fingers can swipe, when the time comes to actually be standing side by side, slow down.
About This Article
This article is from the book:
This article can be found in the category:
This article is part of the collection(s):