Communication is an important part of any project, as well as important for the PMP Certification Exam. When planning communication strategies for your project, make sure that your communication is both
Effective: Provide the right information, in a timely fashion, in a format that works for people.

Efficient: Provide the necessary information to the right people. Using e-mail Reply to All with a rambling monolog is not efficient. Send only the relevant information, and only to the people who need it.
Taking time to plan how to communicate effectively and efficiently will pay off in the end because your stakeholders will be informed of what is happening in your project and won't come asking you for status and other information.
Plan Communications Management. The process of developing an appropriate approach and plan for project communications based on stakeholder's information needs and requirements, and available organizational assets.
Plan Communications Management: Inputs
To determine who needs what information and how to give it to them, the first step is identifying your audience. You do that with the stakeholder register. The stakeholder register lists all the people who are affected by, or can affect, your project.
Use the project management plan to identify the life cycle to determine the types of communication and the stakeholders for each phase in the life cycle.
Scrutinize your company's templates for reporting formats, presentation templates, and other assets that can help you get the right information to people. Often, using information from prior projects can be helpful. For example, maybe another project manager put together a great kick-off meeting presentation that you could customize to your needs.
You will be limited by your organization's infrastructure, such as its systems, presentation equipment, and communication capabilities.
Plan Communications Management: Outputs
The communications management plan is a component of the project management plan. It documents the results of stakeholder information needs, available technology, and methods of communication.
Communications Management Plan. A component of the project, program, or portfolio management plan that describes how, when, and by whom information about the project will be administered and disseminated.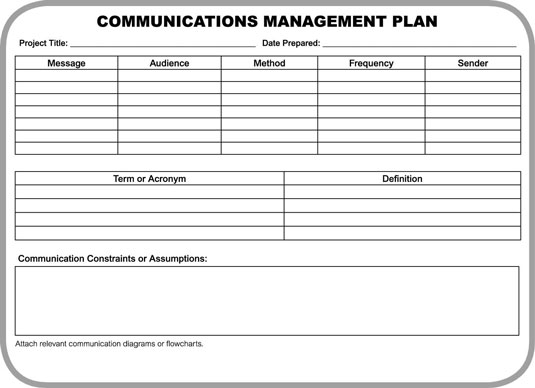 A more complete plan would include additional elements, including
Resources and budgets associated with communications

Glossary and abbreviation list

Communication flowcharts

Communication constraints

Templates for agendas, reports, minutes, and so forth
As necessary, update the stakeholder register and schedule with the communication strategy.
About This Article
This article can be found in the category: