The same tools and techniques you should know for the PMP Certification Exam in Plan Quality Management and that will show up in Control Quality can help in this process. The difference is that here, they are predominately process-oriented rather than product- or project-oriented.
| Tools/Techniques | How It Is Used |
| --- | --- |
| Cost-benefit analysis | Determine whether cost to improve a process is worth the benefit. |
| Cost of quality | Determine whether you can invest in prevention costs to reduce the cost of failure. |
| Control charts | If you have unexpected, negative, or erratic trends in measurements from the control charts, the process should be analyzed for improvement opportunities. |
| Benchmarking | Benchmark process-improvement goals to improve process results. |
| Design of experiments | Identify multiple variables in the process that can be modified in conjunction with one another to improve a process. |
| Statistical sampling | Conduct a random audit of process documentation or quality control documentation to determine whether the appropriate processes and procedures are being employed. |
| Flowcharting | Create a flow chart of a process to find redundant work or steps that don't add value. |
| Cause-and-effect diagrams | Use to determine the drivers of process problems and identify areas where you can make adjustments to improve performance. |
| Histograms | Quantitatively identify the impact of each source of errors or defect. |
| Pareto charts | Rank those areas with the least-favorable outcomes to apply corrective action to those areas first. |
| Run charts | Identify trends in performance. Negative trends should be analyzed for corrective actions. |
| Scatter diagrams | Look at how two independent variables relate. You may be able to modify one variable to improve the results of a second variable. |
| Inspection | Inspect a process to determine whether it's functioning optimally. |
In addition to the tools and techniques above, these additional quality management tools may be of use.
| Tools/Techniques | How It Is Used |
| --- | --- |
| Affinity diagrams | Group similar ideas for example causes of defects. |
| Process decision program charts (PDPC) | Identify the steps necessary to achieve a goal and how those steps can lead to a failure in attaining the goal. |
| Interrelationship diagraphs | Show how relationships among multiple systems or entities interact. |
| Tree diagrams | Used to decompose systems and show parent-child relationships. A WBS is an example of a tree diagram. |
| Prioritization matrices | Identify key issues and alternatives that can be prioritized by using a weighting system to rank alternatives and solutions. |
| Activity network diagrams | Shows activities in the order in which they occur: a version of a schedule network diagram. |
| Matrix diagrams | Shows the strength of relationships between variables, using rows and columns that intersect. |
Quality audits
Quality audits are used to perform a structured review of the project to determine whether the team is complying with project and organization policies, procedures, and processes. Those areas not in compliance will result in some type of deficiency report. The team will then develop a corrective action plan and assign someone to implement the plan and follow up on the deficiency report.
For those areas in compliance, no action is needed. For those areas that are performing well, the audit team may identify the good or best practices being employed and share them throughout the organization so other teams can improve their performance as well.
Quality audit example
To see how a quality audit could occur on a project, think of a childcare center. During the project, the quality assurance department announced that it would be auditing the project, specifically interested in safety, procurement, and project management practices. Here's the setup:
On the first day of the audit, Quentin (from Quality Assurance) walked around the site with George, the foreman. Quentin had a checklist of safety policies and procedures that he wanted to ensure were being followed. He also walked around and looked at all the equipment and the workers to make sure that the job site was safe and secure.
He found one instance where a cord for a piece of equipment was not properly coiled. He also noted that some of the material was not stored properly. This was noted, and the foreman corrected it immediately.
Next, Quentin checked the safety log and noted only one incident of a cut finger. The cut did not require stitches or transport to urgent care. The incident was properly logged.
On the second day, Quentin asked to see all the procurement documentation. He reviewed the bid documents, the source selection score sheets, the statement of work, status reports, and invoices. There were three instances where a contractor was late with a deliverable, but the job was currently on time. Therefore, no corrective actions were noted.
On the third day, Quentin reviewed the project documentation. He noted that all the documentation was in good order. The cost variances were acceptable (–3%), and the project was on schedule. In addition, there were very few change requests. He interviewed the project manager and noted that he usually saw more change requests. The project manager replied that he had spent more time than usual gathering stakeholder requirements.
Then he had a meeting with the parents and showed them drawings of the childcare center. The contractor and architect attended the meeting. There were a few requested changes, which were incorporated into the plans. Quentin seemed very pleased with this process. He noted that this was a good practice and that he would share it with other project managers.
Process analysis
Perform Quality Assurance is concerned with process improvement. The process improvement plan is developed in the Plan Quality Management process. It should contain at least the following information:
Existing process description

Current process metrics

Targets for improvement

Approach for improvement

Flow of the existing process
In the Perform Quality Assurance process, the target process is analyzed, and alternative approaches for improvement are identified. As a result of the analysis, the best alternative is selected, and a flow of the new process is developed. At that point, a change request is generated. If approved, the new process is implemented.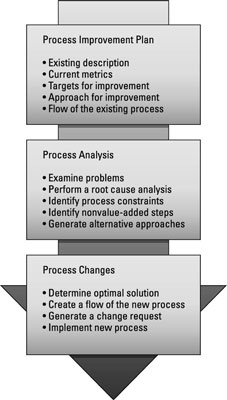 About This Article
This article can be found in the category: