In quantum physics, you can find the limits for small and large rho of a free particle. According to the spherical Bessel equation, the radial part of the wave function for a free particle looks like this:

Take a look at the spherical Bessel functions and Neumann functions for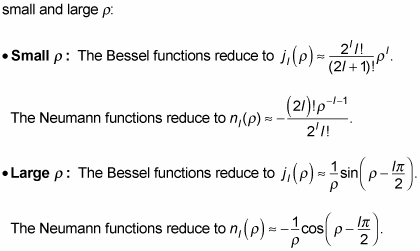 Note that the Neumann functions diverge for

Therefore, any wave function that includes the Neumann functions also diverges, which is unphysical. So the Neumann functions aren't acceptable functions in the wave function.
That means the wave function

which equals

equals the following:

where

Note that because k can take any value, the energy levels are continuous.
About This Article
This article is from the book:
This article can be found in the category: