If your number-one priority is seeing your favorite Broadway show, in the best seats, at a specific time, with no hassle, then the best option is to plan ahead. That means buying your tickets months in advance and planning to pay significant, although not astronomical, prices.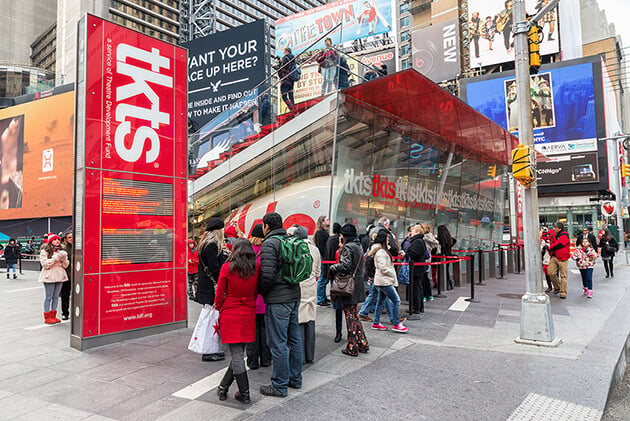 ©saaton / Shutterstock
The TKTS ticket booth location at Times Square in New York City
The good news is that popular musicals release tickets six to eight months in advance. That allows patrons to plan an entire Broadway trip (like booking plane tickets, securing vacation time, and getting hotel rooms) and experiences (like seeing other tourist attractions) well beforehand.
You can purchase tickets through the production's website directly or by visiting the theatre box office. Buying directly from the box office is ideal because it allows you to make sure you're paying the actual ticket price listed versus a higher price through processing fees or additional charges from a ticketing agency. And if you don't live in New York City, surely you know someone who does, right? Ask them to go to the box office for you and snag those tickets!
Taking a chance at a TKTS booth
Sometimes you can't purchase tickets in advance. If you're not set on a specific show, a wonderful and definitely cheaper option is to visit a TKTS ticket booth.

TKTS ticketing booths sell day of tickets anywhere from 25 to 50 percent off the regular ticket price. That adds up to substantial savings for you and potentially fuller audiences for struggling or less popular shows.

A show's producer(s) makes these tickets available to TKTS because the show isn't sold out. On the other hand, shows that do sell out often aren't available on TKTS. You can count on popular shows being available, but not the hottest ones.

TKTS has four locations in New York City, with the most well-known being in Times Square (see photo above). London has one in Leicester Square for West End shows. These booths traditionally open four to six hours before shows begin and are run by the Theatre Development Fund in New York City and the Society of London Theatre in the West End.

If you live near New York City or visit regularly, then the Theatre Development Fund (TDF) is fabulous to join. If you're eligible, it's only $40 a year, and you get lots and lots of tickets to Broadway, Off-Broadway, and Off-Off Broadway shows offered at discounted prices. Check out www.tdf.org.

And if you're going to be spending time in the U.K., check out https://solt.co.uk/ to buy Theatre Tokens, which can be used to get tickets to more than 260 venues in the U.K. — they have no expiration date!

I have so many fond memories of going into New York City with my dad on the weekends and lining up on 47th Street. One of us would run ahead and see what shows were on the board. If there was one we really wanted to see, we'd be thrilled but so anxious waiting in that long line because the available tickets for the show we wanted to see could be gone by the time we finally got to the booth. Therefore, then, as well as now, it's always important to have a second choice.

Nowadays, you can download the TKTS app, which is extremely helpful, especially on the days leading up to your theatre adventure. Why? Because you can check every day to see the shows that are available so you can get a sense in advance of what you want to see.

And, with the TKTS app, you can see if your favorite show is listed every day and, if not, what day is the most likely for your show to be available. Getting discounted tickets to the most popular shows on the weekend is more difficult. Weekday nights are a better time to visit TKTS.
Playing the lottery and winning big
Another option is to explore whether or not your favorite show has any lottery options. Lottery sales on the day of a show can include tickets sold in the front two rows of a theatre, reduced-price tickets for students with a valid student ID, or cancellation lines for those who purchased seats but unexpectedly have to cancel. Whereas TKTS is the place to get tickets to shows that don't sell out, lotteries are the best bet for shows that almost always sell out.

Go to the show's website to find out what their lottery process is before you trudge to the theatre. Lotteries began during Rent and the sight of people camped out hours before the show added to the show's reputation as a mega-hit. And during Hamilton's lottery, Lin-Manuel Miranda and other cast members would often put on a live show on the sidewalk to entertain those waiting to see if they'd win. Search for those shows on YouTube — they're so fun.

You don't have to be special to win the lottery. It's a number's game, so if you have time on your hands, enter lotteries often. The more you do it, the more chance you have of winning those coveted tickets. And just because you won this week doesn't mean they won't let you enter next week. If you're obsessed with a show, lotteries are a great way to see your obsession multiple times without declaring bankruptcy.
Try out TodayTix
A relatively new and wonderful way to tickets is through TodayTix.com, which offers nicely priced tickets for same day, same week, or advance sales of Broadway shows (and many other events). They also have same day lotteries and rush seats available. To enter, you usually just have to post something on social media announcing that you've entered the lottery.

TodayTix has expanded from New York City to around the world so download the app onto your phone for when you're travelling and want to know what performances are happening in the city you're visiting.
Buying from a reseller: When ya just gotta see it
Sometimes, you find yourself with little to no options other than getting out your credit card and paying whatever it takes. When you find yourself in that situation, going through a ticket broker or reseller is your only avenue.

One of the risks associated with this option is the possibility of using a reseller who sells you fake tickets or tickets at exorbitant prices (such unsavory types were previously known as scalpers). Just like with sporting events, make sure you realize that any tickets you acquire that aren't from the theatre or an approved vendor can be a dicey proposition. That's why you should carefully vet any ticket agency you eventually use.

Going through a reseller or secondary ticketing agency includes paying extremely high ticket prices, but it also helps ensure that you can get what you pay for: the best tickets, on the best day, in the best location.

Before you buy these tickets, feel free to vet whether they're legitimate by posting on a theatre message board. They are full of major theatre fans who can tell you if you're being scammed. I recommend AllThatChat.com for quick responses from knowledgeable theatre folk.
About This Article
This article is from the book:
This article can be found in the category: