If you ever have the option of using a time machine to relive the era when Broadway churned out hit after hit after hit, set those dials to the late 1940s and set your return date for the end of the 1950s. When you open your chamber door, you'll be entering into what's known as Broadway's Golden Age.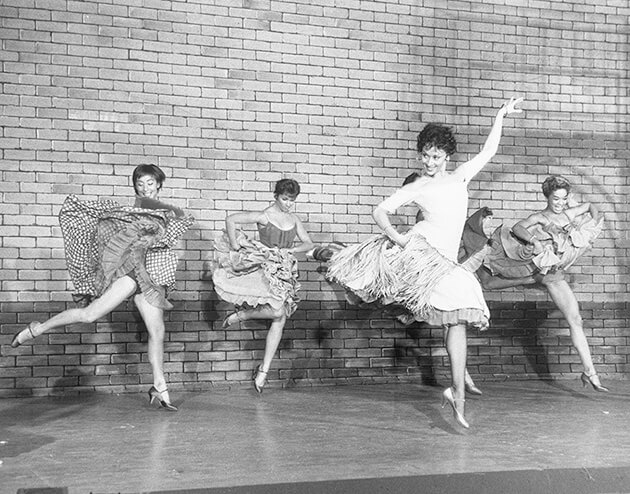 ©John Springer Collection / Getty Images
Chita Rivera (in front) dances in the Broadway musical West Side Story, which debuted in 1957.
After Oklahoma!, the hits just kept coming. Musicals that opened during these years are still being done all over the world — regionally and in summer stock, community theatre, high schools, and so on. And they're often revived on Broadway. Gypsy (1959) has had five Broadway productions!
Read on to find out why all the elements were right for the most fertile time in Broadway history and overviews of some of the most popular productions from this era.
What made this age so golden?
The Golden Age came into its stride after World War II because of three main reasons:
A bustling economy: Many Americans had money to spend on entertainment such as Broadway shows. Travel to New York City was easier, so tourists from across the United States and around the world could see Broadway shows, guaranteeing a steady stream of audience members.
Broadway on TV: The Ed Sullivan Show, which consistently staged long segments featuring Broadway musicals, brought Broadway shows into people's living rooms every week. It's one thing to have heard the title of the new R&H musical, and perhaps bought the album out of curiosity, but it was another to see the original cast perform three songs with full staging, whetting your appetite to order tickets and see the entire production.
Better quality: Broadway shows had reached a level not seen before; American tastes coincided with what Broadway was producing.
The shows that defined the Golden Age
Shows of the Golden Age had many differences, yet the bones of them were the same:
They were different because they took place in various locations (Siam, New York City, Napa Valley, London), different time periods (modern day, the 1920s, the 1930s, the 1800s, the early 1900s), and had different styles of music (classical, tin pan alley, jazz, swing).
They were all similar in terms of having an overture, an intermission, a chorus, multiple leads, big and small moments of comedy, dancing, and more.
However different or similar, the following Golden Age musicals are all musical theatre classics and are the result of the most fertile time on Broadway in terms of hit shows. (For more details and interesting anecdotes about these shows, check out my book Musical Theatre For Dummies.)
On the Town (1944)
When Oklahoma! opened in 1943, three audience members were poised to have their own musical smash just a year later. On that fateful opening night, composer Leonard Bernstein and lyricist/librettists Betty Comden and Adolph Green, apparently, were on the street and offered tickets to Oklahoma! By 1944, they had their own hit musical called On the Town. The three not only wrote it, but Comden and Green also starred in two of the six main roles!
Kiss Me, Kate (1948)
Cole Porter had a smash with Anything Goes in the 1930s, but Kiss Me, Kate proved to be his longest-running hit. The show lasted for more than 1,000 performances on Broadway, was made into a film, and was revived on Broadway in the late 1990s and again in 2019.

The show-within-a-show concept centered around two former lovers (who fall in love again) playing the leads in a musical version of The Taming of the Shrew. Porter churned out a bunch of hit songs for the show, like "Too Darn Hot," "Wunderbar," and "So in Love."
South Pacific (1949)
Richard Rodgers and Oscar Hammerstein, who were already famous for State Fair, Carousel, and Oklahoma!, continued their successful partnership with this musical based on James Michener's Tales of the South Pacific.

You probably know this show is filled with beautiful songs like "Some Enchanted Evening," "This Nearly Was Mine," "Younger Than Springtime," and "Bali Ha'i," and charming uptempos like "Cockeyed Optimist," and "Wonderful Guy." But did you know it also has a strong progressive and anti-racism message?

R&H got a lot of pushback for their song, "You've Got to be Carefully Taught," which explains that racism is passed down from generation to generation, but they insisted the song stay in the show.
Guys and Dolls (1950)
Guys and Dolls was composer/lyricist Frank Loesser's second hit Broadway musical (his first was Where's Charley? in 1948, based on the play Charley's Aunt) and was called "The greatest American Musical of all time" by Bob Fosse.

Guys and Dolls was a smash on Broadway, a successful film, and had an enormously successful revival in the 1990s, winning Faith Prince a Best Actress in a Musical Tony Award for her show-stopping performance as Miss Adelaide. "Luck Be a Lady Tonight" and "I've Never Been in Love Before" are just two of the hit songs from Guys and Dolls.
The King and I (1951)
One of R&H's most enduring musicals, The King and I has been a Hollywood film and revived on Broadway three times. It continues to play all over the world. The musical is based on the novel Anna and the King of Siam, which was based on the memoirs of Anna, an actual British governess who went to Siam (now Thailand) to be a governess for the King's children.

The show won numerous Tony Awards, including Best Musical, and introduced now classic R&H tunes, like "I Whistle a Happy Tune," "Hello, Young Lovers," and "Something Wonderful." Original leads Gertrude Lawrence and Yul Brenner both won Tony Awards for their performances of Anna and the King, respectively.
The Pajama Game (1954)
The Pajama Game has a libretto by George Abbott and a score by then newcomers Richard Adler and Jerry Ross; it's a truly enjoyable show featuring the often recorded "Hey, There" and, one of my personal favorites, "I'm Not at All in Love."

This musical also boasts the Broadway debut of two theatrical titans and the launchpad of a movie star. The Pajama Game was the very first show produced by the man who won more Tony Awards than anyone else, Hal Prince!

Hal Prince hired Bob Fosse to choreograph, starting Fosse's ascension as one of the most famous choreographers (and later director) on Broadway. Carol Haney played the role of Gladys and got rave reviews dancing and singing the lead in the trio "Steam Heat." No one ever thought she'd miss a show, but she had no choice when she hurt her ankle. Her understudy went on (without rehearsal) and because a film agent was in the audience, she wound up signing a five-year Hollywood contract. The understudy was Shirley MacLaine, and that story has given hope to understudies ever since.
Damn Yankees (1955)
The next musical that contained a score by Adler and Ross was Damn Yankees. Again, produced by Hal Prince with choreography by Fosse, this show cemented the stardom of Gwen Verdon who played Lola, a woman who sold her soul to the devil in order to be beautiful. The plot involves Joe Hardy who temporarily sells his soul to the devil so his beloved baseball team, The Washington Senators, can beat those "damn Yankees" and the Devil wants Lola to use her skills so he can own Joe's soul permanently.
My Fair Lady (1956)
The longest running musical of the 1950s was My Fair Lady. Based on George Bernard Shaw's Pygmalion, the show has a score by Alan Jay Lerner and Frederick Loewe and contains hit songs, like "I Could Have Danced All Night," "I've Grown Accustomed to Her Face," and "On the Street Where You Live." The show made a star out of Julie Andrews, the flower girl who's taught to speak "proper" English. However, she wasn't enough of a star, according to producer Jack Warner, to be cast in the film, so the role went to Audrey Hepburn.

Luckily for Andrews, she was cast as Mary Poppins the same year as My Fair Lady. She then got sweet revenge when Hepburn wasn't nominated for an Oscar and, not only was Andrews nominated, but she won!
Jamaica (1957)
Jamaica is important in the evolution of Broadway because it was one of the few Golden Age musicals to have a Black leading lady. Harold Arlen and Yip Harburg (who composed the music and lyrics to The Wizard of Oz) wrote a score for Jamaica using the style of calypso music made popular by Harry Belafonte.

The musical was actually written for Belafonte, but when he became unavailable, the lead character was changed to a woman so Lena Horne could star. This role led to Horne being the first Black woman to be nominated for a Tony Award! And in the 1980s, she won a special Tony for Lena Horne: The Lady and Her Music. In 2022, the Brooks Atkinson Theatre was renamed the Lena Horne Theatre, making her the first Black female performer to have her name on a Broadway theatre.
The Music Man (1957)
The Music Man is one of the rare shows with book, music, and lyrics all by the same person: Meredith Willson. On the surface, The Music Man appears to be an old-fashioned show with old-fashioned values, but it's actually a very forward-thinking show. Rather than celebrate so-called small-town values, the show mocks the closed-mindedness of the citizens of River City, the fictional Iowa small town where the action takes place.
West Side Story (1957)
The Broadway classic West Side Story is based on Shakespeare's Romeo and Juliet, but instead of being about two feuding families, it's about two rival gangs: The Sharks, whose members are of Puerto Rican heritage, and The Jets, whose members are of Polish heritage, represent the Capulets and the Montagues.

The show is filled with hit after hit: "Tonight," "I Feel Pretty," "Something's Coming," and "Somewhere," which became a hit again almost 30 years later when Barbra Streisand recorded it for 1985's The Broadway Album.

The role of Anita, created by Chita Rivera (see the photo above), requires not only comedic and dramatic acting chops, but also Broadway belting, and incredibly difficult dancing while singing. By all accounts, Rivera was brilliant as Anita. Yet, infuriatingly, not only did she not win a Tony Award, but she wasn't even nominated. I've been traumatized by the unfairness since 1957, and I hadn't even been born!
Gypsy (1959)
Gypsy is a musical fable based on the story of Gypsy Rose Lee, the famous stripper, and many consider it to be the all-time greatest American musical. Jule Styne wrote the music, and like West Side Story, Sondheim wrote the lyrics (his second Broadway musical) and Arthur Laurents was the playwright.

Ethel Merman originated the role of Mama Rose, and although it's considered her greatest role, she didn't win the Tony Award. That year it went to Mary Martin for The Sound of Music, adding fuel to the fire of their supposed feud. In truth, they were good friends and, on a side note, if you're wondering what a Tony Award goes for, Mary Martin's sold at an auction in 2015 for $35,000! I thought a nun takes a vow of poverty!
The Sound of Music (1959)
The Sound of Music represents the end of the Golden Age. Not only was it produced in 1959, which most people consider the final year of the Golden Age, but it was also the final musical written by R&H, whose Oklahoma! started the Golden Age.

The final lyrics that Hammerstein wrote were for the sweet folk tune "Edelweiss." The show is based on the Von Trapp family singers and, proving again that Broadway embraces aging much more than Hollywood, Martin was 46 when she played the young virgin nun.

Besides the title song, the show has the classic, "My Favorite Things," which many consider a Christmas song for some reason. I guess because it references winter and presents?
About This Article
This article is from the book:
This article can be found in the category: